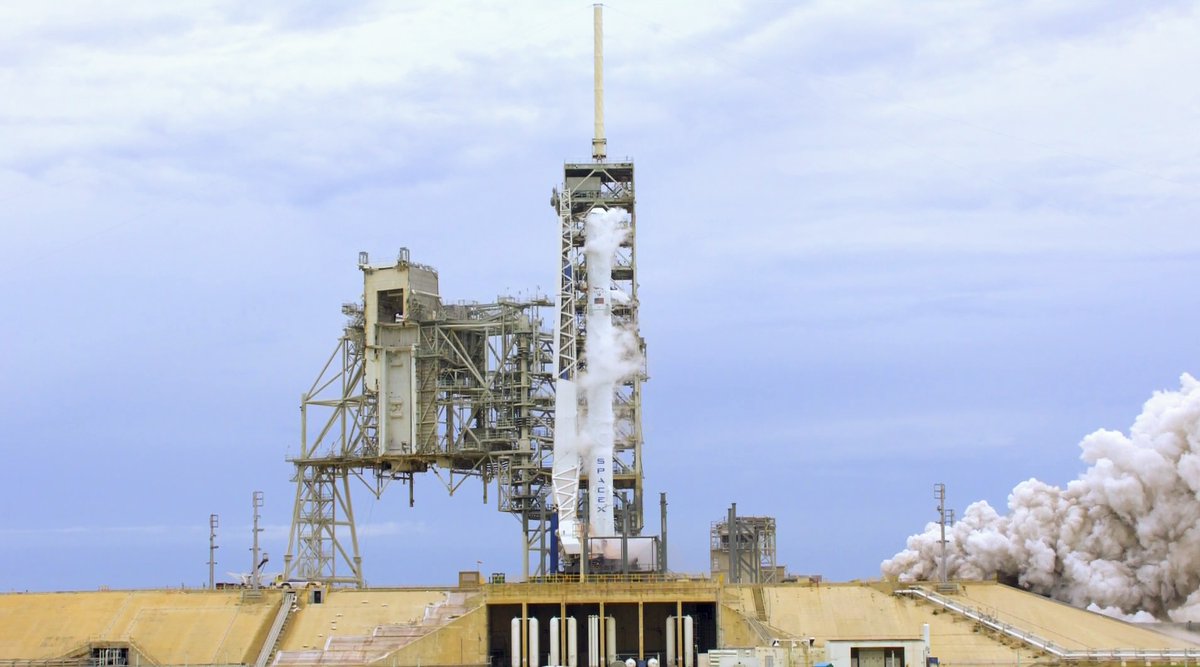 The launch of a commercial Bulgarian television broadcast satellite from NASA's Kennedy Space Center in Florida is set for Monday after SpaceX ran through a mock countdown Thursday and test-fired a previously-flown Falcon 9 rocket's Merlin main engines.
The rocket's recycled first stage, which first flew on a satellite deployment flight Jan. 14 from California, ignited its nine Merlin 1D main engines at 6:25 p.m. EDT (2225 GMT) Thursday for several seconds while restraints kept the two-stage Falcon 9 firmly grounded at launch pad 39A.
A cloud of exhaust erupted from the launch pad's flame trench, and SpaceX later confirmed on Twitter that the so-called static fire test went according to plan.
The static fire is a customary milestone in all of SpaceX's launch campaigns, used as a rehearsal for the company's launch team and as a test of the rocket's readiness for flight.
SpaceX pushed back the launch of the BulgariaSat 1 communications satellite two days — from Saturday to Monday — earlier his week after preparations for the static fire ran behind schedule.
Thursday's test was conducted without a payload on-board the booster, standard practice for SpaceX after a Falcon 9 rocket exploded on a nearby launch pad at Cape Canaveral last September, destroying the launch vehicle and an Israeli-owned communications satellite in the final minutes of the countdown before a hold-down firing.
Ground crews planned to drain the Falcon 9 of its RP-1 kerosene and liquid oxygen propellants Thursday night, then lower the rocket horizontal and return it to a hangar on the southern perimeter of pad 39A, a historic facility leased by SpaceX from NASA that was originally built in the 1960s for the Apollo moon program.
BulgariaSat 1, already encapsulated inside the Falcon 9's fairing, will be attached to the Falcon 9's upper stage this weekend before the rocket rolls back up the ramp to pad 39A ahead of Monday's launch attempt.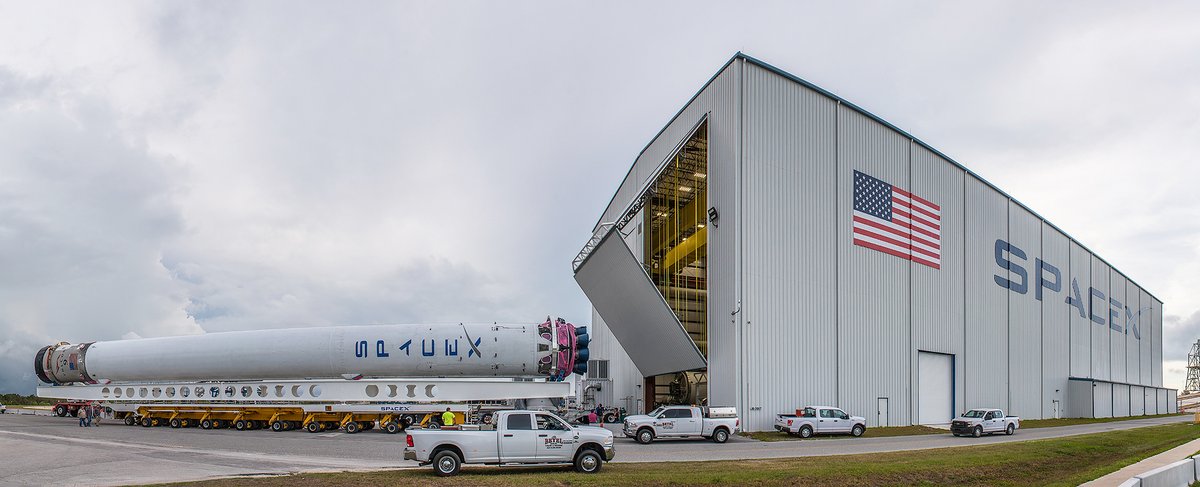 Built by Space Systems/Loral of Palo Alto, California, the BulgariaSat 1 satellite is Bulgaria's first communications spacecraft.
BulgariaSat 1, which weighs nearly 9,000 pounds (4 metric tons ) at launch, will broadcast television channels to homes in Bulgaria, Serbia and elsewhere in Europe for BulgariaSat, an affiliate of Bulsatcom, Bulgaria's largest digital television provider, during a 15-year mission.
Nearly 12 years in the making, the $235 million satellite project is a big step for Bulgaria, according to Maxim Zayakov, BulgariaSat's CEO.
"The satellite is a huge thing," Zayakov said in a May 5 interview with Spaceflight Now. "It's a big milestone and gives us a chance for regional development … as well as throughout Europe, where we have our main coverage. And for the country, definitely, it's the first geostationary communications satellite."
Space Systems/Loral arranged for BulgariaSat 1's launch with SpaceX in a turnkey contract with BulgariaSat, and the satellite manufacturer ultimately decided to place the spacecraft on a flight with a reused Falcon 9 first stage booster. SSL will hand over the satellite to BulgariaSat once it is ready for operations in orbit.
SSL and SpaceX started working on a deal to launch BulgariaSat 1 on a previously-flown rocket before the first partially-reused Falcon 9 took off March 30 on a widely-watched mission to deliver an SES communications satellite to orbit. But officials only finalized the agreement after the SES 10 launch, and the parties announced the decision to put BulgariaSat 1 on a previously-flown booster last month.
SpaceX says recovering and re-flying parts of its rockets will cut the cost of space transportation, but customers can expect only minor discounts for the first lot of reused rocket flights as the launch company recoups $1 billion in capital expenditures to allow the Falcon 9's first stages to make multiple flights.
The investment included modifications to the booster, such as aerodynamic grid fins, landing legs, a heat shield, and descent guidance algorithms capable of handling supersonic retro-propulsion. SpaceX also outfitted two barges for rocket landings at sea, and built landing pads at Cape Canaveral and Vandenberg Air Force Base  in California.
Engineers are working on retrieving the Falcon 9's clamshell-like payload fairing, which jettisons from the rocket in two halves, with the help of a steerable parafoil, but SpaceX has so far not recovered one of the nose cone components undamaged.
SpaceX intends to recover the first stage on Monday's launch on one of its landing platforms stationed in the Atlantic Ocean east of Cape Canaveral, the company said.
Monday's mission is the first of three Falcon 9 flights planned in three weeks from Florida and California.
A static fire of another Falcon 9 rocket at Vandenberg Air Force Base is scheduled as soon as Tuesday, the day after BulgariaSat 1's launch, in preparation for a liftoff June 25 with the second batch of 10 next-generation Iridium mobile voice and data relay satellites.
The next Falcon 9 mission from Kennedy Space Center is set for early July with the Intelsat 35e high-throughout communications satellite.
Email the author.
Follow Stephen Clark on Twitter: @StephenClark1.