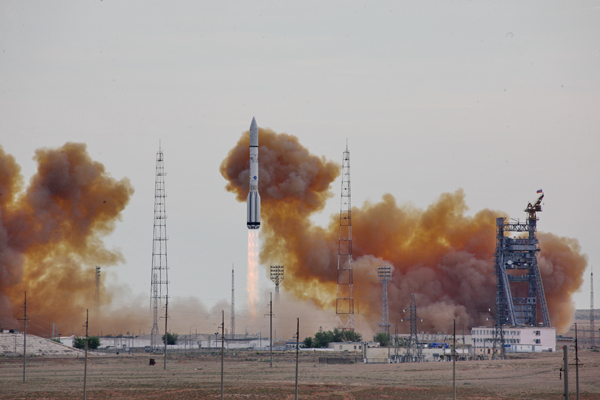 An EchoStar communications satellite designed to link Europeans with voice and broadband data services rode into orbit on top of a Russian Proton rocket Thursday, deploying into an on-target orbit after nine hours of maneuvers by the launcher's Breeze M upper stage.
The 191-foot-tall (58-meter) Proton/Breeze M rocket took off at 0345:47 GMT Thursday (11:45:47 p.m. EDT Wednesday) from the Baikonur Cosmodrome in Kazakhstan, heading to the east from the historic Central Asia launch base into partly sunny skies.
Liftoff occurred at 9:45 a.m. local time at Baikonur, when the Proton's six RD-276 main engines, consuming a mixture of hydrazine and nitrogen tetroxide, ignited with a rush of orange-brown exhaust and powered the launcher airborne with 2 million pounds of thrust.
The Proton dropped its three main stages and payload fairing in predetermined zones downrange from Baikonur, and a Breeze M upper stage ignited five times, first to enter a preliminary parking orbit around 100 miles above Earth, then to steer the EchoStar 21 communications satellite into a geostationary transfer orbit, the drop-off point for most large telecom spacecraft.
The Breeze M's guidance computer intended to deliver EchoStar 21 into an orbit ranging between 1,429 miles (2,300 kilometers) and 22,236 miles (35,786 kilometers) in altitude, with an inclination of 30.5 degrees to the equator.
International Launch Services, a Virginia-based company owned by Russia's Khrunichev State Research and Production Space Center, managed Thursday's Proton mission. ILS is responsible for marketing and sales of Proton rockets on the global commercial market.
Officials declared the launch a success more than nine hours after liftoff, when the Breeze M upper stage released EchoStar 21 in orbit.
"We have been honored to have served EchoStar for nearly 20 years now, dating back to the launch of the EchoStar 4 satellite on Proton in 1998," said Kirk Pysher, ILS president, in a post-launch press release. "The ILS team is very proud to have played a role in the expansion of the EchoStar satellite fleet and enabling connectivity across Europe, with the successful launch of EchoStar 21. Our sincere thanks to all of the EchoStar 21 team members who played a vital role in the success of this mission."
Built by Space Systems/Loral in Palo Alto, California, the EchoStar 21 satellite weighed around 15,200 pounds (6.9 metric tons) at liftoff, making it one of the most massive commercial communications craft ever launched, and the heaviest commercial payload ever flown on a Proton rocket.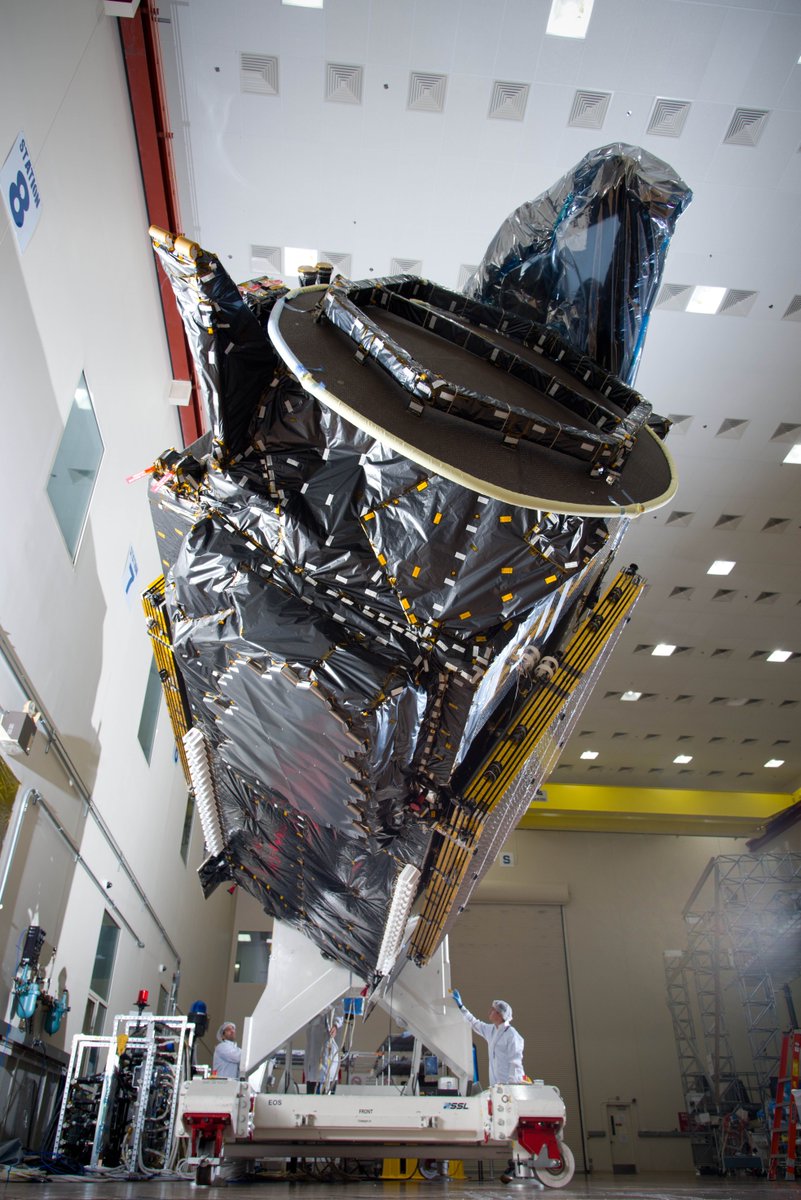 Thursday's launch was the first by a Proton rocket since June 9, 2016, when the Intelsat 31/DLA-2 communications satellite launched from the Baikonur Cosmodrome. Russian officials grounded the Proton to study an upper stage engine problem, then the launcher's return to service was delayed several more months due to a recall of Russian rocket engines found to have defects.
EchoStar 21 was transported to the Baikonur Cosmodrome in November for a planned Dec. 28 launch, but authorities grounded the mission to scrub Russia's rocket propulsion industry after discovering widespread quality control problems.
Roscosmos, the Russian space agency, strengthened inspection and quality requirements after recalling 71 rocket engines used on the Proton's second and third stages. The engines, manufactured by Voronezh Mechanical Plant — VMZ — under contract to Proton-builder Khrunichev, were found to have substandard solders using metals that were not as heat-resistant as specified in the engine designs.
The general director of VMZ was dismissed, according to Roscosmos, and new engines were installed for the EchoStar 21 launch.
Russian authorities directed officials from NPO Energomash, which builds first stage engines for the Soyuz, Atlas 5 and Antares rockets, to take charge of engine production at VMZ to improve quality control, production discipline and the culture at the troubled plant.
NPO Energomash will also upgrade monitors on engine performance during test-firings before installation on the Proton rocket, Roscosmos said.
Four more Proton launches are planned before the end of the year, including two additional commercial ILS missions with the Amazonas 5 and AsiaSat 9 communications satellites for Madrid-based Hispasat and Hong Kong-headquartered AsiaSat, respectively. There are two Russian government payloads also slated for Proton flights later this year.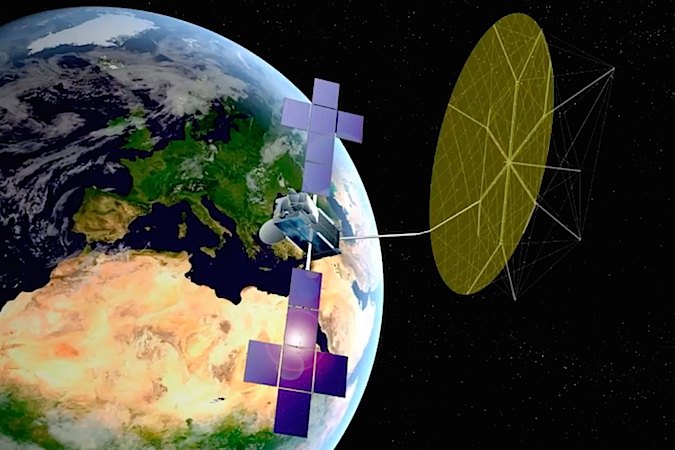 EchoStar 21's 15-year mission will help expand a mobile voice and data relay communications network over the European Union and neighboring countries for EchoStar Mobile Ltd., a Dublin-based subsidiary of Colorado-based EchoStar Corp.
Based on the SSL 1300-series satellite bus, EchoStar 21 will fire its on-board thruster in the coming weeks to circularize its orbit nearly 22,300 miles (35,800 kilometers) over the equator. The spacecraft will also extend its power-generating solar panels, unfurl a 59-foot (18-meter) reflector built by Harris Corp. once on station, and activate its S-band communications payload for in-orbit tests.
EchoStar 21 will enter service in geostationary orbit at 10.25 degrees east longitude, a perch with coverage over Europe.
The umbrella-shaped Harris-built antenna will allow users on the ground to connect with the satellite via compact receivers, helping customers on-the-go make voice calls, send emails and browse the Internet.
EchoStar 21 joins 25 other spacecraft owned, operated, or leased by EchoStar and its subsidiaries, the fourth-largest commercial geostationary satellite fleet. The new spacecraft was supposed to launch in early 2016 before Proton delays slipped the liftoff to this month.
Space Systems/Loral said in a statement after Thursday's launch that EchoStar 21 is performing post-launch maneuvers according to plan after ground controllers established contact with the satellite.
"The launch of EchoStar 21 is a major milestone in the continued expansion of our satellite fleet," said Anders Johnson, executive director of EchoStar Mobile and president of EchoStar Satellite Services. "EchoStar 21 will provide capacity to EchoStar Mobile for commercial wholesalers with a new, advanced network for reliable, IP-based MSS (Mobile Satellite Services) voice and data services in Europe. We appreciate the hard work and dedication of all of the team members from EchoStar, SSL, ILS and Khrunichev, who played a role in the successful launch of EchoStar 21."
Email the author.
Follow Stephen Clark on Twitter: @StephenClark1.