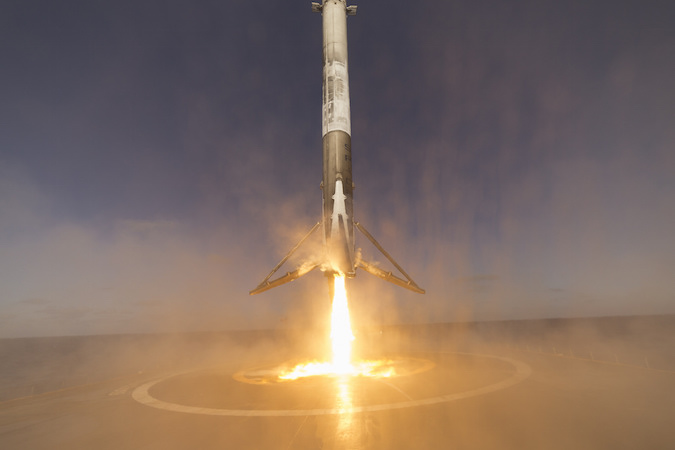 A U.S.-built, Bulgarian-owned broadcast satellite will launch in mid-June from the Kennedy Space Center in Florida aboard a previously-used SpaceX Falcon 9 booster that first flew in January, the spacecraft's owner said Friday.
The BulgariaSat 1 satellite will be the second mission to launch on one of SpaceX's recovered first stage boosters, after the SES 10 communications craft became the first payload to fly on a reused commercial rocket March 30.
In a statement, BulgariaSat chief executive Maxim Zayakov said that reusable rockets were a technological breakthrough that will make it possible for smaller countries and companies to launch their own satellites.
"Elon Musk and his SpaceX team have convinced me that people like them bring us closer to a new quality of life through providing access to cutting-edge technology," Zayakov said in a statement. "This is a chance for Bulgaria to join the efforts to develop these new aspects of space industry."
BulgariaSat said the spacecraft will lift off with the same Falcon 9 first stage booster that flew Jan. 14 on a launch from Vandenberg Air Force Base in California. That mission carried 10 satellites into orbit for Iridium's next-generation mobile voice and data relay network.
After deploying its second stage in the upper atmosphere, the Falcon 9 first stage descended to a vertical landing on a platform in the Pacific Ocean south of Vandenberg, then returned to the Port of Los Angeles. SpaceX engineers inspected and refurbished the stage ahead of a new round of preflight testing before the booster's delivery to Cape Canaveral for launch next month.
BulgariaSat reserved a launch with SpaceX in 2014 as part of a satellite contract with Space Systems/Loral of Palo Alto, California. SSL won the BulgariaSat 1 contract with financing from the U.S. Export-Import Bank, signing an agreement to deliver the satellite to its owner after launch.
SSL arranged the launch contract with SpaceX on behalf of BulgariaSat, an affiliate of Bulsatcom, Bulgaria's largest digital television provider. BulgariaSat 1 was then expected to launch by the end of 2016.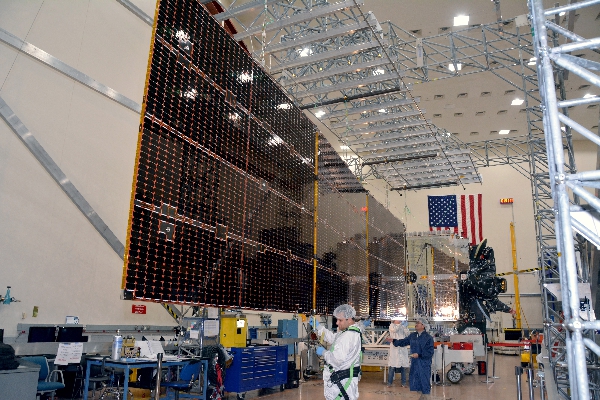 BulgariaSat did not disclose whether it received any discount for switching from a new Falcon 9 rocket to a perviously-flown vehicle. Industry sources previously said BulgariaSat 1 recently moved ahead of other payloads in the Falcon 9 manifest, perhaps in exchange for an agreement to launch on a reused booster.
BulgariaSat 1 will provide television broadcasts and other communications services to the Balkans and other European regions. The spacecraft should enter service in geostationary orbit around a month after launch.
"It took us nearly 12 years to walk the path from a concept, through financing and manufacturing, to the upcoming launch," Zayakov said in a statement. "An undertaking of this magnitude is an extraordinary challenge not just in terms of technology and financing, but also for the people."
SpaceX founder Elon Musk told reporters after the March 30 launch of SES 10 that his company intends to fly up to six reused Falcon boosters this year.
Two of them will launch as side boosters on the maiden flight of SpaceX's new Falcon Heavy set to lift off in late summer, Musk said.
The triple-body Falcon Heavy is made of three Falcon 9 first stages bolted together. The core will be a new vehicle on the inaugural flight, which will be a purely demonstration of the heavy-lifter. Musk said the test flight will be a "high-risk" mission.
Musk said March 30 that three or four other other customers had agreements to fly on partially reused Falcon 9 rockets that were contingent upon the outcome of the SES 10 mission.
"I think a bunch of companies are waiting to see (what happens)," an insurance underwriter who works in the satellite and launch markets said before the SES 10 mission. "A lot of it does have to do with the insurance market. If this goes successfully, then a lot of customers are going to assume that the insurance community is OK with reused stages, which will be the case."
Officials have not disclosed how much of a discount SES received to be the first customer to fly on one of SpaceX's reused boosters.
Musk aims for a 100-fold reduction in launch costs in the long run, but the pricing effects will be more modest in the beginning. Gwynne Shotwell, SpaceX's president and chief operating officer, said last year the company will initially offer a 10 percent discount to clients willing to put their payloads on previously-flown rockets.
"It will be a meaningful discount," Musk said March 30, without citing a number. "We'll figure out some way to pay off the development costs of reusability, so the price discount won't be as much as the cost savings because we need to repay the massive development cost.
"But it will certainly be less than the price of our current rockets, and will be far lower than any other rocket in the world," Musk added.
SpaceX says a regular commercial launch of a Falcon 9 rocket now costs about $62 million, already making it the least expensive option in its lift category.
Musk said SpaceX made the Falcon 9 rocket's first stage reusable with entirely private funding, investing at least $1 billion in the effort through development of sophisticated guidance algorithms, heat shields, propulsive steering capabilities, and the outfitting of mobile ocean-going platforms as landing targets.
SpaceX's next two launches will employ all-new Falcon 9 rockets.
A powerful Boeing-built communications satellite for London-based Inmarsat is set for liftoff from Kennedy Space Center as soon as May 15. The Inmarsat 5 F4 spacecraft bound for geostationary transfer orbit will have a launch weight of approximately 13,500 pounds (6,100 kilograms), the heaviest geostationary payload ever launched by SpaceX.
The launch company said it will not attempt to recover the first stage on land or at sea after the Inmarsat launch, ensuring all of the Falcon 9's propellant reserve goes toward putting the satellite into orbit.
Another Falcon 9 launch set for June 1 will send a Dragon supply ship on a cargo delivery flight to the International Space Station.
BulgariaSat 1 is next in line for SpaceX after the Dragon mission, followed by another launch of 10 Iridium satellites from California and the liftoff of an Intelsat communications satellite from Florida on Falcon 9s at the end of June.
Email the author.
Follow Stephen Clark on Twitter: @StephenClark1.