Nine Merlin engines at the base of SpaceX's next Falcon 9 rocket fired up Tuesday on a launch pad in Florida, wringing out the booster and ground systems ahead of a planned liftoff Sunday with a top secret payload for the U.S. government's spy satellite agency.
The computer-controlled countdown sequencer oversaw filling of the two-stage rocket — mounted on launch pad 39A without its satellite passenger — with densified, super-chilled kerosene and liquid oxygen propellants Tuesday afternoon.
Vapors venting from the rocket were a sign the hotfire test was imminent. SpaceX officials do not publicize the company's prelaunch activities.
The first stage's nine Merlin 1D engines ignited at 3:02 p.m. EDT (1902 GMT), sending a plume of exhaust out of the flame trench to the north of the launch pad. SpaceX confirmed the completion of the test on Twitter a few minutes later.
The engines ramped up to full throttle — around 1.7 million pounds of thrust — for several seconds. After shutdown, the rocket was to be drained of its propellants, lowered horizontal and returned to SpaceX's hangar at the southern edge of pad 39A, where ground crews will connect the launcher to its satellite passenger.
Meanwhile, SpaceX engineers will analyze data from Tuesday's static fire test to ensure everything worked as advertised, and a launch readiness review is planned later this week to approve plans for this weekend's liftoff.
Launch Sunday is scheduled during a two-hour period opening at 7 a.m. EDT (1100 GMT). The exact launch time has not been released.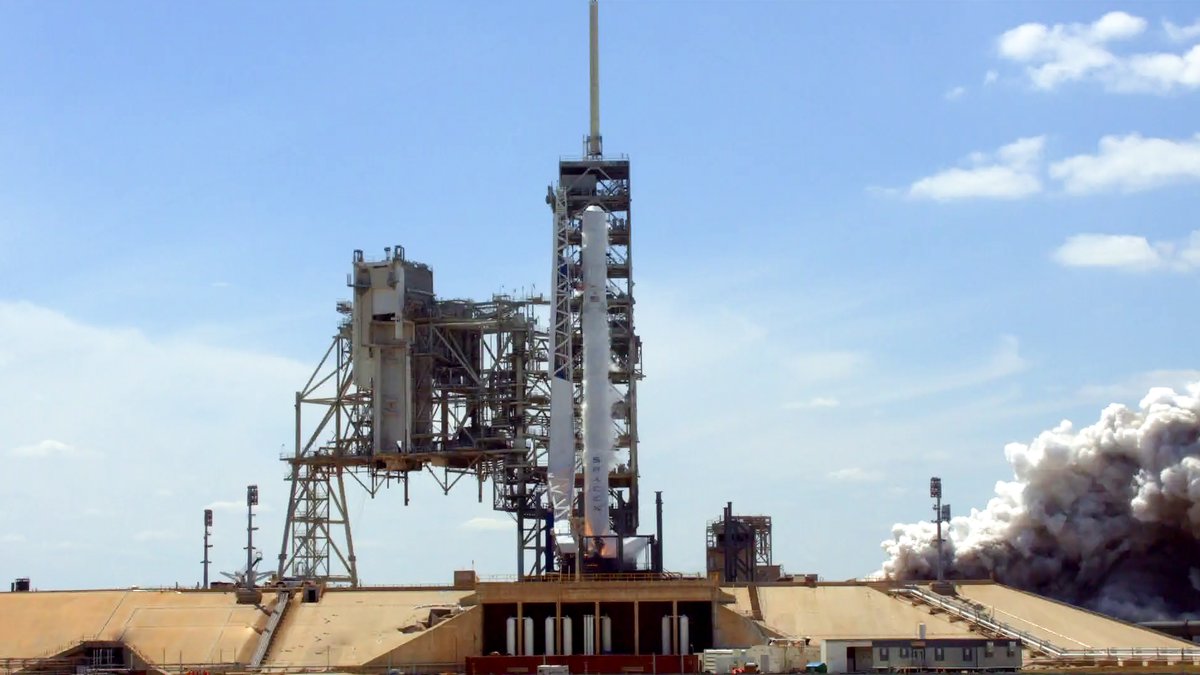 The upcoming launch, the first by SpaceX since a successful mission with a resued first stage booster, will fly with an all-new Falcon 9 rocket. It will be the 33rd launch of a Falcon 9 rocket since 2010, and the fifth SpaceX flight this year.
This will be SpaceX's first launch for the NRO, which typically puts its payloads on United Launch Alliance Atlas 5 and Delta 4 rockets.
But the NRO awarded SpaceX a sole-source launch contract for this mission, and SpaceX will be eligible to compete with ULA for more NRO missions later this year.
The identity of the NRO payload riding aboard the Falcon 9 rocket has not been disclosed. Its destination orbit and purpose are also secret.
A hazard map released by the U.S. Air Force's 45th Space Wing indicates a security zone will be established to the northeast of Cape Canaveral on Sunday, a hint that the Falcon 9 rocket will likely head northeast from Florida's Space Coast.
Such a trajectory would place the rocket's payload into a high-inclination orbit that could cover a swath of the planet from around 60 degrees north to 60 degrees south latitude.
The NRO is believed to have communications satellites in high-inclination egg-shaped Molniya-type orbits — with low and high points ranging from a few hundred miles up to around 25,000 miles (40,000 kilometers) — to relay detailed images from low-altitude spy spacecraft to intelligence analysts in nearly real-time.
Ted Molczan, a respected tracker of satellite movements, believes the mission is likely a follow-on to the NRO's series of relay satellites in Molniya orbits or an experimental payload bound for low Earth orbit.
SpaceX plans to land the Falcon 9 rocket's first stage at Cape Canaveral less than 10 minutes after Sunday's launch. It will be the fourth time the company has tried to recover a Falcon 9 booster on land — all successful.
SpaceX's other rocket landing attempts have targeted a mobile platform in the ocean downrange from the launch site, using a subset of the booster's Merlin engines to point to the landing site and slow down just before a vertical touchdown.
The return-to-land descent profile requires more fuel than an ocean landing, suggesting the payload aboard Sunday's launch will either go to a low-altitude orbit or is very lightweight.
SpaceX previously said the company's webcast of the launch sequence will end shortly after liftoff, as is the case with NRO missions on United Launch Alliance Atlas 5 and Delta 4 rockets. But SpaceX's live video coverage is expected to continue through the first stage landing at Cape Canaveral.
Email the author.
Follow Stephen Clark on Twitter: @StephenClark1.