CAPE CANAVERAL — A commercial Cygnus freighter made a science-enabling delivery to the International Space Station today, bringing about 7,500 pounds of cargo to the outpost under NASA's privatized logistics shipment program.
Completing a flawless automated rendezvous before being reeled in by the Canadarm2, the ceremonially-dubbed S.S. John Glenn resupply ship was grappled at 6:05.a.m. EDT (1005 GMT) to cap a four-day trek from the launching pad.
The craft was boosted into its preliminary orbit by a United Launch Alliance Atlas 5 rocket from Cape Canaveral on Tuesday, beginning the pursuit to catch the station.
Orbital maneuvers closed the gap over the past few days, bringing the two craft just miles apart by early this morning. Cygnus then approached the lab complex from behind and below, slowly gaining ground while the astronauts carefully monitored the approach, able to command a retreat if necessary.
But waypoints were successfully passed on time, eventually bringing the craft to a position 39 feet from the orbiting complex, within arm's reach of the station, where it turned off its thrusters in a quiescent state and awaited capture by the astronauts.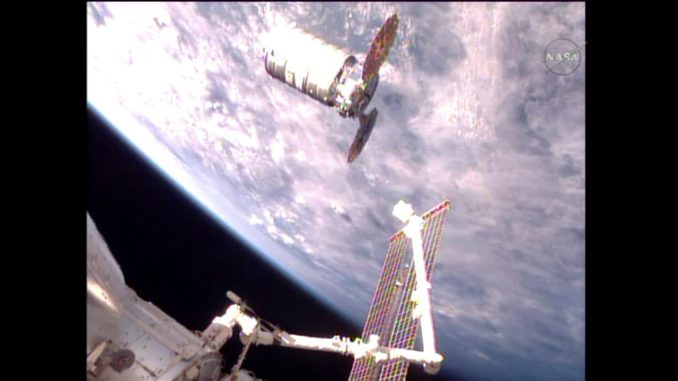 At 6:02 a.m. EDT (1002 GMT), Expedition 51 flight engineer and robot arm operator, Frenchman Thomas Pesquet, put the 58-foot-long Canadarm2 in motion, deftly extending the device and aligning it with the grapple pin on Cygnus.
Once over the fixture, wires inside the Canadarm2's end-effector closed to firmly snare the vessel for its three-month stay at the station.
"Houston, station on 2. The arm is safed," Pesquet radioed to the ground moments after the successful capture.
"The crew of Expedition 51 would like to congratulate all the teams at NASA, Orbital ATK and the contractors for a flawless cargo-delivery mission. We are very proud to welcome onboard the S.S. John Glenn.
"The more than three tons of pressurized cargo in the Cygnus spacecraft will be put to good use to continue our mission of research, exploration and discovery. Achievements like this, fruit of the hardwork by space agencies and private companies and the international cooperation across the world, are what truly makes the ISS such a special endeavor at the service of all mankind."
"Station, Houston, well said," replied CAPCOM Mike Jensen.
The capture came 250 miles over Germany, some 3 days, 18 hours, 54 minutes after liftoff from Cape Canaveral aboard the Atlas 5 rocket.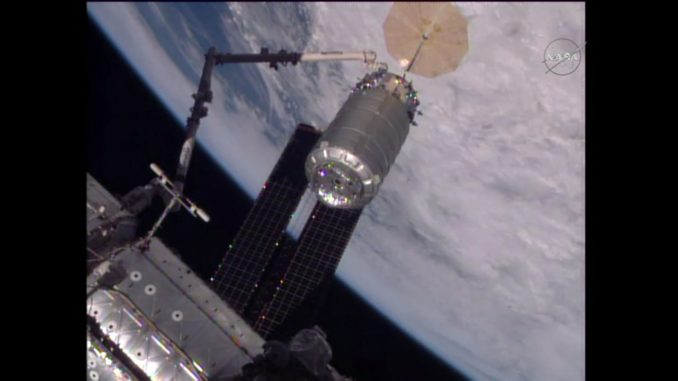 Ground controllers working via remote command then took over and used the arm to maneuver Cygnus to the underside of the Unity module and seat the cargo ship into the berthing port. Sixteen electrically-driven bolts were engaged to structurally mate the craft to the station, a mark officially achieved at 8:39 a.m. EDT (1239 GMT).
The hatchway into Cygnus will be opened later today.
Two particular items to unload are a large avionics box and a jumper cable, both of which are needed for a spacewalk planned on May 12 by Expedition 51 commander Peggy Whitson and flight engineer Jack Fischer.
The prime objective of the EVA is replacement of an avionics box on one of the station's ExPRESS Logistics Carrier pallets, originally launched aboard the space shuttle with spare parts attached. But the structure will be able to accommodate science payloads following this update.
"Getting that box upgraded it going to us to be able to supply power to multiple payloads," said Kenny Todd, ISS operations integration manager.
There's also a cable that the spacewalkers will connect to the Alpha Magnetic Spectrometer to enable ground controllers to determine if a shuttle-era port is still working after nearly six years in space.
If it is, engineers could use it for command-and-control in the design of new cooling pumps planned for installation onto the particle physics experiment in the future. If the port is no longer operable, a new concept for designing the pumps will be needed.
"The team has looked at all the different options and ways to get the ones and zeros going where they need to back and forth between the AMS and these pumps. They discovered there's this 1553 connection on the AMS, actually the heritage goes back to when we launched it in the shuttle. The thought is to maybe use that same connection," Todd said.
"They've come up with a way to put a little jumper in that basically takes the output of 1553 and puts it right back around to the input of that same connection, that way they are able to see whether or not there's good continuity in that 1553 port. If there is, that helps to inform the decision that the AMS folks need to make."
Cygnus will remain in place at the station for three months, allowing the crew to unload its vast amount of cargo and then load trash and disposables into the craft before it departs to burn up in the atmosphere.
Vehicle hardware: 2,677 pounds
* Express Carrier Avionics (ExPCA) box and jumper cable, lab external handrail wireless communication antennas, improved Payload Ethernet Hub Gateway (iPEHG) hardware, external high definition camera and enhanced MDM hardware
* Student-built spacewalk tools
* Food warmer, medical accessory kits and sleeping bag and liners
* Microbial sampling hardware, filter and batteries for smoke detectors, acoustic dosimeter and data receiver, cabin air assembly heat exchanger
* Exercise harnesses for treadmill to be used by Nespoli and Randy Bresnik
* Cabling for Waste and Hygiene Compartment, Nitrogen/Oxygen Recharge System tanks and ventilation monitor and air filters
* New distillation and fluid and pressure control pump assemblies for the urine-to-water recycler
* Solid-state lights, multipurpose glue, standard socket, L-wrench
* Waste water bags
* Urine and solid waste disposal containers
* Toilet paper package
Crew supplies: 2,103 pounds
* Crew suitcases and provisions
* 92 Bulk Overwrap Bags of food
* Public affairs items for European Space Agency astronaut Paolo Nespoli launching to the station in July
* Personal items for Mark Vande Hei launching in September
* NASA items for Russian crew
* Procedure manuals
Science utilization: 2,072 pounds
* European Space Agency: Extremophiles kit and the Portable PFS facility for human research in respiratory, cardiovascular and metabolic physiology
* JAXA: Group Combustion hardware, ELF hardware, Probiotics
* NASA: Alpha Magnetic Spectrometer 1553 terminator connector, Antibody Drug Conjugates in Microgravity, Magnetic 3D Cell Culturing, Genes in Space 2 and 3, Osteo-omics, Nanoracks equipment and deployers, Plant Habitat, Rodent Research 5 Animal Access Unit, VEGGIE, SAFFIRE-3
EVA gear: 161 pounds
* Hard upper torso, arms, legs, boots, checkout fixture for spacesuit
* Spacewalk tool kit, tethers, tape, scissors
Russian hardware: 40 pounds
* Bulk Overwrap Bags of food for cosmonauts Fyodor Yurchikhin, launching April 20, and Sergey Ryazanskiy launching in July
Computer resources: 4 pounds
* Plant Habitat software
* System upgrade CD and DVD for the Columbus module
* M12 to RJ45 adapters
With packing material included, the total "up-mass" on this Cygnus in the pressurized cargo module is 7,443 pounds. The craft also has a 183-pound external cubesat deployer.
See earlier OA-7 Cygnus coverage.
Our Atlas archive.