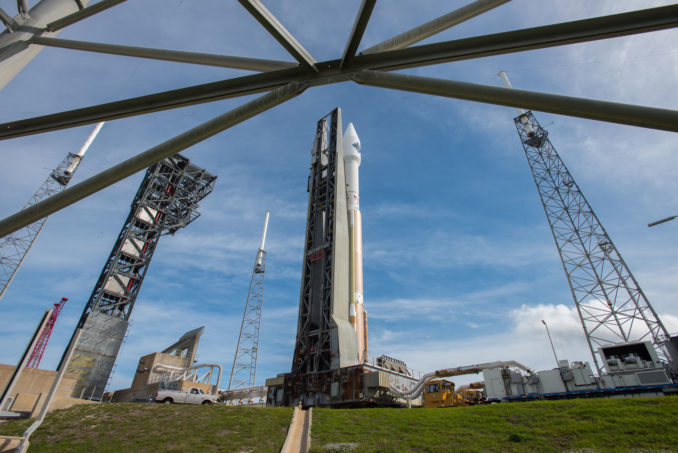 CAPE CANAVERAL — Air Force meteorologists on this Good Friday have released their initial forecast for Tuesday's launch of a cargo ship to the International Space Station, predicting favorable conditions to fly the Atlas 5 booster on a commercial mission.
The United Launch Alliance rocket will propel Orbital ATK's Cygnus automated resupply freighter into low-Earth orbit from Cape Canaveral.
Liftoff on Tuesday will be possible during any of five specific opportunities in a 30-minute launch window, with the rocket's in-flight steering capabilities employed to guide Cygnus into the station's orbital plane:
Opportunity 1: 11:11:23 a.m. EDT
Opportunity 2: 11:18:53 a.m. EDT
Opportunity 3: 11:26:23 a.m. EDT (in-plane)
Opportunity 4: 11:33:53 a.m. EDT
Opportunity 5: 11:41:23 a.m. EDT
(* exact times will be tweaked by a few seconds based on final radar tracking of the station's orbit on launch day.)
It will be the 71st Atlas 5 launch and the third to deploy a Cygnus for the space station.
The spacecraft weighs 15,928 pounds, and it is loaded with 7,443 pounds of internal cargo and an 183-pound external deployer for cubesats.
Cygnus will take a four-day trek to the orbiting laboratory for rendezvous next Saturday, April 22. Grapple of the vessel by the station's robotic arm, operated by Expedition 51 flight engineer Thomas Pesquet, is planned for 6:05 a.m. EDT (1005 GMT).
Weather forecasters predict an 80 percent chance of acceptable conditions for launch, with cumulus clouds posing only slight concerns.
"High pressure with a tight pressure gradient over Central Florida will dictate this weekend's weather. Breezy, on-shore winds will persist through Sunday night with a chance of a brief, coastal shower. On Monday for MLP roll, favorable weather conditions will continue and on-shore winds will weaken slightly as the high pressure system moves eastward into the Atlantic Ocean," the Air Force launch weather team said this morning.
"On launch day, high pressure continues to provide favorable weather with a slight chance of a coastal shower. Winds remain on-shore with peak wind speeds in the low-teens during the launch window.
The launch time specifics include scattered clouds, good visibility, winds from the east at 8 to 13 knots, a relative humidity of 72 percent and a temperature of 75 degrees F.
If the launch slips to Wednesday's 30-minute window that opens at 10:48 a.m. EDT (1448 GMT), there is a 70 percent chance of good launch weather.
"In the event of a 24 hour delay, winds will turn more southeasterly and bring an increase in low-level moisture. Coupled with an upper level trough pushing into the Eastern Gulf of Mexico, the Florida peninsula will experience increasing cloudiness and showers. Wind speeds will be in the mid-teens," forecasters say.
"The primary concerns for launch are cumulus clouds and thick clouds."
See earlier OA-7 Cygnus coverage.
Our Atlas archive.