Updated at 1:40 p.m. EDT (1740 GMT) with image and splashdown time.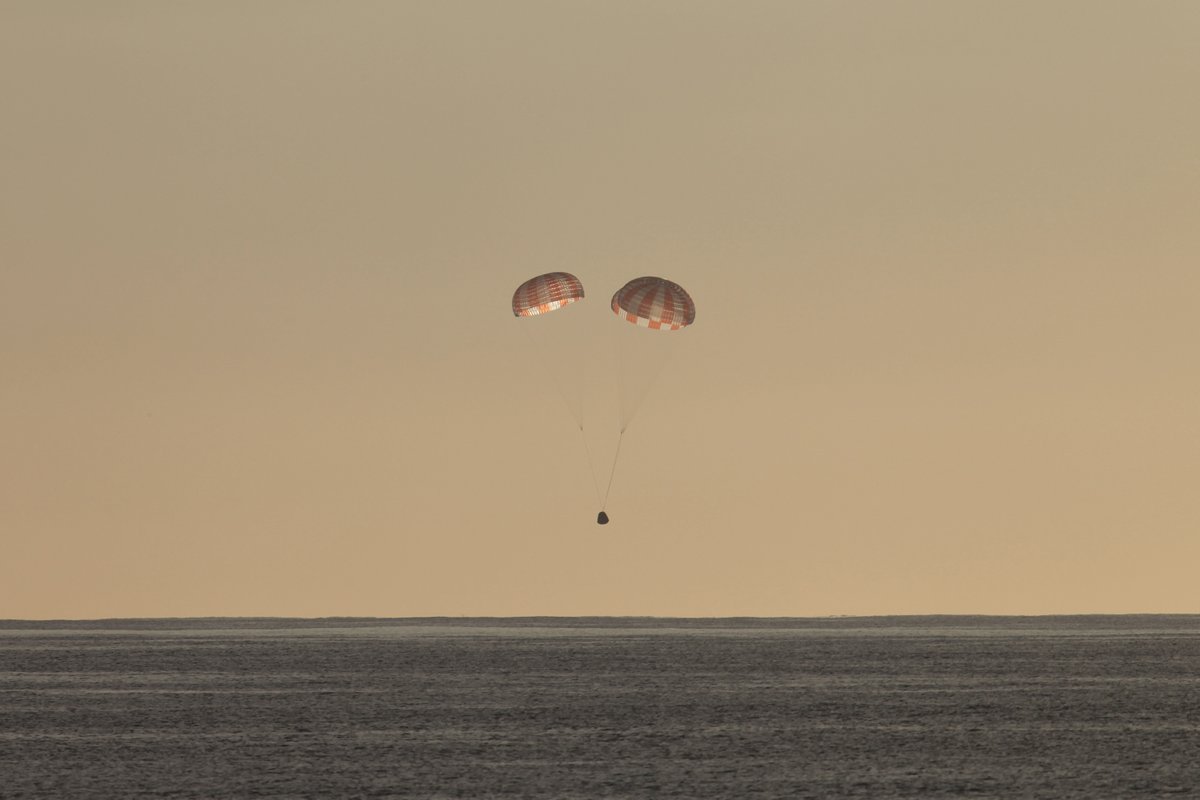 SpaceX's Dragon cargo craft ended a four-week mission Sunday with a parachute-assisted splashdown in the Pacific Ocean, returning from the International Space Station with more than 3,600 pounds of cargo, blood and urine samples, and specimens from a rodent research experiment aimed at helping patients with catastrophic bone injuries and osteoporosis.
Flying northwest to southeast over the Pacific Ocean, the 12-foot-wide (3.7-meter) automated spaceship streaked through the upper atmosphere, its carbon ablative heat shield weathering temperatures up to 3,000 degrees Fahrenheit (1,650 degrees Celsius).
Two drogue parachutes deployed to stabilize the descending ship, then three orange and white main parachutes, each stretching 116 feet (35 meters) in diameter, unfurled to slow the spacecraft to a gentle splashdown speed.
The capsule was scheduled to reach the Pacific Ocean around 200 miles southwest of Long Beach, California, at 10:46 a.m. EDT (1446 GMT; 7:46 a.m. PDT), where a small SpaceX recovery crew was on standby to hoist the spacecraft on a vessel for the trip back to the Port of Los Angeles.
Once Dragon is back in California, SpaceX will hand over time-sensitive samples to NASA for delivery to science teams around the world.
The items inside Dragon's pressurized compartment include tissue from mice euthanized in orbit. Researchers sent 40 mice into space on Dragon to examine how bone fractures heal in the absence of gravity, and search for the biological reasons why most animals, including humans, cannot regrow lost limbs.
"We're trying to understand what happens in the body as the bones start healing," said Rasha Hammamieh, the rodent research project's chief scientist from the U.S. Army Center for Environmental Health Research.
The military is co-sponsoring the bone health experiment, with an eye toward learning lessons that could be applied to helping injured soldiers recover from catastrophic bone injuries.
There are also implications for civilians, such as elderly patients with osteoporosis.
"Up in space, you lose bone," said Melissa Kacena, co-investigator for the bone experiment and an associate professor of orthopedic surgery, anatomy and cell biology, and biomedical engineering at Indiana University. "In fact, astronauts lose about 1 to 3 percent of their bone density in a month. Someone with advanced osteoporosis loses closer to 1 percent per year."
Kacena added that scientists want to test drugs on rodents that might be able to "rebuild your bone systematically, so it could have applications not only for bone healing, but also for osteoporosis."
Bacterial and stem cell researchers also had a stake in Dragon's nearly month-long mission.
"We are excited to put MRSA, which is a superbug, on the International Space Station and investigate the effects of microgravity on the growth and mutation patterns of these bugs," said Anita Goel, chairman and science director of Nanobiosym, which developed the experiment with the Center for the Advancement of Science in Space.
"I have this hypothesis that microgravity will accelerate the mutation patterns," Goel said before Dragon's Feb. 19 launch. "If we can use microgravity as an accelerator to fast forward and get a sneak preview of what these mutations will look like, then we can esssentially build smarter drugs back on Earth."
A science team led by a Mayo Clinic biologist sent human adult stem cells to the space station, pursuing research that could help transplant patients and stroke victims. Materials from the stem cell experiment, which will also help researchers learn how human cancers start and spread, also came back to Earth.
SpaceX's Dragon spacecraft is the only vehicle currently capable of returning large amounts of cargo from the space station to Earth intact.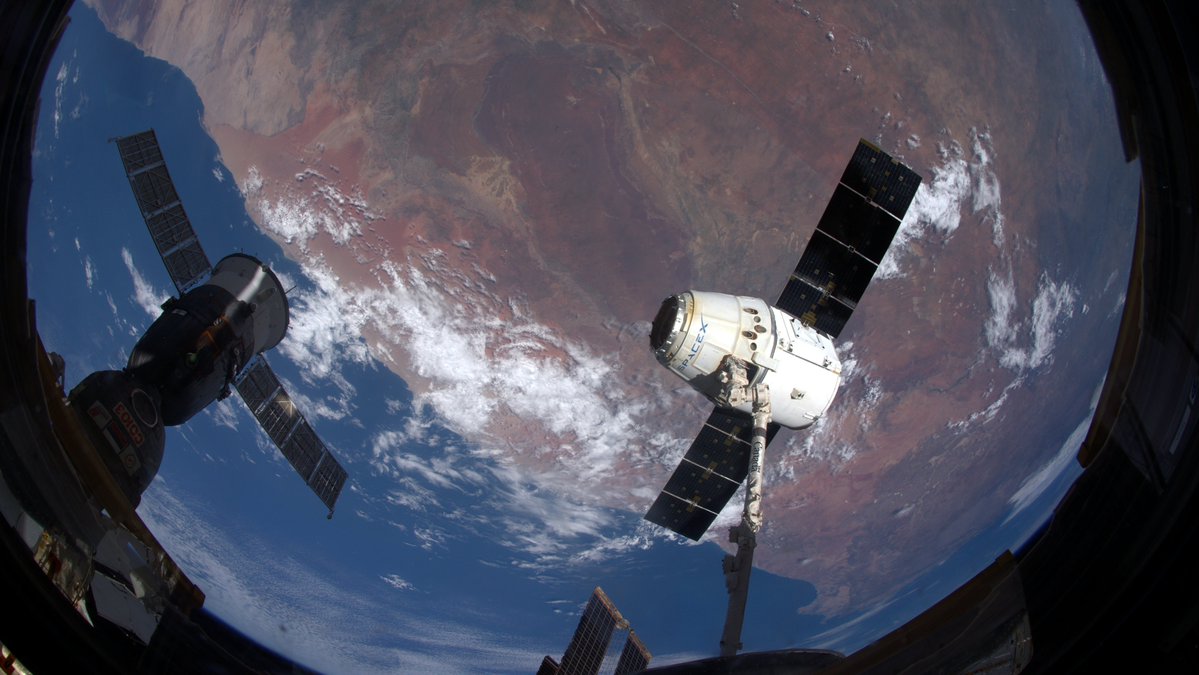 The station crew packed 3,642 pounds (1,652 kilograms) of cargo and research samples inside Dragon's internal cabin for re-entry, according to a NASA spokesperson.
The items included 2,034.9 pounds (923 kilograms) of science equipment, 825.2 pounds (374.3 kilograms) of vehicle hardware, 279.5 pounds (126.8 kilograms) of crew supplies, 228.6 pounds (103.7 kilograms) of miscellaneous spacewalking gear, and 9 pounds (4.1 kilograms) of computer resources.
Several items were loaded into the Dragon capsule's trunk for disposal during its destructure re-entry, including disused hardware from NASA's Robotic Refueling Mission, an experiment that tested technologies and techniques for future satellite servicing missions.
Other gear tagged for disposal include OPALS, an external payload developed by NASA's Jet Propulsion Laboratory, which arrived at the station in April 2014 and tested a high-speed laser communications link between the space station and ground stations on Earth.
Another package that was fixed outside the space station discarded Sunday was one in a series of Materials on International Space Station Experiments, or MISSE payloads, that tested the radiation tolerance of a new computer system built for long-duration spaceflight.
The unpressurized cargo complement that burned up inside Dragon's trunk on re-entry accounted for around 1,788 pounds (811 kilograms).
Dragon's total cargo load at departure was approximately 5,430 pounds (2,463 kilograms).
The Dragon capsule will go to SpaceX's test facility in Central Texas for inspections, decommissioning and potential refurbishment for another flight.
Sunday's splashdown concluded the 10th visit of a SpaceX Dragon capsule to the space station since May 2012, and the first Dragon flight of the year. The mission launched Feb. 19 atop a Falcon 9 rocket from pad 39A at NASA's Kennedy Space Center in Florida, and reached the space station four days later.
Astronauts Thomas Pesquet and Shane Kimbrough oversaw the ship's departure from the complex earlier Sunday, sending the command to release Dragon from the station's robotic arm at 5:11 a.m. EDT (0911 GMT).
Ground controllers at mission control in Houston took control of the Canadian-built robotic arm Saturday to detach Dragon from its temporary berthing port on the research lab's Harmony module, taking the opportunity to use the cargo craft's laser navigation sensor and thermal camera to inspect and test a docking adapter installed last year that will eventually be the parking spot for commercial crew carriers in development by Boeing and SpaceX.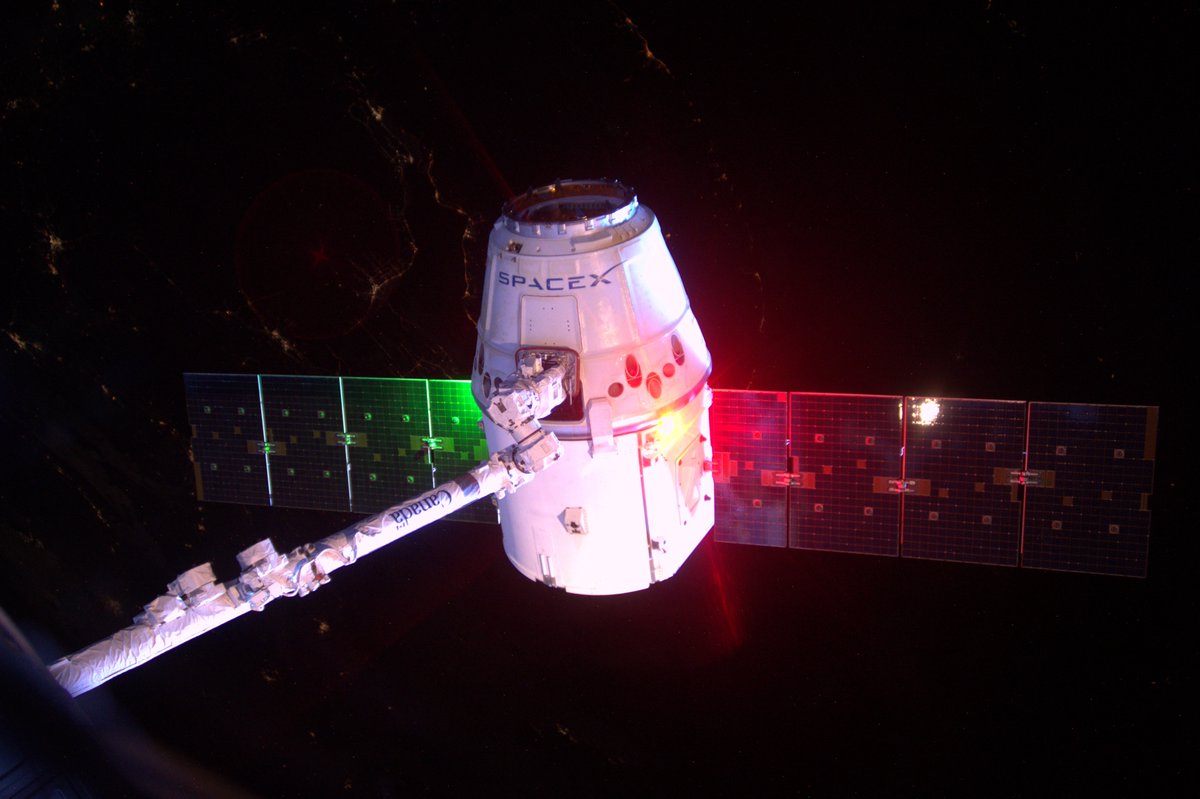 Once Dragon was released from the robot arm, the spacecraft conducted three firings of its Draco thrusters to depart the vicinity of the space station.
"Houston, it looks like it's time to say goodbye to Dragon," Pesquet said. "There's a part of us that will come back to down to Earth with her, and I mean that literally because it carries lots of important scientific samples, and some obtained directly from the crew.
"I know scientists can't wait to get their hands on their results, and thanks to return vehicles like Dragon, the ISS is able to fulfill its mission of science and discovery," Pesquet said. "From all the crew of Expedition 50, many thanks and congratulations to all the teams involved in this CRS-10 mission."
Michael Hopkins, an astronaut servicing as spacecraft communicator in mission control in Houston, replied: "Thanks for those words, Thomas, and congratulations to the crew as well. You guys did a fantastic job, as well, always staying ahead of the timeline, and it's going to be great to get Dragon back on Earth."
Dragon's Draco thrusters fired again around 10 a.m. EDT (1400 GMT) to slow its velocity for re-entry, and the spacecraft jettisoned its disposable unpressurized trunk section minutes later, discarding the three external payloads at the ends of their missions.
The next Dragon resupply mission under SpaceX's multibillion-dollar contract with NASA is expected to launch no earlier than May, flying with a previously-used pressure shell for the first time. SpaceX's two cargo contracts with the space agency cover at least 26 logistics deliveries through 2024.
Meanwhile, NASA's other commercial resupply contractor, Orbital ATK, is set to launch its next Cygnus cargo craft to the space station Thursday or Friday from Cape Canaveral aboard a United Launch Alliance Atlas 5 booster.
Email the author.
Follow Stephen Clark on Twitter: @StephenClark1.