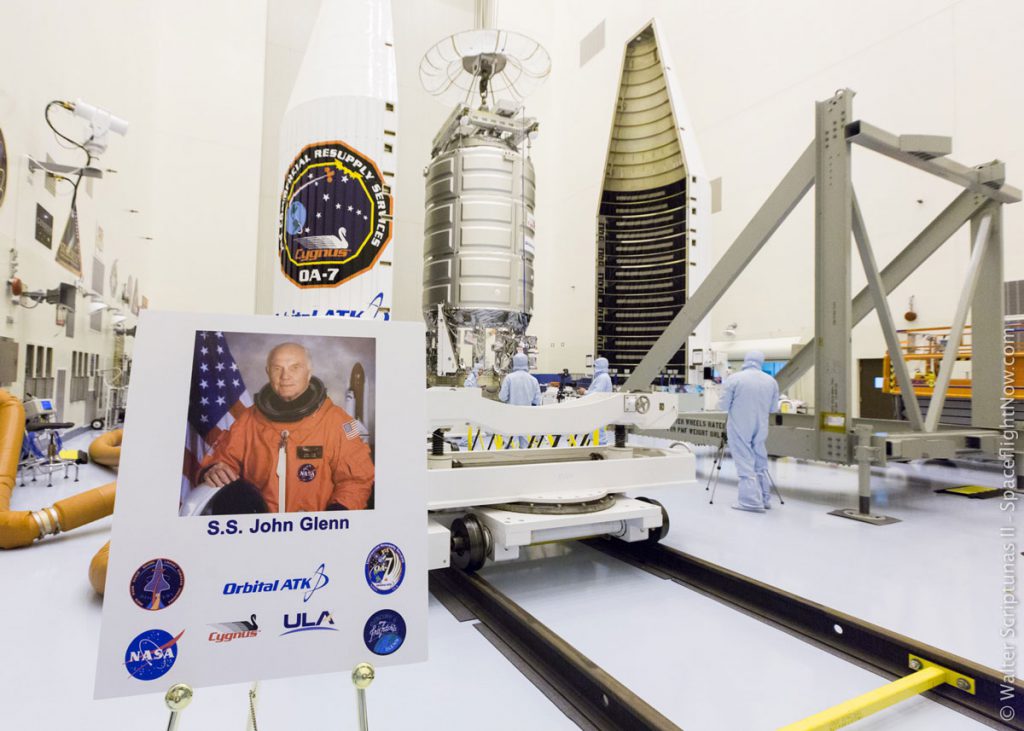 CAPE CANAVERAL — An eight-ton cargo ship destined for the International Space Station was hoisted aboard its United Launch Alliance Atlas-Centaur booster rocket today in preparation for liftoff to the orbiting laboratory next week.
The commercial Cygnus freighter — christened the S.S. John Glenn in tribute to America's first man to orbit Earth — is scheduled for launch either Thursday, March 23 or Friday, March 24 from Complex 41 at Cape Canaveral. A final determination of the date is expected Monday, based on Range availability.
ULA is boosting its third Cygnus payload for Orbital ATK, allowing the vessel to carry its maximum amount of cargo to the station.
March 23: Launch window 9:23-9:53 p.m. EDT; Rendezvous March 27
March 24: Launch window 9:00-9:30 p.m. EDT; Rendezvous March 28
March 25: Launch window 8:37-9:07 p.m. EDT; Rendezvous March 29
Liftoff was delayed a few days to replace a component in the first stage hydraulics that showed suspect behavior in pre-flight testing. Further date uncertainty was created by two SpaceX postponements and the ripple effects that had with scheduling on the Eastern Range.
The Cygnus mission, known as OA-7 under NASA's Commercial Resupply Service contract, carries 7,443 pounds of internal cargo and an 183-pound external deployer with cubesats.
The freighter weighs 15,928 pounds in totality.
"We have more than 2,000 pounds of scientific experiments on board spanning all fields of science onboard," said Holly Vavrin, a commercial visiting vehicle engineer in NASA's International Space Station Program Office.
"There are also 38 CubeSats launching on this mission, including four that will launch from the Cygnus and 34 that will be launched from the station to conduct a range of experiments including testing long-life battery systems, study cloud systems and measure background radiation."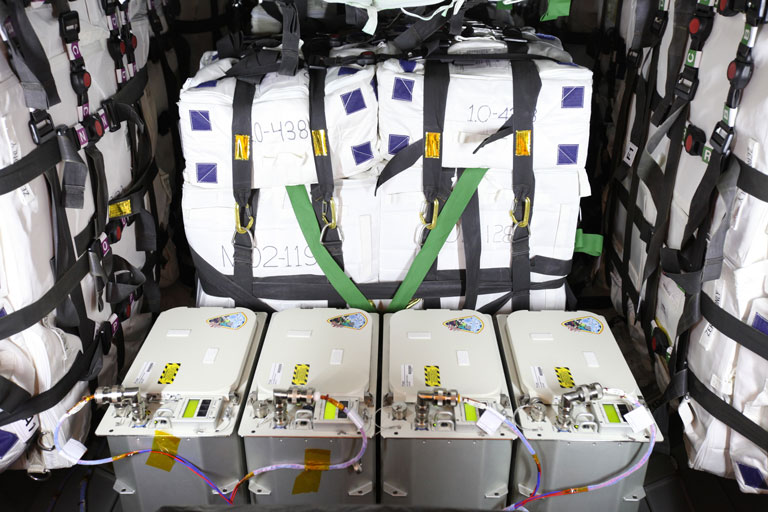 The craft departed from the Payload Hazardous Servicing Facility at 12:30 a.m. today, riding aboard its motorized transporter north through the Kennedy Space Center, past the Vehicle Assembly Building and pad 39A, then down the coastal road to the Atlas 5 rocket's Vertical Integration Facility.
It arrived at 3:30 a.m. and hoisting operations began at 7:30 a.m.
The VIF is where the Atlas 5 has been assembled aboard its mobile launch platform. There, an overhead crane lifted the encapsulated Cygnus atop the Centaur upper stage to top off the 194-foot-tall rocket.
Rollout to the Complex 41 pad will occur two days before launch.
In keeping with its tradition of naming Cygnus vehicles for distinguished astronauts who have passed away, Orbital ATK selected John Glenn for this mission. He died in December at age 95.
"John Glenn was probably responsible for more students studying math and science and being interested in space than anyone," said former astronaut Brian Duffy, Orbital ATK's vice president of Exploration Systems.
"When he flew into space in 1962, there was not a child then who didn't know his name. He's the one that opened up space for all of us."
Glenn was one of NASA's original Mercury astronauts and flew the first American orbital spaceflight by a human in 1962. He returned to space aboard shuttle Discovery for a science mission in 1998.
"He has paved the way for so many people to follow in his footsteps," said Frank DeMauro, vice president and general manager of Orbital ATK's Advanced Programs division. "It is my humble duty and our great honor to name this spacecraft the S.S. John Glenn."
See earlier OA-7 Cygnus coverage.
Our Atlas archive.