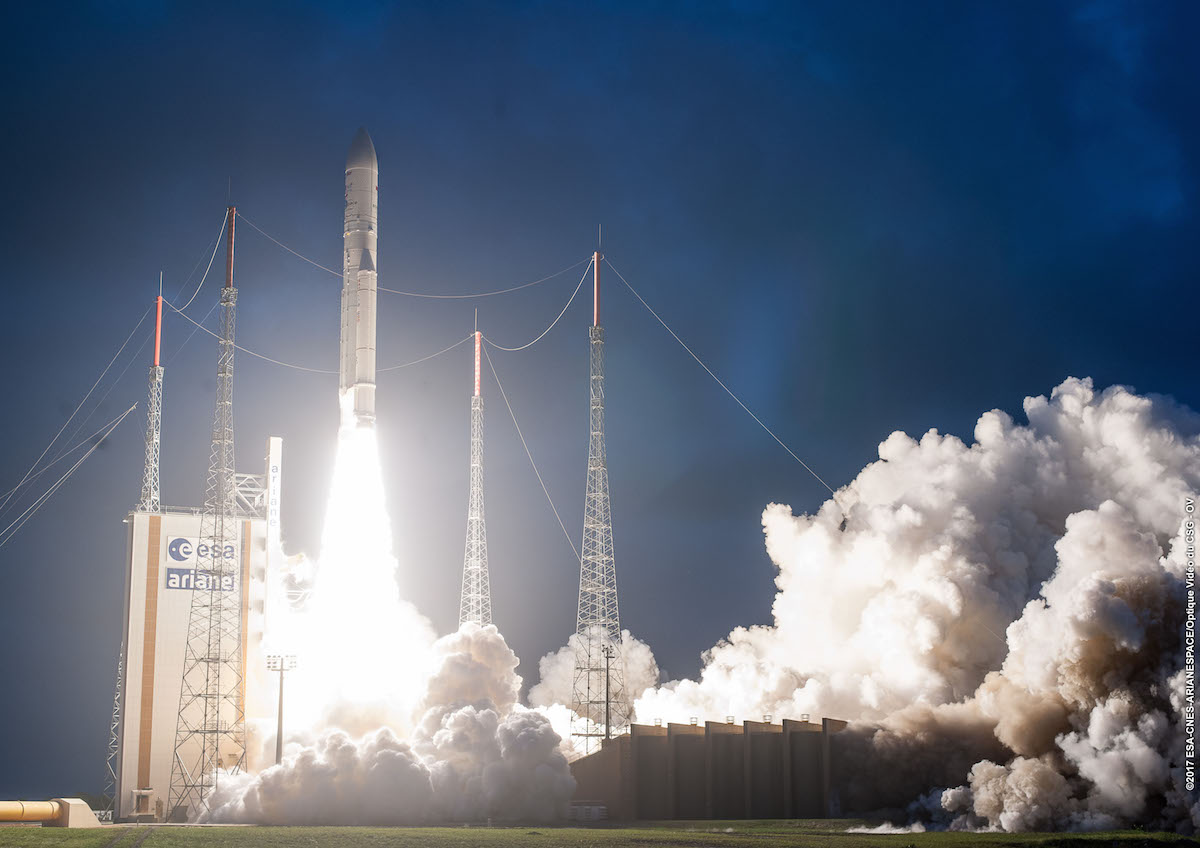 A pair of commercial broadcast satellites on the way to parking spots high above Brazil and Indonesia are safely in orbit after blasting off Tuesday atop an Ariane 5 rocket.
The powerful launcher, fitted with a hydrogen-fueled Vulcain 2 main engine and two side-mounted solid rocket boosters, soared into an overcast sky over the European-run space base in Kourou, French Guiana, at sunset Tuesday.
Within 10 minutes, the Ariane 5 shed its strap-on motors and core stage, and the rocket's HM7B upper stage engine shut off just after the mission's 25-minute point after reaching an orbit very close to the trajectory targeted by the launcher's on-board guidance computer.
The Ariane 5 first deployed the Sky Brasil 1 satellite, the heavier of the two payloads launched Tuesday, then jettisoned a cover to reveal the smaller Telkom 3S communications craft for separation around 40 minutes after liftoff.
"Arianespace is delighted to announce that Sky Brasil 1 and Telkom 3S have been separated as planned in the targeted geostationary transfer orbit," said Stephane Israel, chairman and CEO of Arianespace. "For the first time this year, and the 77th in a row, Ariane 5 has performed flawlessly, so well done and congratulations to all."
The Ariane 5 success streak dates back to 2003, when the European-made rocket returned to service following a first stage propulsion failure the year before.
It was the 91st Ariane 5 flight overall since the heavy-lifter's 1996 debut, and the first of up to seven Ariane 5 launches planned in 2017.
The Ariane 5 rocket was aiming to release the Sky Brasil 1 and Telkom 3S satellites, owned by DirecTV Latin America and Telkom Indonesia, in a geostationary transfer orbit arcing as high as 22,205 miles (35,736 kilometers), with a low point around 155 miles (250 kilometers) above Earth, and an inclination of 4 degrees.
The satellites carry their own engines to circularize their orbits at geostationary altitude — around 22,236 miles (35,786 kilometers) — in the coming weeks. The craft will also extend their power-generating solar panels and complete tests of their communications instruments before entering service later this spring.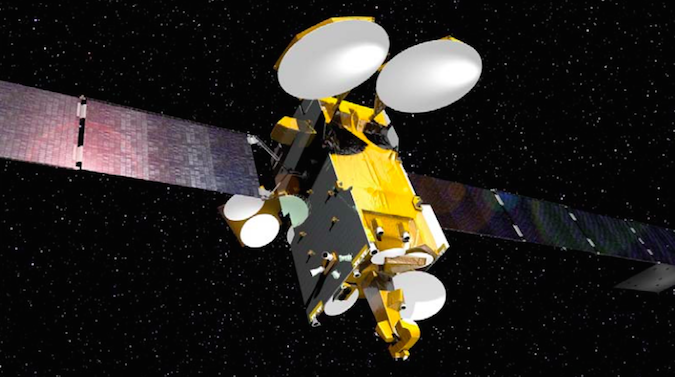 Sky Brasil 1 will support a subscription television service operated by DirecTV Latin America, a subsidiary of AT&T. Built on Airbus Defense and Space's Eurostar E3000 satellite platform, the new telecom craft will cover Brazil with high-definition television broadcast capacity.
Arnaud de Rosnay, senior vice president of telecommunications satellites at Airbus, confirmed Sky Brasil 1 established contact as scheduled with ground controllers soon after separating from the rocket.
"The Sky Brasil 1 spacecraft, which we're about to launch, will roughly triple Sky's capacity in orbit," said Duane Dier, Sky Brasil 1's mission director at AT&T Entertainment Group, in a video statement recorded before the liftoff. "That's a huge long-term increase in competitiveness."
The European-made satellite, fitted with 60 Ku-band transponders, weighs more than 13,000 pounds (about 6 metric tons) with a full load of fuel. The spacecraft's on-board propellant will boost Sky Brasil 1 into a circular geostationary orbit within a few weeks of launch, eventually guiding the satellite to a position along the equator at 43.1 degrees west longitude.
"The satellite will ensure a great future for Sky Brasil," said Luis Otavio Marchezetti, engineering director at Sky Brasil. "I have no words to explain my feelings. I have no words in French, English or Portuguese … It's something else. I'm truly thankful to the Arianespace team."
DirecTV Latin America is partnering with Intelsat on the Sky Brasil 1 project. Intelsat is considered a minority owner of the satellite, which it calls Intelsat 32e, responsible for supplying the radio spectrum for Sky Brasil 1's direct-to-home broadcast services.
Intelsat plans to tap a portion of the new satellite's capacity to feed Internet signals to airline and cruise ship passengers in the Atlantic and the Caribbean.
Expected to operate for at least 15 years — and with enough fuel for more than 20 years — Sky Brasil 1/Intelsat 32e will replace the aging Intelsat 9 satellite currently occupying the 43.1 degrees west location, and augment services currently provided by the Intelsat 11 spacecraft in the same geostationary slot. Intelsat 9 has been in orbit since July 2000 after its blastoff on a Sea Launch Zenit 3SL rocket, while Intelsat 11 launched on an Ariane 5 mission in October 2007.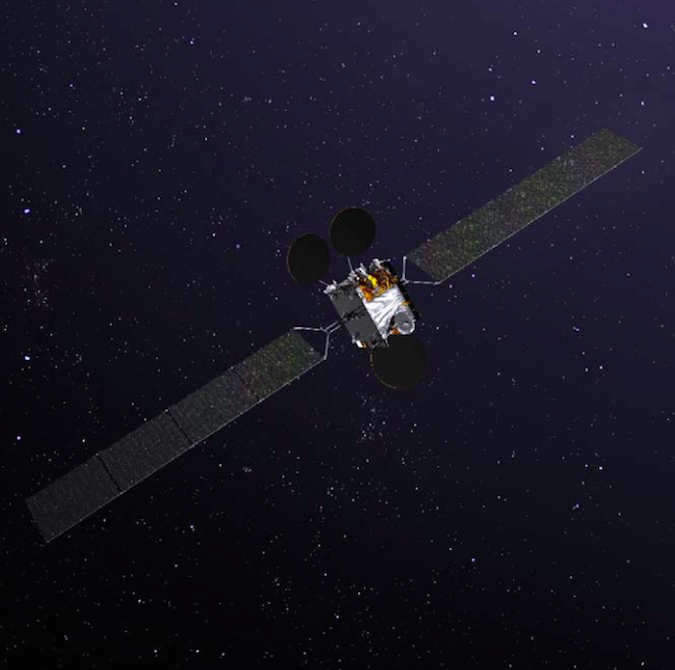 The Telkom 3S satellite is designed to support high-definition television broadcasts, communications on-the-go, and broadband Internet services.
Owned by Telkom Indonesia, the satellite carries 32 C-band and 10 Ku-band transponders. From its final geostationary perch at 118 degrees east longitude, Telkom 3S will reach customers across Indonesia, Malaysia and other parts of Southeast Asia.
"Telkom 3S is a milestone fur us to strengthen our commitment to build a digital society in Indonesia, and, of course, contribute to develop the global economy in general," said Alex Sinaga, CEO of Telkom Indonesia.
The 7,826-pound (3,550-kilogram) satellite was built by Thales Alenia Space.
"Telkom 3S will start its mission at 118 degrees east longitude to replace Telkom 2 in early April of this year and last for almost 18 years, thanks to the (fuel) tank capacity and the high performance of Ariane 5," said Lionel Pelenc, Telkom 3S project manager at Thales.
The Telkom 2 satellite lifted off in November 2005 on another Ariane 5 mission.
Telkom Indonesia ordered the Telkom 3S spacecraft from Thales in 2014 after an upper stage failure stranded the predecessor Telkom 3 satellite in an unusable orbit following launch on a Russian Proton rocket in August 2012.
Thales Alenia Space confirmed Telkom 3S was functioning normally after Tuesday's launch.
The next Ariane 5 launch is scheduled for March 21, when the Brazilian government's Geostationary Defense and Strategic Communications, or SGDC, satellite will head for orbit with KTsat's Koreasat 7 broadcasting and telecommunications payload.
But first, Arianespace plans to launch a solid-fueled lightweight Vega rocket March 6 with Sentinel 2B, the second in a series of land imaging spacecraft for the European Commission's Copernicus environmental satellite network.
Email the author.
Follow Stephen Clark on Twitter: @StephenClark1.