Employees and flight hardware for NASA's Space Launch System and Orion spaceship were mostly spared after a strong tornado struck the agency's Michoud plant in New Orleans on Tuesday, but crews planned to begin repairs immediately to plug holes in buildings housing parts and tools to build the new mega-rocket.
The tornado hit Michoud in East New Orleans around 11:25 a.m. CST (12:25 p.m. EST; 1725 GMT) Tuesday, NASA said, overturning cars, shattering windows and ripping roofs and siding off buildings at the sprawling 832-acre campus.
NASA's Marshall Space Flight Center, which manages the Michoud Assembly Facility, said in a statement Tuesday night that officials have accounted for all 3,500 employees who work at the site. Five of the workers sustained minor injuries, NASA said.
"Our hearts go out to our employees and the people in New Orleans who have suffered from this serious storm," said Keith Hefner, director of Michoud, in a statement. "The safety of our team is always our main concern, and we are pleased to report that we've identified only minor injuries."
Todd May, director of Marshall, told Spaceflight Now in an email that parts for the Space Launch System and Orion capsule dodged damage, along with a giant one-of-a-kind vertical weld tool needed to fuse together tanks for the SLS core stage.
But some of of the hardware is now "indirectly" exposed to the elements, May said, and workers on Wednesday would immediately start plugging the holes to "shore up" the cavernous structure — named Building 103 — housing the components and tools.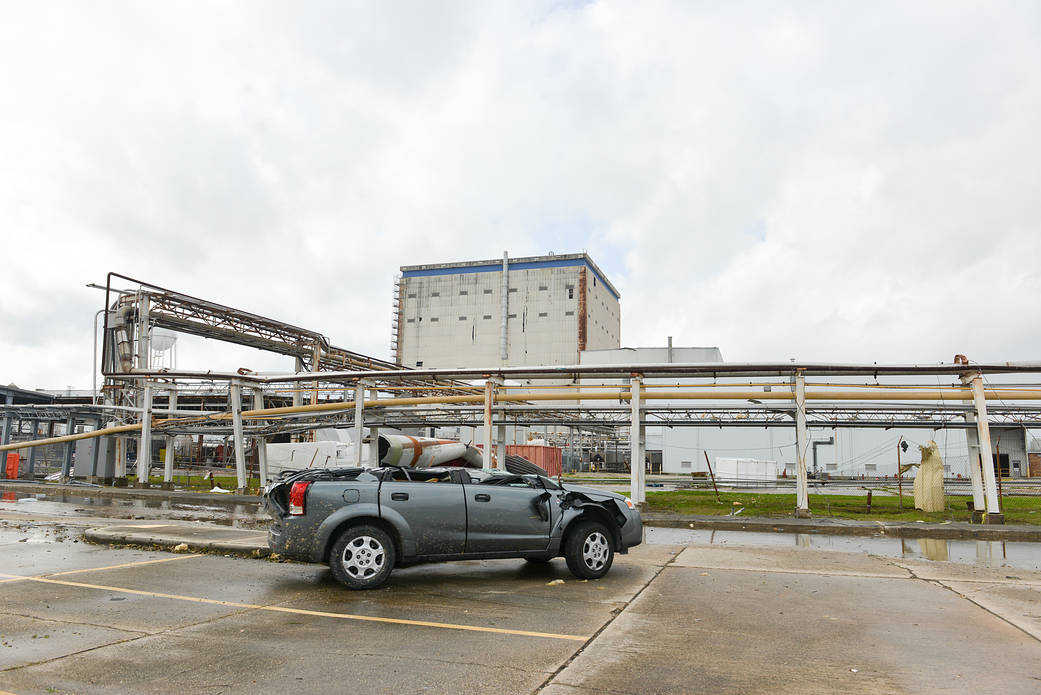 Michoud will be closed to all but emergency personnel Wednesday, NASA said, while crews continue damage assessments and try to restore power.
"At this time, emergency personnel have identified damage to building numbers 103, 350 and additional structures," NASA said late Tuesday. "Building 103, Michoud's main manufacturing building, has roof damage in several areas. Approximately 200 parked cars were damaged, and there was damage to roads and other areas near Michoud."
The Pegasus barge parked at Michoud also weathered the storm with no damage, NASA said. The vessel was used to transport external tanks for the space shuttle — built at Michoud — to NASA's Kennedy Space Center in Florida, and the agency intends to repurpose the barge to ship SLS core stages between Louisiana, a test site at the Stennis Space Center in Mississippi, and the Florida launch base.
The SLS core stage, powered by four shuttle-era RS-25 main engines, will be sprayed with orange foam insulation like the shuttle tank and has the same 27.6-foot (8.4-meter) diameter.
NASA plans the first test launch of the huge rocket, which will tower 321 feet (98 meters) tall in its basic configuration, by November 2018 on an uncrewed demonstration flight to lunar orbit and back with an Orion capsule.
When it flies, the SLS will be the most powerful rocket in existence.
The test flight will be followed by a mission to the moon's distance with up to four astronauts some time between 2021 and 2023 aboard the following SLS and Orion launch.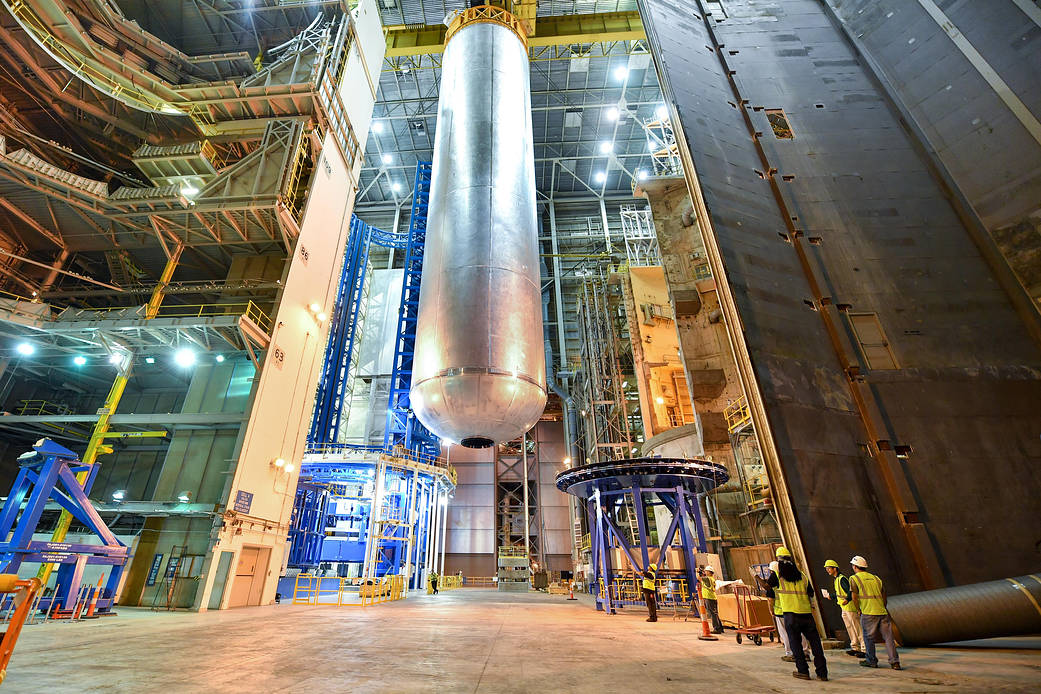 NASA envisions future SLS flights will send astronauts to habitats constructed in deep space, and eventually to Mars in the 2030s.
Welding of the Orion crew module is also based at Michoud, with final outfitting and flight preps at Kennedy Space Center in Florida.
The Michoud facility, located near the Mississippi River a few miles downstream for downtown New Orleans, was originally a World War II facility building boats, airplanes and tank engines. NASA took over the complex in 1961 for assembly of the huge first stage for the Saturn 5 moon rocket, then Michoud became home for construction of the space shuttle's external tank for more than three decades.
Michoud last sustained major storm damage when Hurricane Katrina made landfall on the Gulf Coast in 2005. Parts of the main factory building's roof were peeled away, and concrete particles and rainfall fell into the external tank integration bay. One of tanks damaged, named ET-122, was eventually repaired and flew on the final launch of the shuttle Endeavour in 2011.
"Michoud has a comprehensive emergency plan that we activated today to ensure the safety of our people and to secure our facilities," Hefner said in a statement after the tornado. "I am proud of our dedicated team onsite who are successfully implementing that plan."
Email the author.
Follow Stephen Clark on Twitter: @StephenClark1.