File video of LVOS. Credit: NASA TV
CAPE CANAVERAL — Just two weeks before it flies to space, the core stage of the next Atlas 5 rocket was erected aboard the mobile launcher platform this morning by United Launch Alliance technicians to kick off a streamlined vehicle assembly that will break a record.
Never before has an Atlas 5 stacking process started this close to flight, but it is part of the company's "span reductions" initiative to increase available slots in the manifest while cutting costs.
Previous marks — as measured from commencing stacking to rollout — have shrunk from 43 days to 25 days to 21 days to 17 days for the 401-configured Atlas 5 over the past few years. If all goes according to plan, this mission will total just 13 days.
The initiative has targeted more efficient subsystem testing, improvements in screening to catch component issues sooner and development of time- and labor-saving changes to standard operations.
Atlas 5 saw 90-day processing times when the vehicle first began flying 15 years ago. But the maturing of systems and hardware allowed, for example, the elimination of time-consuming Wet Dress Rehearsals for most missions.
This morning, the 106.6-foot-long, 12.5-foot-diameter bronze-colored booster stage was erected upright and then maneuvered into the Vertical Integration Facility at Cape Canaveral's Complex 41. It is a milestone known as Launch Vehicle On Stand, or LVOS.
Next, the combined interstage, Centaur upper stage and boattail will be hoisted and attached to complete the basic build up of the first Atlas 5 to fly in 2017.
Installation of the payload will occur next week to top off the 189-foot-tall rocket. Rollout to the launch pad occurs the day before liftoff.
The mission, slated for Jan. 19 at 7:46 p.m. EST (0046 GMT), will launch the latest infrared sentinel for the U.S. military's highest priority space program — proving early-warning surveillance of missile attacks.
This third Space Based Infrared System Geosynchronous satellite, or SBIRS GEO Flight 3, will operate 22,300 miles above Earth and simultaneously scan the globe and stare at any suspect area to detect the heat plumes of launching missiles.
Lockheed Martin made the highly complex $1.2 billion satellite.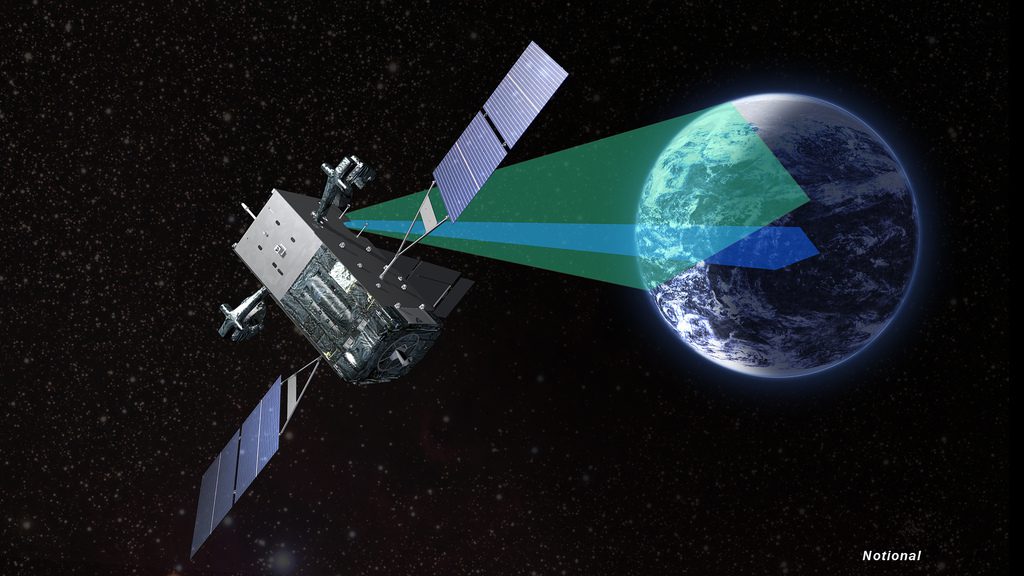 In a typical year, about 8,000 infrared events and 200 missile flights are observed and tracked by the military's satellite network.
SBIRS GEO Flight 3 spacecraft will join a constellation of long-lived Defense Support Program satellites in geosynchronous orbit, SBIRS instruments hosted aboard three classified National Reconnaissance Office spy satellites in highly elliptical, highly inclined orbits and the first two advanced SBIRS GEO birds deployed in 2011 and 2013.
They all work together for persistent monitoring of the entire planet to spot ascending missiles and provide alerts to the U.S. civilian leadership, deployed military forces and the nation's allies.
The Defense Support Program began the operational early-warning system 46 years ago for Cold War threat monitoring. But SBIRS expands the original detection task to support missile defense, battlespace awareness and tactical intelligence by seeing dimmer targets with better sensitivity.
The GEO 3 launch was delayed from its original October launch slot to investigate problems with the orbit-raising engines on two other satellites last summer. Officials eventually cleared SBIRS to fly as-is.
"Assured access to space is a prime National Security Space directive. A fundamental part of assured access to space is safely getting our satellites to orbit which is extraordinarily challenging and technical," said Lt. Gen. Samuel Greaves, the Space and Missile Systems Center commander and Air Force Program Executive Officer for Space.
"Ensuring the safety of our national security space assets is critical."
This launch is the first of two planned by Atlas 5 in January. The classified NROL-79 payload for the National Reconnaissance Office is scheduled for liftoff some time between 5 and 7 p.m. local on Jan. 26 from Vandenberg Air Force Base in California.
See earlier SBIRS GEO Flight 3 coverage.
Our Atlas archive.