STORY WRITTEN FOR CBS NEWS & USED WITH PERMISSION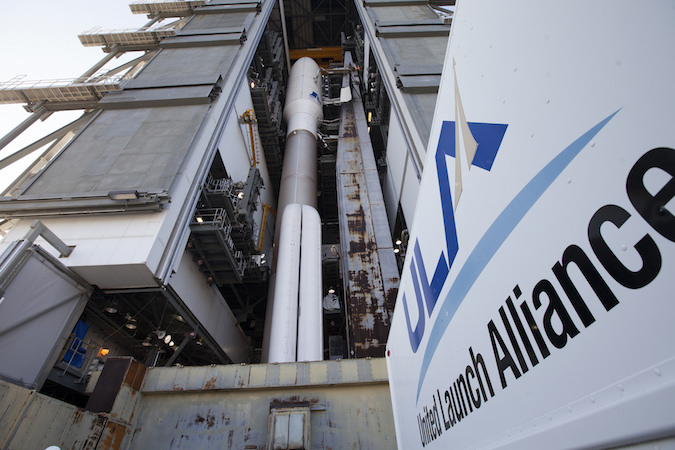 Rocket-builder United Launch Alliance unveiled a first-of-a-kind website Wednesday that shows potential customers exactly what it will cost to buy an Atlas 5 booster, along with expected savings based on the rocket's demonstrated reliability, ULA's on-time launch record and the company's sophisticated guidance system.
The new "RocketBuilder" web tool, reflecting ULA's on-going push to streamline operations and lower prices, shows that an entry-level Atlas 5, capable of boosting a small to medium-size satellite to the high orbit used by communications stations, would cost $109 million — $75 million less than the same rocket cost just a few years ago.
RocketBuilder:
https://www.rocketbuilder.com/
"So $109 (million) is a pretty big change," ULA CEO Tory Bruno told reporters. "And that is the result of an entire company transformation we've been going through. We have entered into strategic partnerships in our supply chain and achieved vast savings there. We have streamlined our operations, taking advantage of our 10 years of experience.
"It now takes half as long to build a rocket in our factory and only a third the amount of time to integrate that at the pad with a spacecraft and launch it. And of course, time is money."
While $109 million version of an Atlas 5 costs nearly $50 million more than a SpaceX Falcon 9 rocket, Bruno said the actual out-of-pocket cost for a customer buying the Atlas 5 is around $44 million when "added value" savings are figured in by RocketBuilder.
In the $109 million example, which assumes a satellite value of $300 million — typical for this variant of the Atlas — projected insurance savings based on the rocket's failure-free launch history would be $12 million.
"It turns out there is a cost associated with reliability, and it's manifested in the insurance rates you pay for your space launch," Bruno said. "And depending on who you choose, the difference in that cost can be millions of dollars. It's significant."
Bruno said the industry average for delays, from the point a contract is signed to a satellite's eventual launch date two to three years later, is about 4.5 months. ULA's average is two weeks or so. RocketBuilder calculates how much revenue a given satellite operator could expect to lose based on that industry average.
"If you choose to go with a launch provider that has a poor record of being on time, then you're going to be exposed to costs," Bruno said. "Your revenue stream that you're going to get from putting your commercial … satellite on orbit will be delayed or deferred. You might have to pay money to store and maintain your satellite while you're waiting for them. That can be millions of dollars."
In the $109 million example, that works out to $23 million in savings.
Bruno said the sophisticated guidance system of the Atlas 5 system means ULA typically delivers satellites to ultra-precise orbits, reducing the amount of on-board fuel needed to fine-tune a spacecraft's path. On average, that can increase the satellite's life by up to two years or so, he said, adding another $30 million in savings.
All together, RocketBuilder says the buyer of that $109 million Atlas 5 would save $65 million, making the actual out-of-pocket cost just $44 million.
"When you're a commercial operator, it's very difficult to get clear transparency around all of these costs so you can do meaningful trades and build a real business plan," Bruno said. "But today, all that changes.
"We are going to provide a tool, we call it RocketBuilder, that anybody can go to and have instant, clear transparency around what the costs are. Not just the sticker price of the rocket, but all of those other costs, and what your true cost of going to space is going to be."
From this point forward, he said, "that information will be transparent and clear. It will be easier to buy a ride to space than to get a plane ticket home for the holidays."
United Launch Alliance is a partnership between Boeing, builder of the Delta family of rockets, and Lockheed Martin, which builds the Atlas 5.
The more expensive Delta rockets, now used exclusively for military and other government payloads, have a record of 33 successes and no failures since the booster's debut in 2002. The Atlas 5 record is 67 straight successes over the same period.
SpaceX is ULA's primary U.S. competitor, launching 28 Falcon 9s since 2010, including one in-flight failure in 2015. Another SpaceX Falcon 9 exploded on the launch pad Sept. 1 during a pre-flight test and it's not yet known when the company plans to resume flights.
But SpaceX founder Elon Musk's drive to lower launch costs, the company's ongoing efforts to develop innovative reusable rocket stages, sharp criticism of ULA's use of a Russian-built engine in the Atlas 5 first stage and a successful push to win military launch contracts have shaken up the rocket industry.
Bruno did not mention SpaceX during his discussion Wednesday, saying only that ULA is continuing its own efforts to lower costs and increase transparency. He said the RocketBuilder tool is a major step in that direction.
"This is an incredible empowerment we are handing to a spacecraft operator to a customer to do trades, optimize between launch service and their whole business plan before they've even picked up the phone," he said. "This is really a game changer, and it's all about providing this transparency that's heretofore not ever been available."