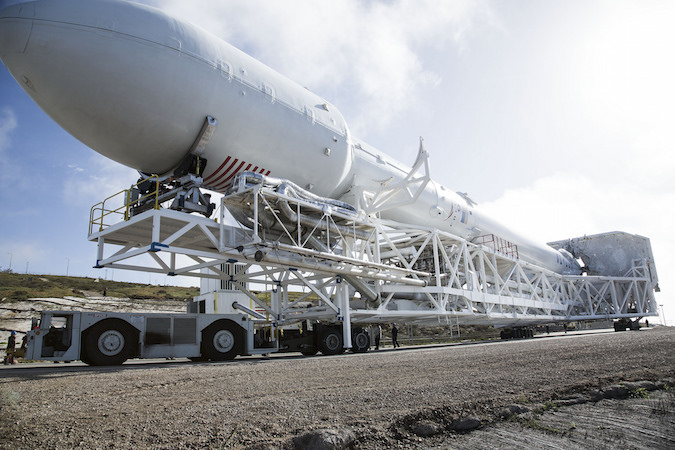 Investigators probing the Sept. 1 explosion of a SpaceX Falcon 9 rocket on its launch pad in Florida believe a high-pressure gas tank inside the launcher's upper stage most likely burst due to the conditions of the helium loaded into it, a finding that could simplify fixes needed before the commercial booster can return to service.
If SpaceX is confident the problem lies in the Falcon 9's fueling procedures, and not in the design of major components of the rocket, engineers could resolve the issue by adjusting how helium gas is loaded into the vehicle.
SpaceX officials have hinted at that possible conclusion for several weeks, and the company's statement Friday confirmed the direction of the failure investigation, adding that engineers have shown a helium tank can be breached "entirely through helium loading conditions."
A Falcon 9 rocket has not flown since Aug. 14, and SpaceX was preparing to launch an Israeli-owned communications satellite when the launcher exploded on Cape Canaveral's Complex 40 launch pad Sept. 1.
The SpaceX launch team was fueling the rocket for a customary pre-flight "static fire" test when the rocket's upper stage blew apart in a fireball, destroying the rest of the vehicle and Israel's Amos 6 telecom satellite.
Helium vessels are immersed inside cryogenic liquid oxygen to pressurize the rocket's propellant tanks, and the high-pressure gas system has proven troublesome for SpaceX in the past, causing scrubs and delays while engineers sorted out leaks and other issues.
A Falcon 9 launch failure in June 2015 was most likely caused when a strut holding one of the helium tanks broke off in flight, according to SpaceX. The company could not determine the strut issue was the definite cause of that failure, and sources said NASA's independent review of the mishap — which was carrying NASA cargo to the space station — was also unable to definitively identify the problem that led to the Falcon 9's disintegration in flight.
NASA's inquiry of last year's Falcon 9 failure still has not been released.
SpaceX said Friday that investigators have made "significant progress" in nailing down the source of the Sept. 1 explosion on the launch pad.
The company said last month that a large breach in the rocket's upper stage helium system led to the explosion, and the update released Friday said engineers are narrowing their attention on one of three helium tanks — called composite overwrapped pressure vessels (COPVs) — inside the second stage liquid oxygen tank.
Engineers working at SpaceX's rocket development and test facility in McGregor, Texas, have put helium tanks to the test.
"Through extensive testing in Texas, SpaceX has shown that it can re-create a COPV failure entirely through helium loading conditions," SpaceX said. "These conditions are mainly affected by the temperature and pressure of the helium being loaded."
Ground test firings of Falcon 9 rocket stages should resume soon, SpaceX said, as the company eyes a return to flight before the end of the year.
"SpaceX's efforts are now focused on two areas – finding the exact root cause, and developing improved helium loading conditions that allow SpaceX to reliably load Falcon 9," SpaceX said. "With the advanced state of the investigation, we also plan to resume stage testing in Texas in the coming days, while continuing to focus on completion of the investigation."
SpaceX has not announced what mission will fly on the next Falcon 9 launch, or where the flight will originate.
Repairs at the Complex 40 launch pad are expected to take months, so SpaceX aims to complete modifications to nearby launch pad 39A, a shuttle-era facility a few miles to the north, in the coming weeks.
SpaceX is leasing pad 39A from NASA, and the firm has erected a horizontal rocket integration hangar, fabricated a transporter-erector strongback to carry rockets up an incline to the launch mount and lift them vertical, and readied liquid oxygen, kerosene and helium farms for launch operations.
Meanwhile, workers at Vandenberg Air Force Base have spent the last few months upgrading Space Launch Complex 4-East for the the latest version of the Falcon 9, which burns super-chilled densified propellants for extra performance.
The next launch on SpaceX's manifest after the Sept. 1 explosion was slated to loft the first 10 satellites for Iridium's next-generation mobile voice and data communications constellation from Vandenberg.
Matt Desch, Iridium's CEO, said last week that he does not know whether the Iridium Next mission remains next in line for SpaceX.
"Gwynne Shotwell (SpaceX's president and chief operating officer) has said a number of times recently that SpaceX still expected to have a couple launches in 2016, which presumably includes ours," Desch said Oct. 27 in a quarterly earnings call with investment analysts. "Until they formally clear the rocket for launch and provide us with a specific date, I don't want to speculate on timing. However, I remain hopeful that they'll return to launching this year.
"Also, I don't know if Iridium Next will be SpaceX's first launch once they return to flight or whether they might schedule a launch from Florida ahead of us. Either way, we're comfortable with SpaceX's investigation and the progress they're making, and I assure you that we won't proceed to launch if we aren't confident in SpaceX and their investigation outcome," Desch said.
Iridium's new satellite fleet will fly spread out in planes 485 miles (780 kilometers) above Earth in polar orbit, enabling global communications coverage. Designed and built by Thales Alenia Space and Orbital ATK, the 81 next-generation satellites will replace Iridium's existing space network.
Launch delays stemming from the Falcon 9 grounding will keep Iridium from fully deploying the satellite fleet by the end of 2017, Desch said. Iridium has booked seven Falcon 9 launches for the Iridium Next program, each carrying 10 satellites, and the missions will now likely not be complete until some time in 2018.
Desch said 20 Iridium Next satellites, enough for the first two Falcon 9 launches, are fully assembled and tested. Ten of those are already at Vandenberg inside SpaceX's clean room, where they arrived in August in anticipation of a launch in September.
Thales and Orbital ATK technicians are on track to finish 35 satellites by the end of this year, Desch said.
"We have 10 satellites ready and waiting in the SpaceX processing facility at Vandenberg," Desch said Oct. 27. "Transport of these satellites from Orbital's facility in Arizona, as well as the satellite to dispenser mating process, all went very smoothly. The fairing which covers the satellite during launch is also at Vandenberg, so we're just waiting for SpaceX's rocket to arrive in a few weeks, as well as the final clearance to launch."
Desch said Iridium will not put its satellites aboard the Falcon 9 rocket until after it completes the pre-flight static fire test.
Several commercial communications satellites, all heading for geostationary transfer orbit, are in the mix to launch on SpaceX's first flight from pad 39A, assuming the company opts to launch from Florida before California in December.
The first Falcon 9 launch using a previously-flown first stage booster is now expected no earlier than January with the SES 10 broadcasting satellite, a geostationary platform designed to provide television and other services to Latin America. SES officials updated the timing of SES 10's launch during a conference call with investors last week.
NASA officials also expect SpaceX's next resupply mission to the International Space Station to blast off around mid-January, at the soonest.
Email the author.
Follow Stephen Clark on Twitter: @StephenClark1.