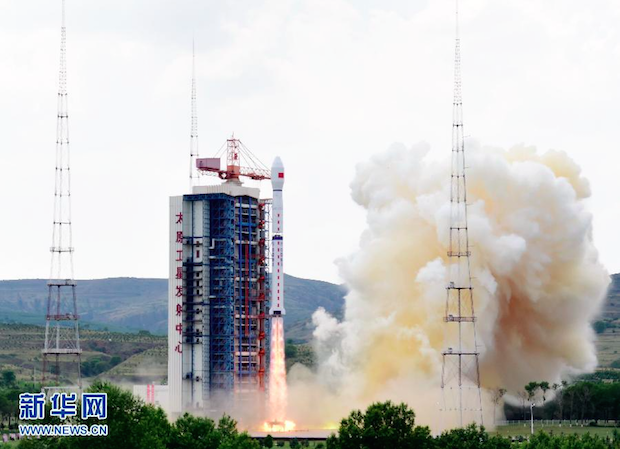 China launched a high-resolution optical Earth observation satellite Friday on top of a Long March 4B rocket, according to state media reports.
The Gaofen 8 satellite lifted off at 0622 GMT (2:22 a.m. EDT) from the Taiyuan space center in northern China's Shanxi province. A 15-story Long March 4B rocket boosted the spacecraft into a near-circular orbit with an average altitude of around 473 kilometers, or 294 miles, according to U.S. military tracking data.
The orbit is inclined 97.3 degrees to the equator, and is similar to the orbit of China's Yaogan 14 military spy satellite.
Friday's launch occurred at 2:22 p.m. Beijing time.
Chinese officials said the Gaofen 8 satellite is part of a civilian program, joining the Gaofen 1 and Gaofen 2 Earth observation satellites launched from the Taiyuan space center in 2013 and 2014.
China's state-run Xinhua news agency reported imagery from Gaofen 8 will aid in general land surveys, land ownership evaluations, urban planning, road network planning, crop yield measurements, and responding to natural disasters.
The launch of Gaofen 8 was not officially announced in advance. Notices to pilots released Thursday outlining drop zones for the Long March rocket's stages gave the first warning of an impending space launch.
Friday's launch marked China's second space launch of the year, and the 30th mission worldwide to successfully reach Earth orbit in 2015.
Email the author.
Follow Stephen Clark on Twitter: @StephenClark1.