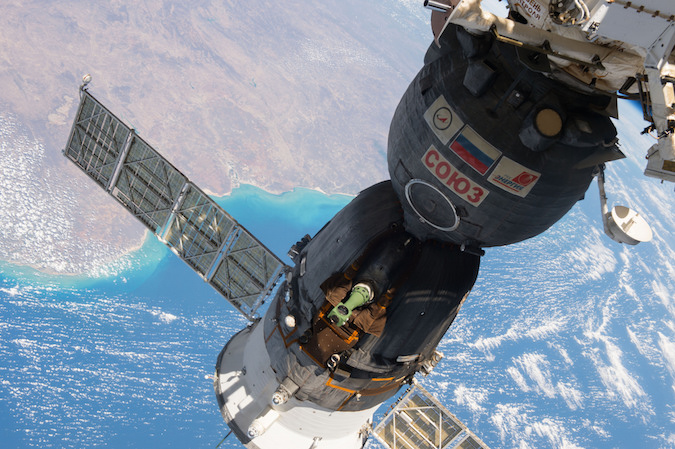 NASA is sure enough that Boeing and SpaceX can safely launch astronauts to the International Space Station by early 2019 to hold off paying Russia to keep flying U.S. crews to the research complex, and one official says a deadline to order parts for new Russian Soyuz crew capsules may have already passed.
Boeing and SpaceX are working on new commercial capsules designed to transport at least four astronauts to and from the orbiting outpost, but their schedules appear to be slipping, this time due to technical woes, not the lack of funding that caused previous delays in the program.
Until the U.S.-built spaceships are certified by NASA, all space station crews will launch and land aboard Russian Soyuz spacecraft.
NASA last year signed a $490 million agreement with the Russian government for six round-trip seats on Soyuz missions, with launches in 2018 and landings extending into early 2019. The space agency is sending nearly $82 million to Russia for each ticket.
Even as the commercial crew schedules move later into 2018, NASA officials say they are not considering extending the contract with Roscosmos — the Russian space agency — for more launches in 2019. The last Soyuz launch seats reserved for U.S. astronauts are at the end of 2018.
It takes more than two years to procure components and assemble new Soyuz capsules, so Russia needed to receive new Soyuz orders from NASA by some time this fall to ensure the spacecraft would be ready for liftoff in early 2019.
Four Soyuz spacecraft currently launch each year, and without NASA's reliance on the Russian ferry craft, that production and launch rate will be cut in half.
NASA has recently signed new contracts for Soyuz seats by May of each year. The last contract extension with Roscosmos was announced in August 2015, just in time for Russian engineers to start work on the spaceships for launches in 2018.
While NASA and Roscosmos have not publicly identified a deadline for a fresh Soyuz agreement, the U.S. space agency's top human spaceflight official recently told Spaceflight Now the date may have already passed.
"We may have actually crossed the deadline, so we're not really looking at that," said Bill Gerstenmaier, head of NASA's human exploration and operations directorate. "There is still sufficient overlap, and we could still do things during the overlap period."
Asked if he is comfortable not buying more Soyuz seats, Gerstenmaier replied: "I don't have much choice."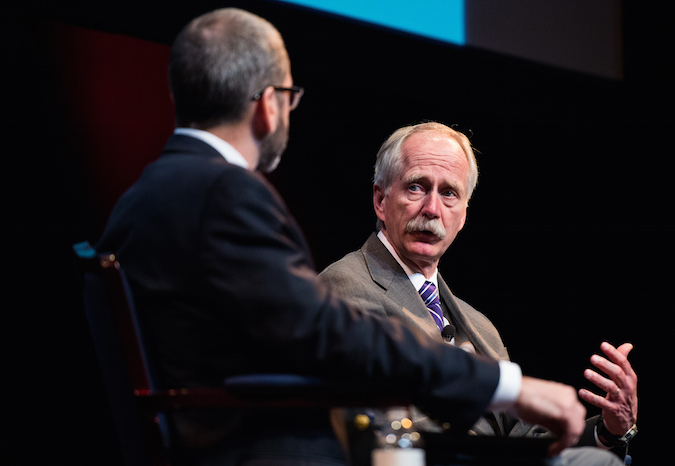 "A Soyuz is a complicated vehicle, and a complicated vehicle doesn't come into existence in a matter of days," said Kirk Shireman, NASA's space station program manager, in an interview last month, before Gerstenmaier's comments. "It takes over two years to build a Soyuz, so yes, at some point in time, building a new Soyuz vehicle is not an option. We're working with our Russian counterparts on exactly when that is. We have not crossed that date yet, but I believe the date is in sight.
"It will be this calendar year when we will cross the point where we won't be able to build a Soyuz in time for when our last seats that we've already procured expire," Shireman said.
Any decision to send more money to the Russian government — a new Soyuz contract for a year's worth of seats is likely to cost more than $500 million — would be politically unpopular in the United States after the Obama administration pushed Congress and secured full funding for the commercial crew program last year, an appropriation NASA said would reduce chances of further delays.
Holding off on more Soyuz seat purchases is also likely to put more pressure on Boeing and SpaceX.
Commercial crew missions were originally scheduled to begin in 2015, but lawmakers in Congress for several years did not approve the funding NASA said the program needed.
The CST-100 Starliner spaceship developed by Boeing will be ready for its first crewed test flight, with a Boeing test pilot and NASA astronaut on-board, in August 2018, the company confirmed this week. That is six months later than Boeing's previous target date for the piloted mission announced in May.
Assuming the test flight goes well, Boeing's CST-100 Starliner could be certified for its first operational crew rotation mission to the space station in December 2018, Boeing officials said in a report first published by Aviation Week.
SpaceX claims its Crew Dragon spacecraft could fly with test pilots by the end of 2017, but the company is working through its second failure investigation in a year after a Falcon 9 rocket — the same type of booster that will launch crews — exploded on the launch pad in Florida last month.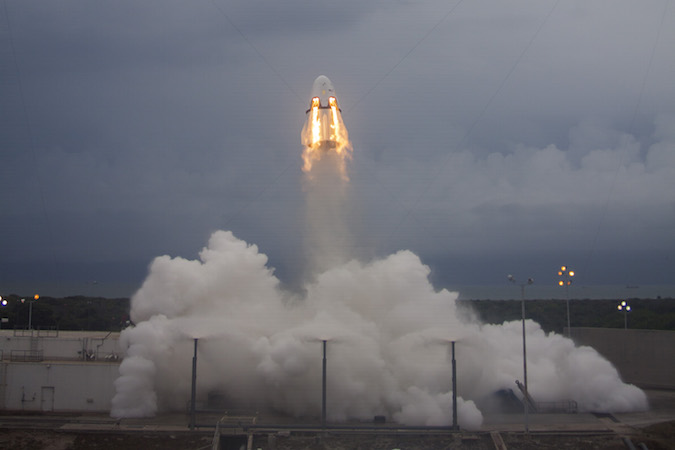 While SpaceX has not announced any delays on the Crew Dragon program, the final impacts of last month's explosion on the company's manifest remain to be seen. SpaceX officials admit the schedule leading up to a trio of key milestones next year — an orbital mission without astronauts, an in-flight checkout of the Crew Dragon's abort system, and a crewed demo mission to the space station — is optimistic, requiring near perfect execution and assuming engineers find no problems on the multitude of ground and flight tests planned over the next 12 months.
If SpaceX can keep that schedule, the first operational Crew Dragon rotation flight is expected in early 2018.
"We have a lot of work to do to get there, but that's the schedule we're working to," said Garrett Reisman, SpaceX's director of crew operations and a former astronaut.
NASA Administrator Charlie Bolden told reporters last month that the agency own internal schedule projects the first SpaceX and Boeing crewed test flights, each with two astronauts, in 2018.
"We're relatively confident that we're going to make that," Bolden said in a press conference at the International Astronautical Congress in Guadalajara, Mexico. "This is a development program, and everyone needs to keep that in mind. With that said, we are not presently looking at any additional (Soyuz) seats beyond those that we have already purchased."
A report by NASA's Office of Inspector General released last month echoed the worries of some NASA managers that neither commercial crew program will be certified for regular flights until late 2018.
The latest slip in Boeing's schedule stems from challenges moving from development into production of the CST-100 Starliner spacecraft, which the company says have stabilized, minor component qualification test issues, and the scrapping of a spacecraft dome structure damaged during construction.
"Based on those challenges, we stopped and took a hard look at our schedule moving forward and made the adjustment," said Kelly Kaplan, a Boeing spokesperson. "As we learn these hard lessons, we'll continue to incorporate them throughout the build and test campaigns. And we will remain focused on our first and most important priority — providing astronauts with safe crew transportation to and from the ISS."
Boeing's first crewed test flight to the space station has moved six months from February to August 2018, Kaplan said, with the first two crew rotation flights in December 2018 and January 2019 — delayed from June 2018 and August 2018, respectively.
A CST-100 pad abort test has been delayed from October 2017 to January 2018, and the capsule's first unpiloted test flight has slid from December 2017 to June 2018, Kaplan said.
Including a ground unit not intended to fly, four CST-100 Starliner vehicles are in various stages of construction and assembly. Each flight-worthy crew module is designed for 10 missions.
Boeing is preparing to ship the first flight-like CST-100 crew module, a structural test article, from the company's spaceship factory at NASA's Kennedy Space Center in Florida to a test facility in Huntington Beach, California, in the coming weeks. Engineers there will put the crew module and a service module through a series of structural loads tests to ensure the design is up to the perils of spaceflight.
A full-up drop test of a CST-100 mass simulator is also on tap from an altitude of 40,000 feet in the coming months to verify the capsule's parachute deployment sequence works as expected. That test comes after a series of water and land landing tests that are nearing completion to measure the spacecraft's response to the touchdown.
CST-100 missions will end under parachutes with airbag-cushioned landings in the Western United States, with the initial test flights likely to touch down in New Mexico or Utah.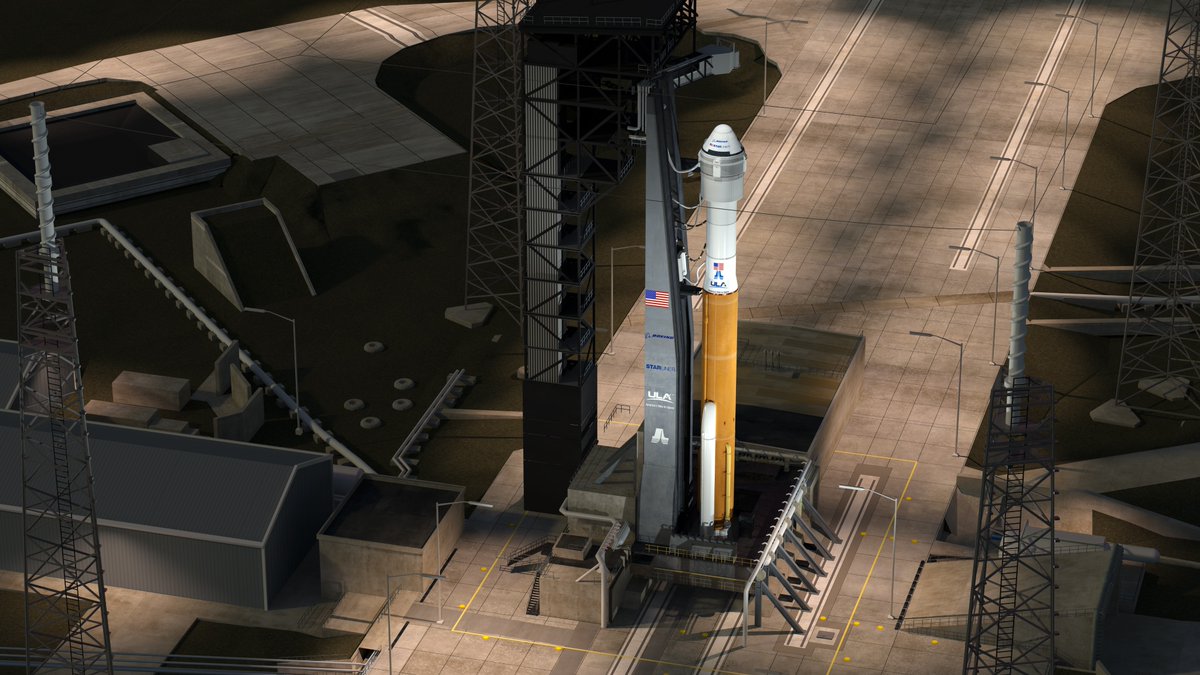 Boeing officials believe they have resolved a potential aerodynamic issue discovered during wind tunnel tests. Data indicated the capsule's shape on top of its rocket — the United Launch Alliance Atlas 5 booster — could make the launcher's Centaur upper stage susceptible to higher-than-acceptable aerodynamic loads as the vehicle accelerates through the speed of sound.
The spaceship will launch exposed, without the nose fairing typically flown on the Atlas 5 rocket. Engineers plan to add an aft skirt extending downward from the base of the CST-100 service module to resolve the problem.
ULA released an updated artist's rendering Thursday of the Atlas 5 rocket and CST-100 Starliner capsule in launch configuration.
"Through incredible coordination and continued innovative thinking, the collective team of NASA, Boeing and United Launch Alliance completed three wind tunnel tests in six months to investigate the aerodynamic stability of various configurations and to anchor our analytical predictions," said Gary Wentz, ULA's vice president of human and commercial services. "Based on that information, we updated the configuration for the Atlas 5 Starliner integrated vehicle stack. This configuration is unique because it combines the Atlas 5 launch vehicle without a payload fairing with Boeing's Starliner capsule, resulting in different aerodynamic interactions."
The metallic orthogrid aeroskirt will jettison from the rocket after it is no longer needed, and the structure will have "venting provisions" to prevent over-pressurization and allow the the CST-100's pusher abort engines to safely ignite in the event of a launch mishap, according to ULA.
Fabrication of the aeroskirt is due to begin this month at ULA's factory in Decatur, Alabama, the company said.
"Our testing indicates the solution we chose will sufficiently smooth the air flow around the vehicle during ascent, ensuring crew safety and mission success," said John Mulholland, vice president and program manager of Boeing's commercial crew program.
Speaking at last month's International Astronautical Congress in Mexico, SpaceX's Reisman said the Crew Dragon recently passed its final design milestone.
"That's all behind us," Reisman said. "We're moving on with production, test and certification. That's where all the focus is right now."
Reisman said the Crew Dragon has completed its primary structure qualification tests, and much of SpaceX's attention on the commercial crew program is now centered on parachute testing — the human-rated version of Dragon will have four chutes, not the three currently flying on the cargo configuration — and validation of the performance of the spaceship's life support system.
One of the final tests of SpaceX's spacesuit, which the company has kept secret, is scheduled around the end of this year, when the manager of the spacesuit design team will don the gear for a test inside a vacuum chamber, Reisman said last month.
He said the spacesuit incorporates lessons learned from the bright orange launch and entry suits flown on the space shuttle, and is primarily composed of soft goods except for the helmet.
"We've learned our lessons from the Columbia accident investigation report, and one of the things that was really featured in that report was the the deleterious effect of body-worn mass," Reisman said. "One of the things we were very careful to try to eliminate as much as possible is that body-worn mass, so it's mostly all soft goods with the exception of the helmet, and it's got a bunch of other advances that make it really usable from an operational perspective."
He said SpaceX plans to release imagery of the spacesuit design soon.
Around 80 percent of the Falcon 9 rocket and Crew Dragon spaceships that will fly with astronauts is designed and built in-house at SpaceX, Reisman said, with the exception of a few items like the parachutes, which come from an outside vendor.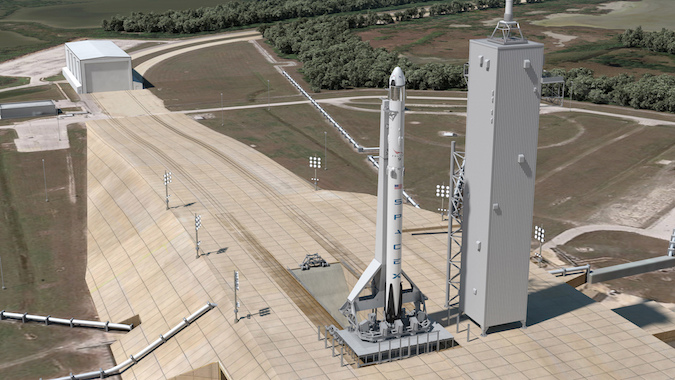 Reisman said SpaceX still intends for crews to board the Dragon capsule on the launch pad before fueling of the Falcon 9 rocket, a decision that concerned senior NASA officials even before last month's explosion on the launch pad.
"The baseline for crew ingress is for the crew to be ingressed and for the strap-in crew to be completely out of the blast danger area before we fuel the rocket," Reisman said. "However, during that entire time, the launch abort system is armed and ready should anything untoward occur."
SpaceX plans to introduce the Crew Dragon's propulsive landing capability, using the capsule's SuperDraco abort engines to softly touch down without the need for parachutes, before the end of the decade.
The first few Crew Dragon missions will splash down in the ocean, and Reisman said SpaceX expects to test the rocket-assisted landing scheme on a real space mission on the first automated logistics flight of the company's next-generation Dragon cargo capsule.
That flight, part of a follow-on cargo contract awarded by NASA in January, is scheduled in 2019.
When Boeing and SpaceX begin flying astronauts, NASA will expand its crew complement on the space station from three to four people, a number that will include some representatives from Japan, Europe and Canada. That will give astronauts more time for scientific research.
Russia is cutting the number of cosmonauts needed to maintain its segment of the space station from three to two next year, but Roscosmos aims to return to current staffing levels as soon as 2018, once a new Russian laboratory module arrives at the complex.
Starting in 2019, when residents fly to the space station on Boeing, SpaceX and Russian vehicles, NASA and Roscosmos have agreed to launch mixed crews, where a Russian cosmonaut will always be part of a four-person crew on a CST-100 or Crew Dragon, and a U.S. astronaut will be one of the three fliers on each Soyuz.
The in-kind agreement does not involve any exchange of funds, but it ensures there will always be at least one U.S. astronaut and one Russian cosmonaut on the space station in case an illness necessitates the homecoming of part of the research lab's crew in a Crew Dragon, CST-100 or Soyuz capsule.
"There are a number of things that could go wrong that would cause us, for instance, not to have a Soyuz vehicle up there," Shireman said. "They could have a launch abort, or a problem in the factory, or the most likely scenario, according to our probabilistic risk assessment, is a cosmonaut or astronaut gets sick. If they get sick, everybody in that vehicle has to come home. If that was to occur, we wouldn't want the Russian segment to be without a Russian segment expert, nor would we want the U.S. segment to be without a U.S. segment expert."
Email the author.
Follow Stephen Clark on Twitter: @StephenClark1.