STORY WRITTEN FOR CBS NEWS & USED WITH PERMISSION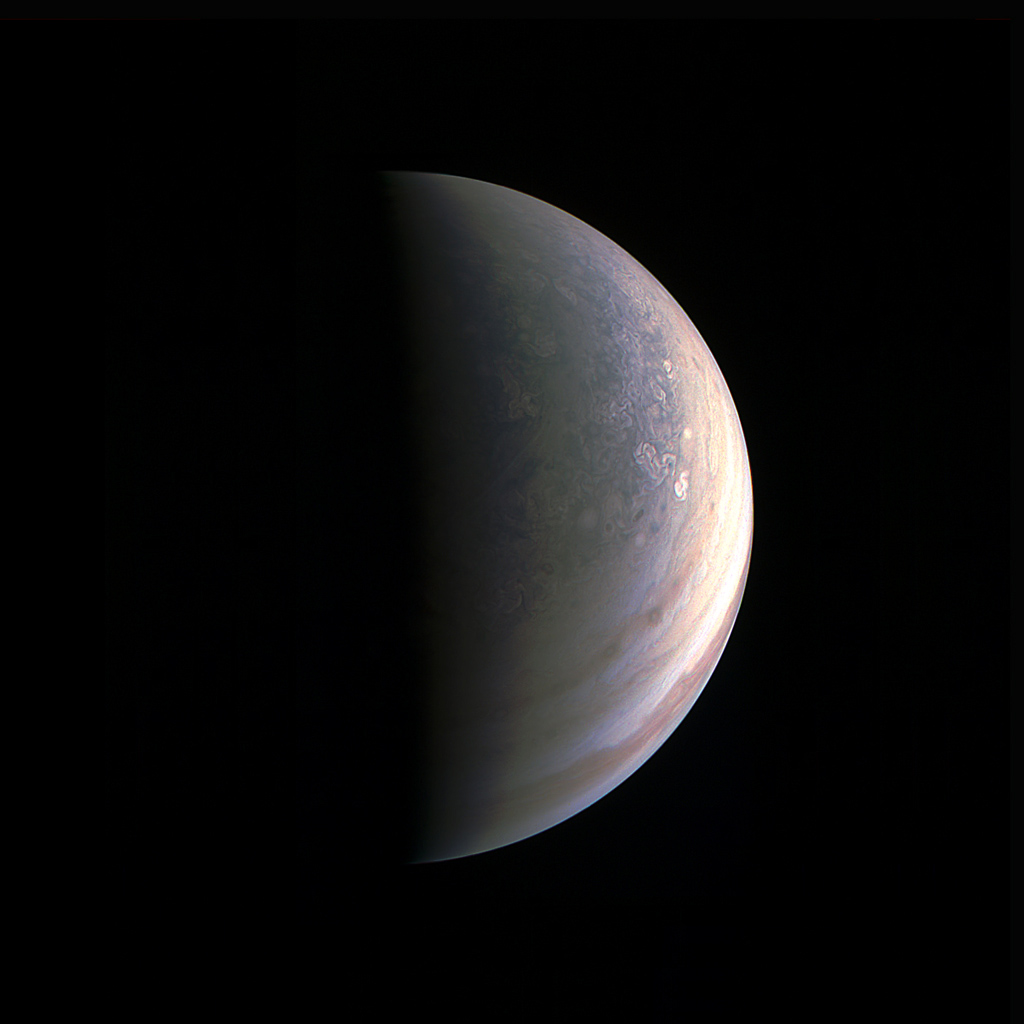 NASA's Juno spacecraft, making its first scientific run over Jupiter's poles Aug. 27, captured remarkable images of Jupiter's atmosphere, showing that the equatorial bands and zones familiar to even amateur astronomers completely disappear at high latitudes.
Instead, the JunoCam instrument on the solar-powered spacecraft captured stunning images, released Friday, that show a more seemingly chaotic tapestry made up of huge hurricane-like storms, knots and swirls with hints that at least some structures rise above the surrounding cloud tops to cast shadows.
An oblique view of the north polar region was captured by NASA's Cassini spacecraft during its trip to Saturn, but the Juno images are the sharpest yet of the little-understood region.
Scott Bolton, the Juno principal investigator at the Southwest Research Institute in San Antonio, Texas, told CBS News the new images caught researchers by surprise when they finally reached Earth.
"We were all sitting on the edge of our seat going, send us the first pole picture, quick, quick! We've got to see it!" he recalled. "Then when it (came in) we were like, what?"
Juno is the first spacecraft to orbit Jupiter's poles and the first equipped with instruments designed to probe the deep interior of the gas giant to help determine if the planet has a solid core, to shed light on how its intense magnetic field is generated and where that dynamo resides and to map out the structure of its atmosphere.
Launched Aug. 5, 2011, Juno braked into a highly elliptical orbit around Jupiter's poles on July 4. At the end of July, the solar-powered spacecraft reached the high point of that initial 53-day orbit and began falling back toward Jupiter, making its first post-capture close approach Aug. 27.
And unlike orbit insertion, Juno's full suite of instruments was operating the second time around, collecting six megabytes of data as the spacecraft passed within about 2,500 miles of Jupiter's cloudtops.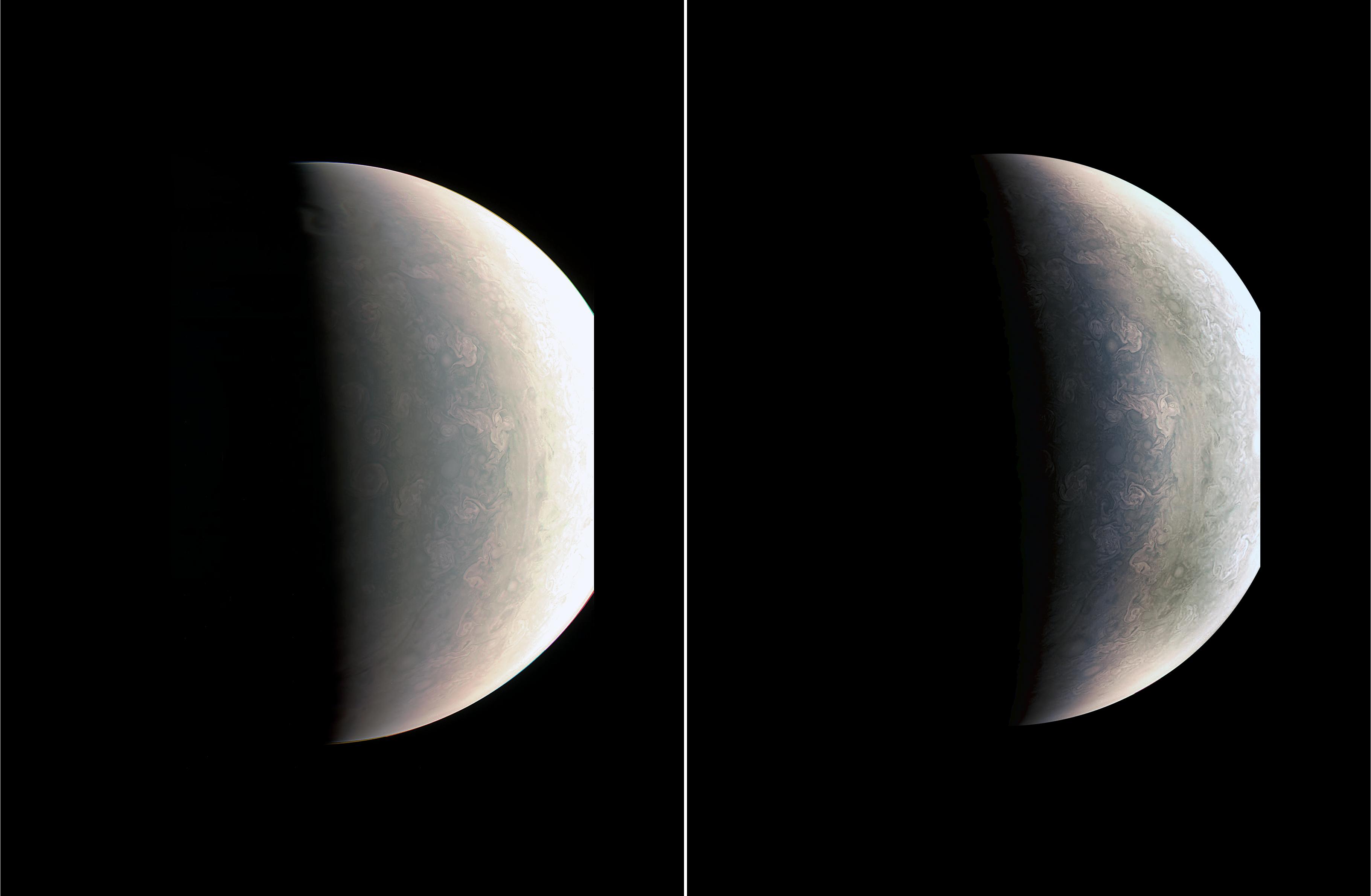 The images captured by the JunoCam instrument show that between roughly 50 to 55 degrees to either side of the equator, orderly atmospheric bands rotate at different speeds, carrying along the Great Red Spot and numerous other more transient storms and eddies, many rivaling or exceeding the size of terrestrial planets.
But the Juno images show those bands and zones merge into a much more complicated cloudscape at high latitudes that defies easy explanation. And unlike Saturn, Jupiter's poles show no signs of the hexagonal cloud structures seen in images of the ringed planet captured by NASA's Cassini spacecraft.
"So you get up there at some latitude, where the banding, the zones and belts, disappear, there's no evidence of it," Bolton said. "If you didn't know you were looking at Jupiter, you wouldn't know! In fact, it doesn't even look like a gas giant, right? You see features on it that look like you're looking at a surface. Very interesting to me."
Not surprisingly, perhaps, Jupiter's polar regions exhibit pronounced differences "in composition, temperature, structure, fundamentally different," Bolton said. "In hindsight, look at the Earth, our polar caps are totally different. Every place we look at has that. Why I thought Jupiter might be more recognizable from the poles than it is, I probably should have known better. But I think we were all surprised by seeing that."
Orbited by more than 50 moons, Jupiter circles the sun at an average distance of 484 million miles, it has a diameter of nearly 85,000 miles and it rotates on its axis every nine hours and 55 minutes. Eleven Earths would fit across its disk.
Scientists believe a rocky core may exist deep in Jupiter's interior, surrounded by a sea of electrically conductive metallic hydrogen under mind-boggling pressure. Jupiter's fast rotation likely drives some sort of interior motion that generates the planet's powerful magnetic field. Bolton says the first batch of data from Juno hints at future answers.
"We've only got one pass (so far) and I can't tell you that we've reached great conclusions, but … the magnetic field appeared to be surprisingly different than we expected at closest approach. I'm still trying to figure out what the gravity field says about the interior, but part of that interior structure study is to learn how Jupiter rotates inside. We don't really know."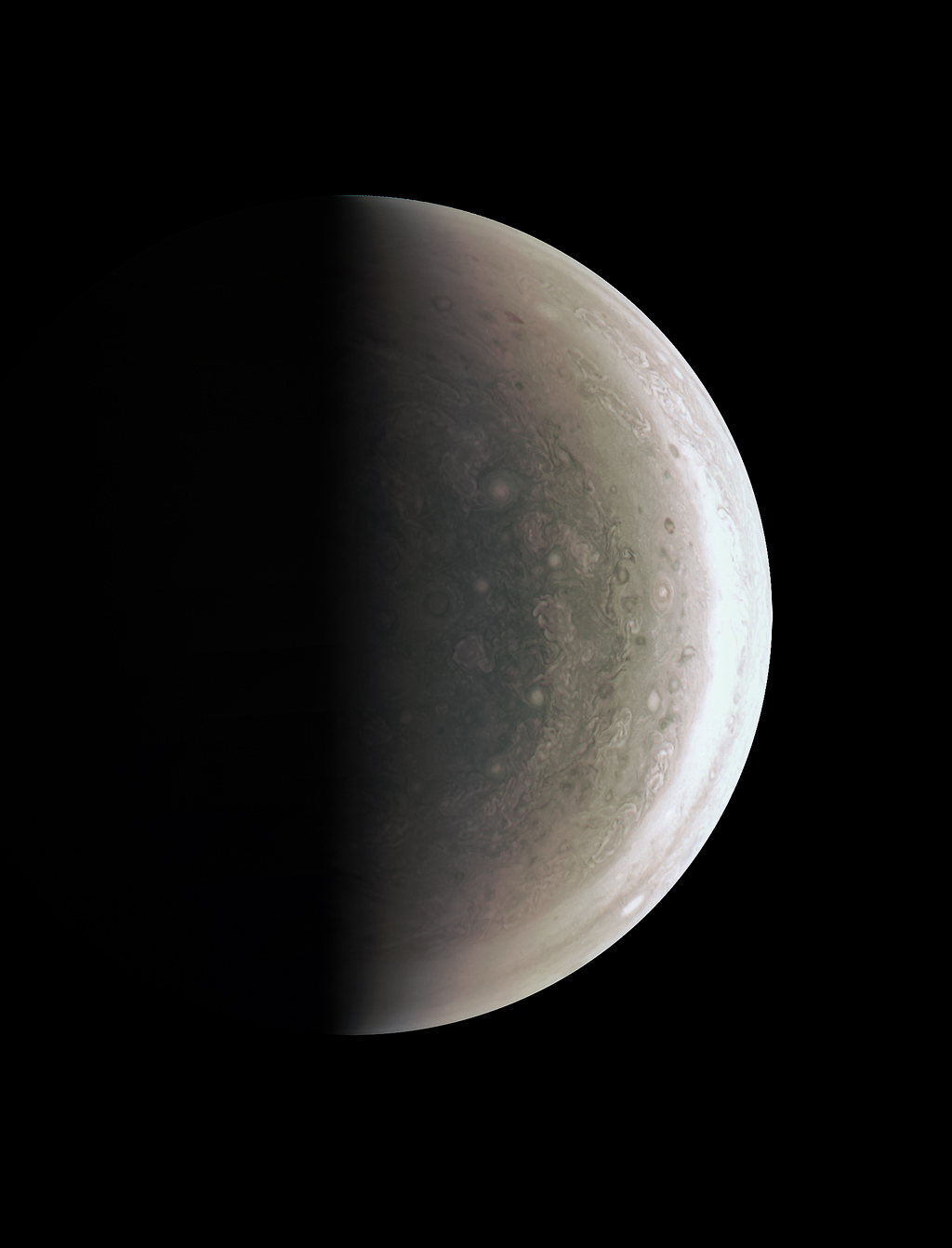 Jupiter's rotation is measured by studying radio waves generated as Jupiter's magnetic field rotates.
"We think that's the interior rotating," Bolton said. "We don't know how deep, what does that rotation period tie to as far as depth? We don't know, because we don't know where the magnetic field is created. That's part of our investigation."
He said the field might be generated relatively near the visible surface of the planet, which would mean "maybe there's a different rotation going on deeper down."
"One of the ideas of the gravity investigation is to look at whether there's differential rotation in the interior," he said. "In other words, does the zone-belt structure represent different concentric cylinders inside rotating around at different rates or directions possibly? Or is that just meteorological, and the rotation inside is more like a solid? Or it could be some other option."
But seeing different structure at the poles and losing the bands and zones seen in the equatorial regions "could be an indication, and I don't have any evidence of this, but it could be telling us somethings about the interior rotation."
"Why don't you see the latitudinal bands up there, what's going on? Well, maybe the rotation is dictating that somehow inside, maybe the gases coming up from the interior into the polar regions are not governed by the same thing that's going on near the equator. I don't really know. But these are things that we'll learn over the course of the mission."
Interestingly, polar storms photographed at the terminator, the region where sunlight fades into the planet's nightside, show hints of shadows "that make me think these hurricane-like features might be elevated and have vertical structure in them," Bolton said.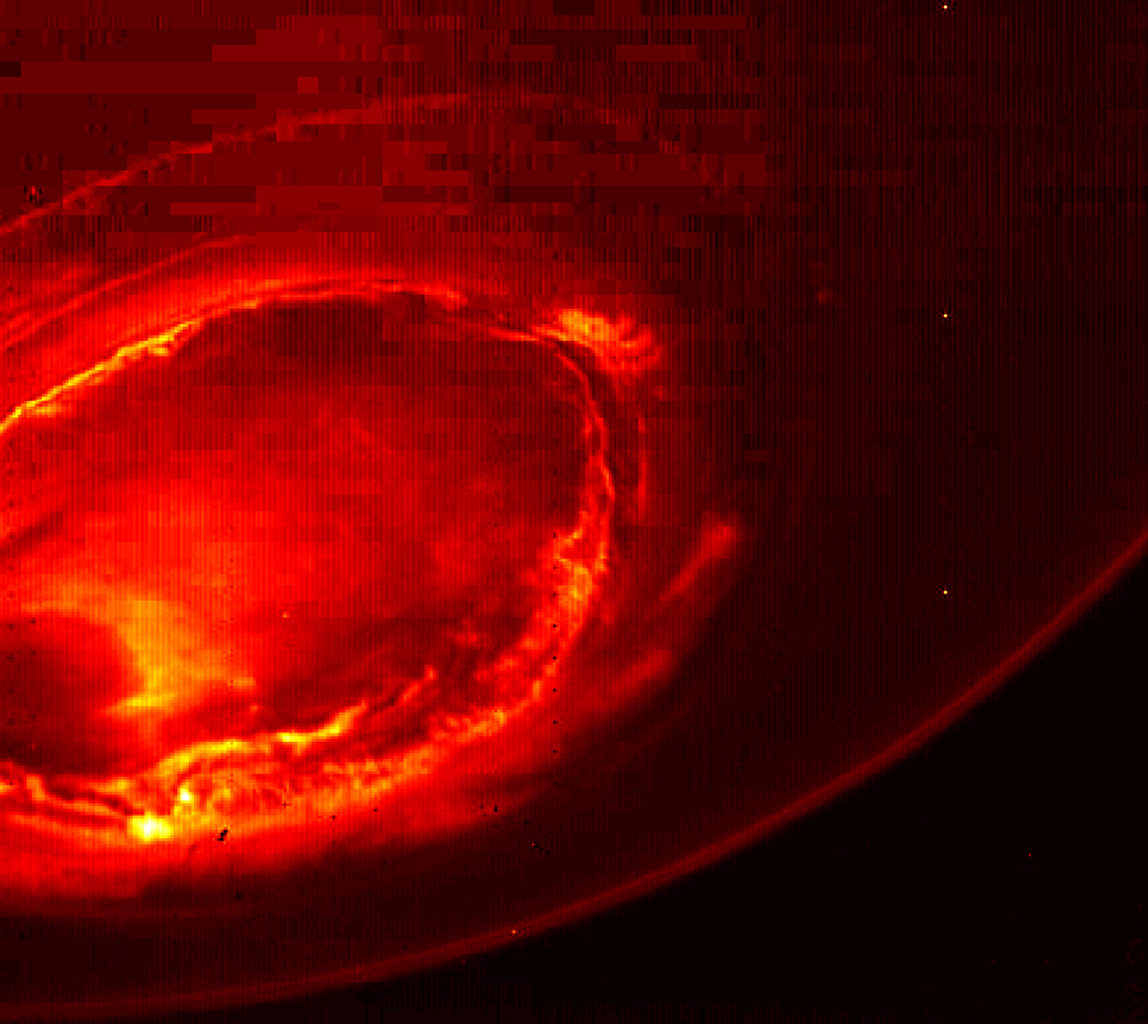 "I think that's a very important thing that we'll be searching to see if that's common and what does that mean? Maybe you've got this three-dimensional funnel going up above the other platform of atmosphere and that all these storms are elevated, or some category of them are. I don't know."
Juno will complete one more 53-day orbit before an Oct. 19 rocket firing that will drastically lower the high point of the ellipse, putting the spacecraft in a planned 14-day science orbit, repeatedly passing between 2,600 and 4,900 miles above Jupiter's cloud tops.
In the meantime, to paraphrase Winston Churchill, Jupiter remains a riddle wrapped in a mystery inside an enigma. But, Bolton hopes, not for long.