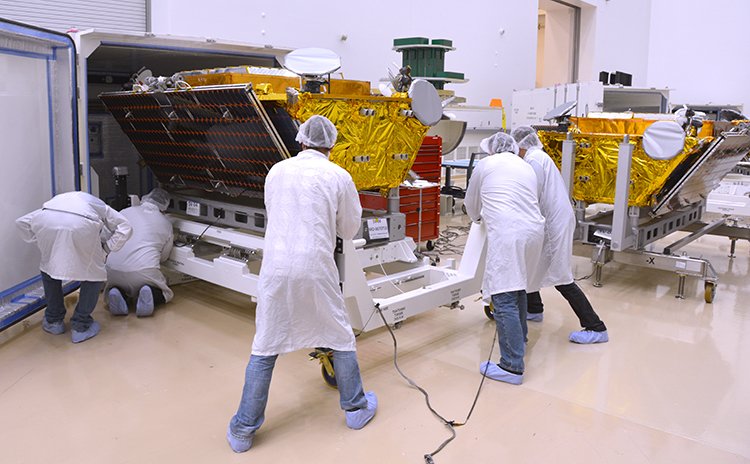 The first two next-generation Iridium satellites, designed to connect global subscribers with data and voice traffic, arrived at Vandenberg Air Force Base on Tuesday, where they will join eight more message relay craft for launch in September on a SpaceX Falcon 9 rocket.
This week's shipment via truck from an Orbital ATK satellite manufacturing plant near Phoenix to Vandenberg on California's Central Coast will be followed by the arrival of eight more spacecraft at the launch site.
Like the first two craft, subsequent satellites will be transported two-and-a-time inside self-stabilizing, climate-controlled containers on a truck to SpaceX's clean room at Vandenberg, where Orbital ATK engineers will prepare the satellites for launch.
Final steps before attachment to the Falcon 9 rocket include fueling the satellites with in-space maneuvering propellants, final functional testing, and connecting the spacecraft with their SpaceX-built dispenser to ride inside the launcher's payload fairing.
Designed by Thales Alenia Space and assembled by Orbital ATK, each satellite will weigh nearly 1,900 pounds (860 kilograms), and when combined with the specially-designed multi-spacecraft mounting dispenser, the Iridium Next package will be the heaviest payload launched by SpaceX to date.
"We're excited for the upcoming first launch of Iridium Next and proud of the work we've completed for the Iridium Next program," said Kris Kroc, mission manager at SpaceX. "This is one of the heaviest payloads we will fly to date – 10 Iridium Next satellites weighing over 20,000 pounds."
Liftoff from Space Launch Complex 4-East at Vandenberg is scheduled for Sept. 19 at 9:49 p.m. PDT (12:49 a.m. EDT; 0449 GMT Sept. 20). After turning south over the Pacific Ocean, the two-stage Falcon 9 rocket will deploy the 10 Iridium Next satellites into polar orbit 388 miles (625 kilometers) above Earth.
From there, the satellites will complete three months of tests to check the health and function of spacecraft systems, ground and inter-satellite communications links, and tack-on instruments to track global air and maritime traffic.
The satellites will maneuver into the operational Iridium constellation at an altitude of 485 miles (780 kilometers), replacing the company's 66 existing satellites one-by-one.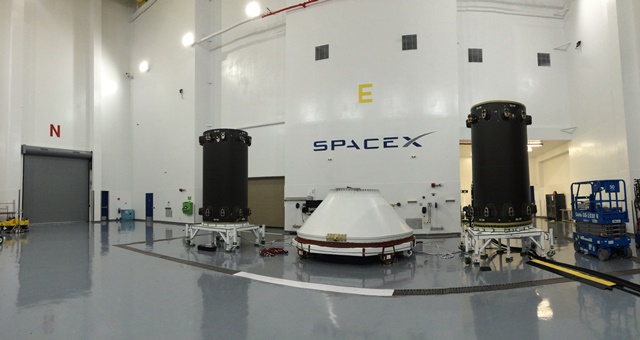 The upcoming launch is a big step for Iridium, which is spending $3 billion on the new satellite program. Iridium's current satellite network is aging — the old spacecraft launched between 1997 and 2002 — and needs an upgrade.
Matt Desch, Iridium's chief executive, calls it the biggest tech refresh in the history of satellite communications.
"The Iridium Next program has been more than seven years in the making, and is one of the most complex satellite programs underway today," Desch said July 28 in a quarterly earnings call.
The Federal Communications Commission granted regulatory approval for the launch, deployment and operation of the Iridium Next constellation Monday.
Another Falcon 9 launch from Vandenberg with 10 more Iridium Next satellites is scheduled for late December, Desch said, followed by five SpaceX launches in 2017 to complete Iridium's modernized fleet.
The first Iridium Next launch on a Falcon 9 was scheduled earlier this summer, but the U.S. Air Force took the military-run range at Vandenberg offline for maintenance, prompting a delay. The previous Sept. 12 launch date slipped a week because of a slight snag in the Falcon 9 rocket's production, Desch said.
As of July 28, Desch said eight Iridium Next satellites were complete at Orbital ATK's facility in Arizona, and the final two spacecraft assigned to next month's liftoff were scheduled to roll off the assembly line within a few days.
Iridium booked its seven Falcon 9 launches to use newly-built rockets, but Desch said in June he is open to putting his company's satellites on a used booster — at the right price — in the future.
Desch said he is confident the satellites and rockets will be ready for the rapid-fire launch campaign. After December, Iridium Next launches from Vandenberg should come every two months.
Technicians at Orbital ATK's plant in Arizona will finish an average of one satellite per week to meet the schedule.
"Now that we've stepped up to a high-rate (production) plan, we're on track to do that," Desch said. "SpaceX has assured me that they'll have rockets on time and available. There's always going to be a little movement around the final date, whether it be a short-term issue, or it could even be weather. But we really expect to keep on that pace all the way through the final launch, and the satellites that come into operation shortly thereafter."
Two Falcon 9 launches from Cape Canaveral are in SpaceX's queue before the Iridium Next mission, but Desch said Iridium's launch date is not directly tied to the timing of those flights.
Email the author.
Follow Stephen Clark on Twitter: @StephenClark1.