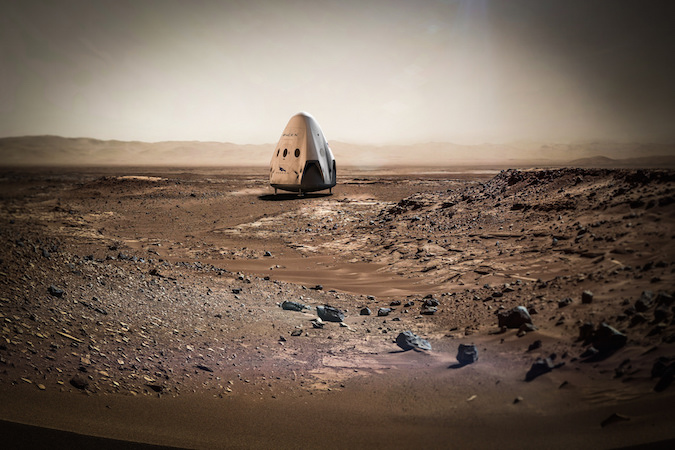 SpaceX's plan to send a Dragon capsule to Mars in 2018 will be the first in a sequence of unmanned commercial missions to the rust-colored world before the first voyage with humans as soon as 2024, SpaceX founder Elon Musk said Wednesday.
The company announced in April its intention to dispatch a next-generation Dragon spacecraft, an uncrewed derivative of the vehicle SpaceX is developing to send astronauts to the International Space Station, to Mars on an interplanetary test flight in 2018.
Speaking at Code Conference 2016, a tech industry conclave sponsored by Recode and Vox Media held this week near Los Angeles, Musk said SpaceX will send a mission to Mars every two years beginning in 2018, when the positions of the planets allow spacecraft to make a direct trip from Earth.
Known for announcing ambitious schedules, Musk acknowledged the timetable is ambitious and rife with uncertainties, but the plan is a stepping stone toward eventually sending large numbers of people to Mars, along with millions of pounds of support equipment.
"The basic game plan is we're going to send a mission to Mars with every Mars opportunity from 2018 onwards," Musk said Wednesday night. "They occur approximately every 26 months. We're establishing cargo flights to Mars that people can count on for cargo."
"That's what's necessary to create a self-sustaining, or a growing, city on Mars," he said.
SpaceX has not revealed what the "Red Dragon" mission in 2018 will carry, but NASA has signed on to provide deep space navigation and communications support, along with a suite of sensors.
The launch opportunity to Mars in 2018 occurs in May, followed by another window in July and August of 2020.
"I think, if things go according to plan, we should be able to launch people probably in 2024, with arrival in 2025," Musk said.
"When I cite a schedule, it's actually a schedule I think is true," Musk said in a response to a question at Code Conference. "It's not some fake schedule I don't think is true. I may be delusional. That is entirely possible, and maybe it's happened from time to time, but it's never some knowingly fake deadline ever."
He did not specify whether the mission would land on Mars or just orbit the planet.
Travelers will not go to Mars aboard the upgraded "Crew Dragon" vehicle SpaceX intends to launch to the red planet in 2018. Its internal volume is roughly equivalent to an SUV, making for an uncomfortable ride, and it will not have the ability to return to Earth.
Musk plans to unveil his architecture for colonizing Mars, a prime mission of SpaceX when he established the company in 2002, in September at the International Astronautical Congress in Guadalajara, Mexico.
"That's the game plan — approximately 2024 to launch the first of the Mars colonial transport systems with people," Musk said Wednesday.
SpaceX will have to develop a giant rocket, larger than the Saturn 5 moon rocket or the Space Launch System currently pursued by NASA, to make Musk's objective a reality. The design of the new rocket, and the location of its factory and launch base, have not been announced.
The cost of Musk's Mars dream is also unquantified, at least publicly, but he said SpaceX needs "a lot of money" for the project from revenues earned through lucrative contracts with NASA, the U.S. military, and commercial communications customers.
In parallel, NASA is working on its own Mars program, aiming to launch astronauts aboard the Space Launch System and Orion crew capsule on a mission to the vicinity of the red planet in the 2030s. The cost of that government-backed program is also unclear, and it still lacks technical and schedule detail.
NASA plans to launch a series of crewed flights to cis-lunar space, a region near the moon, beginning as soon as 2021 to test out deep space operations, life support systems, solar-electric thrusters, and habitats for the round-trip voyage to Mars.
The space agency's plan for robotic Mars missions is more defined, with a stationary lander named InSight due for departure in May 2018 to detect quakes and study the planet's deep interior.
A rover based on the Curiosity vehicle currently exploring Mars will follow with a launch in 2020, carrying with it a set of scientific instruments to help search for evidence of past life and hardware to demonstrate the ability to generate oxygen from the Martian atmosphere. That is key to future human expeditions, which will need to make their own breathable air, water and propellants.
The rover launching in 2020 will also collect rock specimens for retrieval by a later probe to return them to Earth.
In 2022, NASA tentatively plans to send an orbiter to Mars in the second phase of a program to robotically return samples from the surface of Mars to Earth. The craft could be powered by an efficient solar-electric propulsion system, allowing the orbiter to move more freely around Mars and test the ability to rendezvous with another object in Mars orbit.
A lander to actually pick up the rock samples could follow later in the 2020s.
The European Space Agency's ExoMars rover is also scheduled for launch in 2020. It will burrow up to 2 meters, or 6 feet, into the Martian crust to gather core samples that have been shielded from ionizing radiation that scientists believe damage or destroy the organic signatures of past life at the surface.
China is developing its own rover to launch to Mars in 2020, and the United Arab Emirates is funding a planned Martian atmospheric research orbiter to lift off from Earth the same year.
Email the author.
Follow Stephen Clark on Twitter: @StephenClark1.