STORY WRITTEN FOR CBS NEWS & USED WITH PERMISSION
Blue Origin launched its reusable New Shepard suborbital spacecraft on its third test flight Saturday, successfully boosting an unpiloted capsule out of the discernible atmosphere for a few minutes of weightlessness before a parachute descent to the company's West Texas launch site.
The New Shepard booster, meanwhile, plunged back to Earth tail first, re-igniting its hydrogen-fueled BE-3 engine at an altitude of just 3,635 feet. The engine quickly throttled up, four landing legs deployed and the rocket settled to a gentle touchdown, according to Amazon-founder Jeff Bezos, owner of Blue Origin.
The last-second braking maneuver occurred as planned just six seconds before the rocket otherwise would have crashed into the ground, a deliberate test "pushing the envelope" of performance, Bezos tweeted earlier in the day.
In a surprising departure from past practice, Bezos announced plans for the test flight Friday evening, tweeting that the Blue Origin team was "working to fly again tomorrow. Same vehicle. Third time." Early Saturday, he provided realtime pre-launch updates via Twitter and then a play-by-play of the flight itself.
"Liftoff and New Shepard is climbing to apogee," he tweeted around 11:18 a.m. EDT (GMT-4). A few moments later he added: "Flawless BE-3 restart and perfect booster landing. CC (crew capsule) chutes deployed." He then confirmed the capsule's safe touchdown.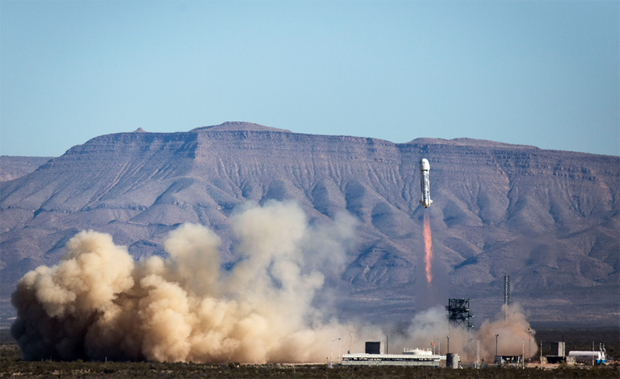 Later in the day, Blue Origin reported the capsule reached a maximum altitude of 339,138 feet, or 64.2 miles, two miles above the generally accepted-if-somewhat-arbitrary altitude defining the transition from atmospheric flight to space flight.
Tory Bruno, CEO of United Launch Alliance, a partnership between Boeing and Lockheed Martin that builds and markets Delta and Atlas heavy-lift rockets, tweeted congratulations, describing Bezos as "a remarkable guy. Earned my respect as a rocket scientist."
The reusable New Shepard booster and capsule are designed to lift six passengers at a time on sub-orbital up-and-down flights out of the discernible atmosphere. Once separated from the booster, crew cabin occupants will experience about four minutes of weightlessness before falling back to Earth.
"The New Shepard capsule's interior is an ample 530 cubic feet — offering over 10 times the room Alan Shepard had on his Mercury flight," Blue Origin says on the company's web page. "It seats six astronauts and is large enough for you to float freely and turn weightless somersaults."
As the capsule plunges back into the dense lower atmosphere, the crew will experience up to 5 Gs of deceleration before a set of large parachutes deploy to slow and stabilize the capsule. Small retro rockets will fire an instant before touchdown, reducing the landing velocity to a relatively sedate 4 mph.
The New Shepard booster, meanwhile, deploys braking and steering fins as it falls back to Earth, maintaining a stable, tail-down orientation. Then, less than 10 seconds before impact, its BE-3 engine re-ignites to slow the rocket for touchdown on a landing pad near the launch site.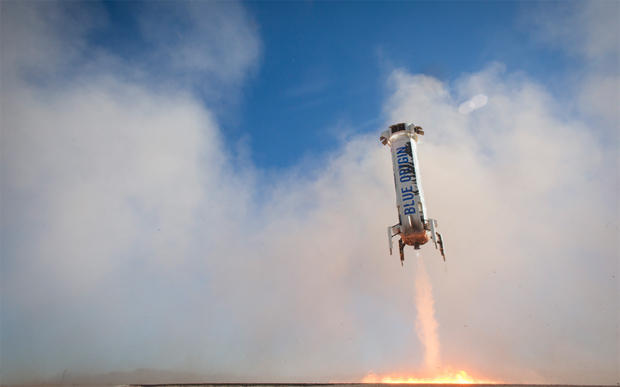 Blue Origin conducted two earlier test flights with the same booster and capsule in November 2015 and in January. An initial test flight in 2014 successfully boosted the capsule to the desired altitude, but a booster malfunction prevented a successful touchdown.
Company engineers are implementing gradual upgrades to the vehicle with each test flight. In January, the booster control software was modified to enable a smooth landing regardless of whether the rocket was exactly at the center of the landing pad, an improvement that will improve landing safety in adverse winds.
This time around, Bezos said the software governing the crew capsule's orientation control system was modified to provide "a big performance win."
A fully reusable launch vehicle and crew capsule are critical to Blue Origin's plans to launch tourists on fast-turnaround sub-orbital flights starting in about two years, or sooner depending on the progress of testing. The company plans dozens of test flight this year and next to demonstrate reliability and reusability.