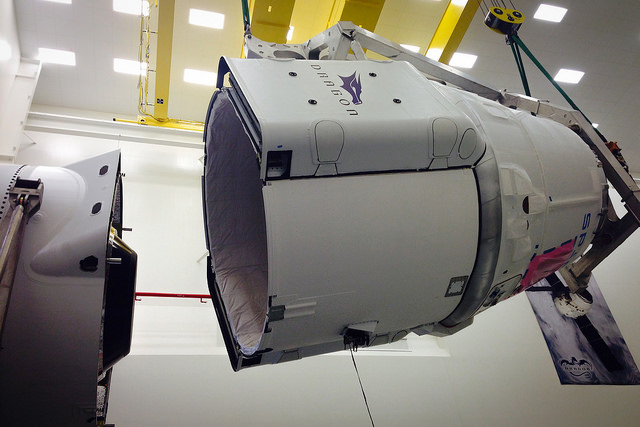 SpaceX is targeting April 8 for the launch of its first resupply run to the International Space Station in nearly a year, a mission that the company hopes will mark the start of a rapid-fire launch manifest full of payloads waiting to fly.
The early April blastoff aboard SpaceX's Falcon 9 rocket will be the company's eighth of at least 26 space station cargo missions under contracts to NASA.
Launch of the Dragon supply ship from Cape Canaveral is set for approximately 4:43 p.m. EDT (2043 GMT) on April 8. It will mark the 23rd launch of SpaceX's Falcon 9 rocket, and the third flight of an upgraded version of the two-stage booster burning densified, super-chilled liquid propellants.
The automated cargo capsule will reach the space station a few days later, delivering nearly 7,300 pounds (3,310 kilograms) of cargo, including spare parts, crew provisions, experiments and an experimental inflatable module to the research outpost.
SpaceX's first cargo resupply contract signed in 2008 has been extended from 12 logistics missions to 20 flights, according to NASA. Orbital ATK, the other U.S. company currently flying supplies to the space station, initially had a contract for eight launches, and now is on the hook for 10 flights.
Both companies, plus newcomer Sierra Nevada Corp., won a fresh round of contracts with NASA in January to deliver cargo to the space station through 2024. The follow-on agreements guarantee each of the space transport providers at least six resupply missions to the space station.
SpaceX aims for up to 18 launches before the end of the year, three times more than the number of successful missions the company achieved in 2015.
"We hope to grow year-over-year," said Gwynne Shotwell, president of SpaceX. "We only launched for half a year last year, and we still did six (successful) launches. This year, we'll probably do about 18, and we'll increase 30 to 50 percent year-over-year."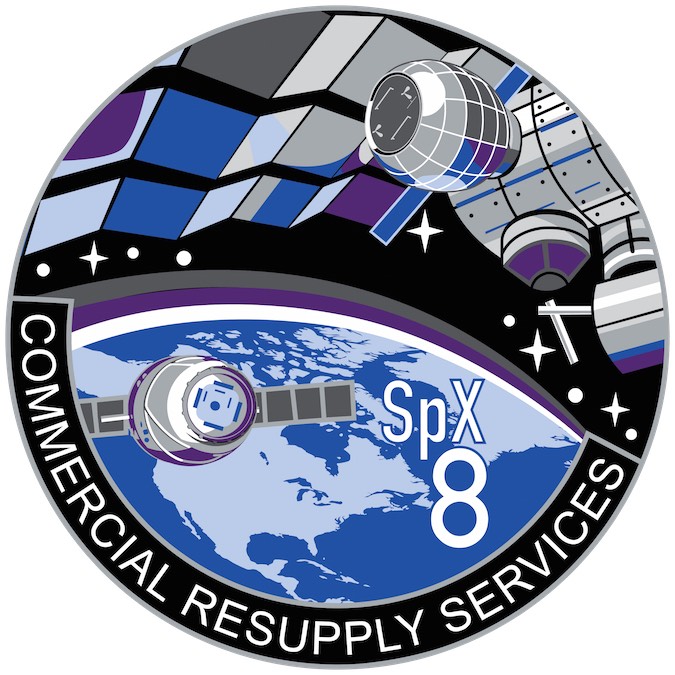 SpaceX's ability to reliably launch on time, an area in which the company has a mixed record, is vital to customers which have signed contracts to fly on the Falcon 9 and a planned heavy-lift booster named the Falcon Heavy.
The company hoped 2015 would be a turning point, and SpaceX was on pace to launch once a month until a Falcon 9 rocket failure June 28. The recovery from that mishap, coupled with the development of an upgraded version of the Falcon 9, kept SpaceX rockets on the ground for nearly six months until a successful return to flight in December.
SpaceX has logged three launches since bouncing back from last year's failure. The most recent flight lofted the SES 9 communications satellite March 4 after a series of scrubs caused by difficulties handling the super-chilled liquid oxygen used on the upgraded Falcon 9, a cargo vessel that ventured into restricted offshore waters near Cape Canaveral, and unfavorable high-altitude winds.
The latest version of SpaceX's workhorse rocket consumes RP-1 kerosene and liquid oxygen refrigerated closer to their freezing points. The change permits more propellants to be loaded into the two-stage rocket, and gives the Falcon 9's Merlin engines additional power.
Speaking at the Satellite 2016 industry trade show and conference near Washington, D.C., Shotwell characterized the problems as a "minor thing."
"The first two attempts that we had to launch SES 9, we had some learning experiences with our ground system — we had no issues with the rocket — with the densified propellant," she said.
SpaceX engineers adjusted the Falcon 9's countdown to start pumping propellants into the rocket a half-hour before liftoff, instead of at at the T-minus 4 hour point. The change leaves less time for the super-cold propellants to heat up inside the rocket's tanks due to the warming influence of outdoor temperatures.
SpaceX's launch team added new propellant storage tanks to the Falcon 9's launch pad at Cape Canaveral since the last liftoff there in December, according to Shotwell.
"We were actually using a different LOX (liquid oxygen) tank, and then we added additional tanks for extra capacity, and we ended up with some little latent heat leaks, and we didn't overcome it for the first two attempts," Shotwell said. "We switched back to the original tank that we used for Orbcomm (the Falcon 9 launch in December), and then we had to wait for a boat on the third attempt. The fourth attempt was the upper level winds.
"We got it off on No. 5 for SES," she said. "So we had five attempts in nine days, and there's no question that that LOX (liquid oxygen) issue, though painful for SES, was kind of a minor thing, and it's definitely behind us."
The 11,620-pound (5,271-kilogram) SES 9 communications satellite, heading for geostationary orbit nearly 22,300 miles (nearly 36,000 kilometers) over the equator, was the first payload to require the Falcon 9's full lift capability enabled by the densified propellant upgrade.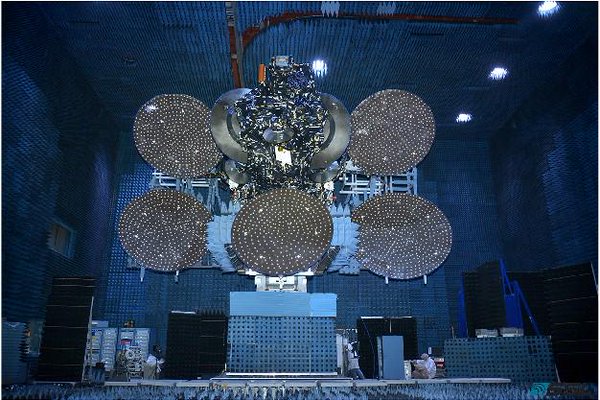 In parallel with final preparations ahead of the April 8 resupply launch to the space station, technicians from SpaceX and Space Systems/Loral are preparing the Japanese JCSAT 14 television broadcasting satellite for liftoff on a Falcon 9 rocket later in April.
Owned by Tokyo-based SKY Perfect JSAT Corp., JCSAT 14 was delivered to Cape Canaveral from its SSL factory in Palo Alto, California, earlier this month.
The tandem launch of Boeing-built communications satellites for Asia Broadcast Satellite and Eutelsat will follow in early May, the second of a two-launch deal with lightweight all-electric propulsion spacecraft that dispense of the need for heavy conventional chemical propellants for orbital maneuvers.
Tom Choi, CEO of ABS, told Spaceflight Now that the mission has a preliminary launch date of May 3.
Falcon 9 missions scheduled for launch through July include two flights from Vandenberg Air Force Base with Taiwan's Formosat 5 Earth observation satellite and the first set of next-generation mobile communications satellites for Iridium.
Cape Canaveral could host at least three more Falcon 9 flights through the end of July with the Thaicom 8 telecom payload, the ninth operational Dragon cargo flight to the space station, and the Israeli Amos 6 communications craft.
SpaceX aims to make its first launch from Cape Canaveral's launch pad 39A, a reconfigured Apollo- and shuttle-era facility, before the end of the year, Shotwell said.
The seaside launch complex at NASA's Kennedy Space Center is a few miles north of SpaceX's existing Complex 40 launch pad, which lies on property owned by the U.S. Air Force. Construction crews are outfitting pad 39A to host launches of the Falcon 9 and Falcon Heavy, including future crewed missions to the space station.
Shotwell expects the first SpaceX launch from pad 39A to come before the inaugural Falcon Heavy mission, which is now scheduled for November.
"We don't need to have pad 39A operational this year to get caught up on the manifest, but I do think we're probably going to launch a Falcon 9 'single stick' from 39A before we do the Heavy in November," Shotwell said.
The top candidates for the first Falcon 9 launch pad from pad 39A are flights with the Airbus-made SES 10 and SES 11 communications satellites in October and November, she said.
Email the author.
Follow Stephen Clark on Twitter: @StephenClark1.