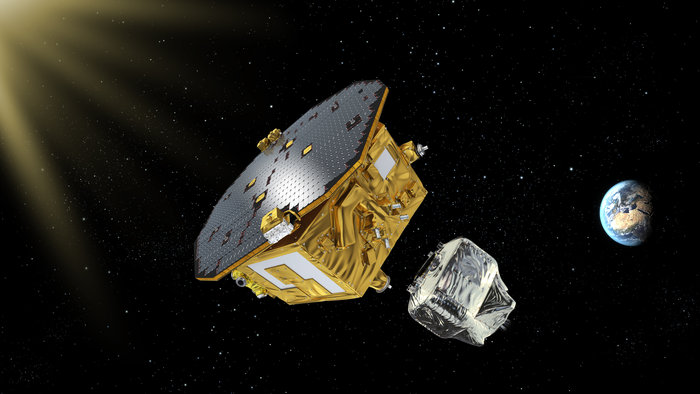 Europe's LISA Pathfinder mission crafted to demonstrate the ability to detect gravitational waves — theorized ubiquitous cosmic signals that have so far eluded discovery — has arrived at its operating post around the L1 Lagrange point nearly a million miles from Earth.
The six-sided spacecraft jettisoned its propulsion module at about 1130 GMT (6:30 a.m. EST) Friday after a series of engine burns thrust LISA Pathfinder toward its work site at L1 after lifting off from French Guiana on Dec. 3.
LISA Pathfinder's launch aboard a European Vega rocket put the spacecraft and its fuel-laden engine section into an elliptical low-altitude orbit with a high point about 1,540 kilometers (957 miles) above Earth.
The propulsion package attached to the base of the LISA Pathfinder science module fired six times to propel the probe farther from Earth toward the L1 libration point about 1.5 million kilometers (932,000 miles) toward the sun.
A final 64-second maneuver by the spacecraft's main engine Jan. 20 nudged LISA Pathfinder into a looping, halo-like orbit around L1, an imaginary point between the Earth and the sun where the gravitational pull from the two bodies balances, allowing a spacecraft to loiter there with occasional small corrections.
LISA Pathfinder needed only one of two prescribed burns to enter orbit at L1, and ground controllers programmed the spacecraft to jettison its engine module Friday.
Airbus Defense and Space manufactured the LISA Pathfinder spacecraft and its propulsion module, which engineers derived from the fuel tanks and thrusters used on Airbus' Eurostar series of large commercial communications satellites.
Tiny nitrogen cold gas thrusters now have primary control of the spacecraft for its six-month primary mission.
"Heat and vibration from the regular, hot thrusters on the propulsion module would cause too much disturbance during the spacecraft's delicate technology demonstration mission," said Ian Harrison, LISA Pathfinder's spacecraft operations manager at the European Space Agency's control center in Darmstadt, Germany. "Primary propulsion during the rest of the mission will be provided by cold gas microthrusters to keep us at L1."
The cold gas jets supply minuscule levels of thrust to maintain control of the spacecraft and help steer it in orbit around L1.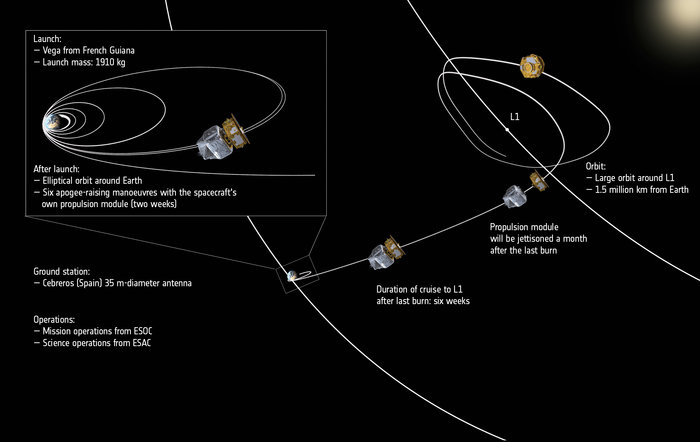 The thrusters were scheduled to guide LISA Pathfinder into its final orbit around L1 this week, putting the craft in a looping path stretching between 500,000 and 800,000 kilometers (300,000 to 500,000 miles) from the L1 location.
LISA Pathfinder's mission is to test technologies needed for a future observatory to detect and study gravitational waves, elusive signals through spacetime predicted by Albert Einstein's general theory of relativity. Einstein predicted that the movement of immense objects in the universe, such as galaxies and black holes, send out low-frequency waves of gravitational energy rippling across spacetime.
But gravitational waves are easily overwhelmed by gravity from nearby objects like the sun and the planets, and perturbations from a spacecraft's thrusters, motion and other sources could mask a detection.
That's where LISA Pathfinder comes in.
The $630 million mission carries two rounded gold-platinum test cubes — each 1.8 inches or 46 millimeters on a side — that will be suspended in vacuum enclosures. A laser measurement system will precisely track the distance between the two free-floating cubes down to one picometer, or one one-hundredth the size of an atom.
Such precision is required for a future space mission to launch in the 2030s with a goal of using gravitational waves as a window into some of the unseen workings of the cosmos.
The low-frequency waves cannot be detected by LISA Pathfinder because the 2.1-meter diameter (6.9-foot) spacecraft is too small.
But with two or three similar spacecraft positioned millions of miles apart, physicists believe the gravitational ripples can be detected and tapped for scientific research.
Controllers switched on the laser aboard LISA Pathfinder on Jan. 13.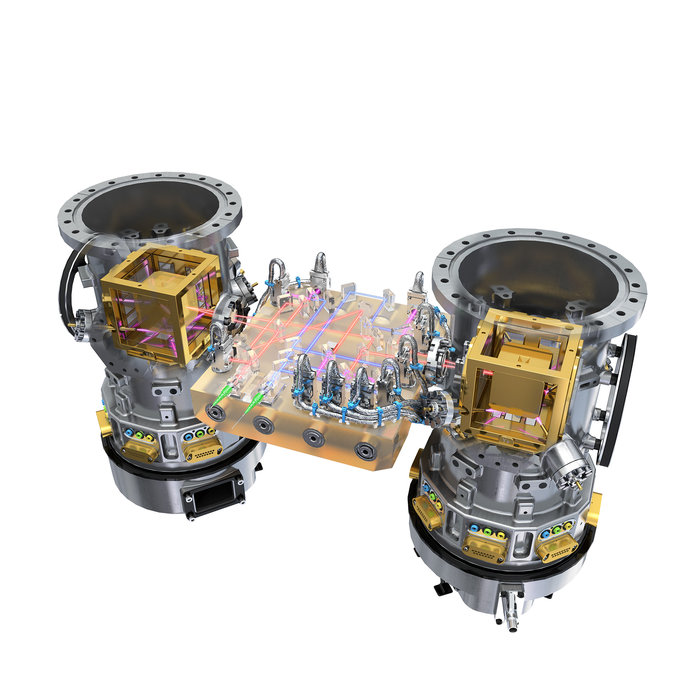 The test cubes will be released from their launch restraints next month, with the first procedure Feb. 3 to retract finger-like appendages from each cube.
Then each cube's caging device will pull away Feb. 15 and 16, breaking the mechanical contact between the test masses and the spacecraft.
From that point on, LISA Pathfinder's control software and microthrusters will essentially fly the spacecraft around the free-floating test cubes, ensuring the objects do not recontact the edges of their enclosures, with tolerances of a few millimeters — less than an inch.
The process to release the test cubes could not be fully tested on the ground, making it one of the driving reasons behind ESA's decision to develop a demonstrator probe before launching a more expensive multi-spacecraft gravitational wave observatory.
A thruster package provided by NASA will also manage LISA Pathfinder's pointing for about three months of its 180-day prime mission.
The U.S-made electric thrusters will point the spacecraft with a precision equivalent to the width of the double helix in a strand of DNA, according to Phil Barela, project manager for NASA's contribution to the LISA Pathfinder mission.
Such fine control of a spacecraft is an improvement over the pointing requirements for large space telescopes like Hubble, but it is necessary for research into gravitational waves.
Astronomers say gravitational waves coming from immense objects in the distant universe, such as merging black holes and galactic nuclei, can yield new insights into the fundamental physics of the universe in ways impossible to study with traditional observations of light waves.
"We think we know all the different forces that could disturb a test mass, and all the different mechanisms that could basically mask a gravitational wave, and one of the purposes of LISA Pathfinder is saying did we get them all controlled and did we really understand what they all were," said Ira Thorpe, a researcher at NASA's Goddard Space Flight Center and a U.S. member of the LISA Pathfinder science team, in an interview before the mission's launch.
Email the author.
Follow Stephen Clark on Twitter: @StephenClark1.