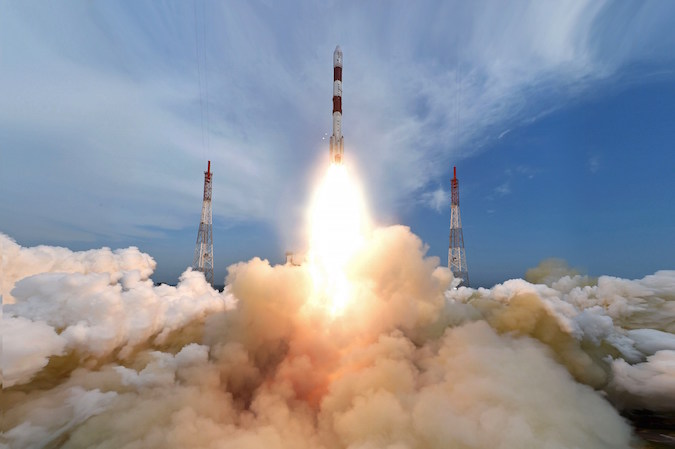 Eight satellites blasted off Monday on top of an Indian Polar Satellite Launch Vehicle, including an instrument to track tropical cyclones, a pathfinder for a U.S.-owned commercial Earth observation fleet, and multiple spacecraft for Algeria.
The 14-story launcher lifted off at 0342 GMT Monday (11:42 p.m. EDT Sunday) from the First Launch Pad the Satish Dhawan Space Center, India's spaceport on the country's eastern coastline.
The PSLV's 37th flight carried up an Indian satellite to measure ocean winds and supply data for forecasters around the world to estimate the intensity and location of tropical cyclones, plus seven other payloads for U.S., Algerian, Canadian and Indian organizations.
The rocket dropped six strap-on solid rocket boosters into the Bay of Bengal, then jettisoned a spent first stage motor casing after consuming its 300,000-pound (138-metric ton) supply of pre-packed solid propellant.
A liquid-fueled Vikas engine on the PSLV's second stage ignited for two-and-a-half minutes, then the third stage's solid rocket motor fired to accelerate the rocket to a speed of more than 14,000 mph (6.3 kilometers per second).
Two fourth stage engines, burning a combination of hydrazine and nitrogen tetroxide, lit just after the 12-minute point of the flight and burned for four-and-a-half minutes to reach orbit.
The first payload deployed from the top of the PSLV was ScatSat 1, a 818-pound (371-kilogram) spacecraft funded and built in India to join an international fleet of orbiting radars designed to track hurricanes, typhoons and other tropical cyclones.
The PSLV's flight computer was programmed to release ScatSat 1 in an orbit 453 miles (730 kilometers) high inclined 98.1 degrees to the equator, a path that takes the satellite over Earth's poles.
The ScatSat 1 spacecraft, fitted with a rotating Ku-band radar antenna, will bounce microwave radar beams off the ocean surface to determine the water's roughness. Data processors can derive wind strength and direction from the radar returns, feeding information to meteorologists about conditions away from coastlines and buoys.
Similar scatterometer instruments are mounted outside the International Space Station and aboard European weather satellites flying in polar orbit.
But there are differences in each instrument — they do not all operate at the same frequency or in the same orbit. Forecasters prefer to have several wind-measuring satellites in orbit to cross-calibrate data, ensuring measurements are as accurate as possible.
A NASA research satellite named QuikSCAT produced ocean wind data widely used in tropical cyclone forecasting, but its microwave radar stopped spinning in 2009. India's OceanSat 2 satellite launched in 2009, but its instrument ceased operations in March 2014.
NASA launched a scatterometer to the space station in September 2014 inside the trunk of a SpaceX Dragon spacecraft. It is fixed to the outside of the research lab and intended as a gap-filler to continue collecting ocean wind measurements after the end of the QuikSCAT mission.
ScatSat 1 was developed, built and launched in less than a year-and-a-half. Engineers repurposed spare parts from previous satellites to construct ScatSat, according to the Indian Space Research Organization.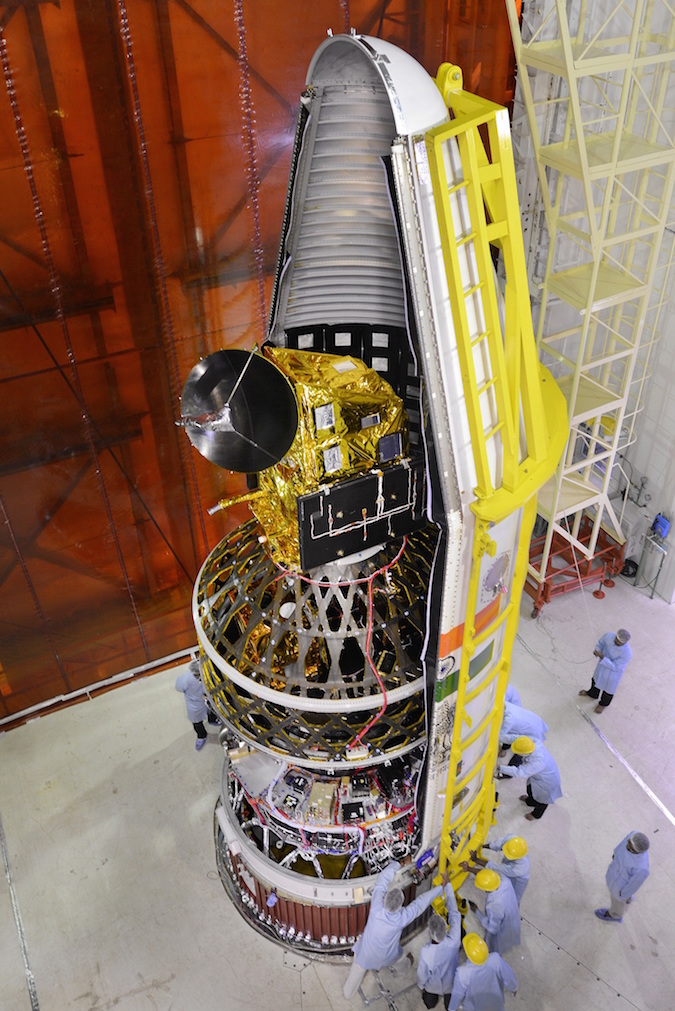 Once ScatSat 1 enters service, meteorologists will have more sources of wind data to feed their forecast models. ISRO plans to share ScatSat 1's measurements worldwide within a few hours of acquisition throughout the satellite's five-year mission.
Maritime wind measurements also aid climate research, commercial and military ship route planning, search-and-rescue operations, research in marine biology and fisheries, and planning for offshore wind farms.
In a first for India's PSLV, the fourth stage re-ignited two times — each for about 20 seconds — to nudge the mission's seven other satellite payloads into a slightly lower orbit.
The PSLV's fourth stage never had to fire more than once on any earlier mission, but Indian engineers tested the rocket's ability to conduct multiple firings after finishing its job on a launch in June.
"This was two missions in one mission achieved today," said B. Jayakumar, ISRO's mission director for Monday's flight, known as PSLV-C35 in the organization's launch sequence.
The Indian booster has found a niche in launching multiple small satellites for international customers, including companies based in the United States, and the fourth stage restart capability is critical for customers who see the PSLV as an affordable ride to space to get their payloads where they need to go.
The PSLV's market share has grown as Russian rockets, such as the Dnepr launcher jointly managed with Ukraine, have been grounded or removed from the marketplace.
The two fourth stage engine firings Monday apparently occurred as planned, and the PSLV released a dual-payload launch adapter structure to reveal the remaining seven spacecraft for separation.
Ground controllers at the Indian launch base on Sriharikota Island called out the separations of the seven satellites in quick succession, and officials declared Monday's launch a complete success.
"An exciting mission has been accomplished by PSLV, our most reliable and dependable workhorse," said P. Kunhikrishnan, director of India's Satish Dhawan Space Center. "I'm sure the satellite launched today, ScatSat 1, will provide augmented services for India, and for other countries also, in the area of weather forecasting and meteorology."
The second orbit targeted by the PSLV's fourth stage was at an altitude of 428 miles (689 kilometers), with an inclination of 98.2 degrees.
"The re-start of the upper stage and placing satellites in different orbits also has improved the marketability of PSLV — the flexibility and versatility of PSLV — and this also puts PSLV in a very unique position of advantage," said S. Rakesh, director of the ISRO Propulsion Complex.
One of the seven secondary payloads launched Monday was a demonstration satellite for BlackSky Global, a Seattle-based company intending to field a fleet of 60 spacecraft to offer on-demand high-resolution images of any place on the planet.
The U.S.-built Earth observing platform weighed about 97 pounds (44 kilograms), according to ISRO's launch information kit, and will lay the foundation for BlackSky's commercial remote sensing business, which officials announced in June 2015.
BlackSky's Pathfinder 1 satellite is the first of two orbiting testbeds the company aims to launch in the next few months. The other pathfinder craft is scheduled to launch on a SpaceX Falcon 9 rocket from Vandenberg Air Force Base in California alongside a Taiwanese Earth observation satellite and nearly 90 more payloads on a "rideshare" mission.
The main objective of the pathfinders is to return imagery, an achievement that would prove the basic technology behind the planned commercial Earth-observing satellite fleet, according to Jason Andrews, CEO of Spaceflight Industries, which owns BlackSky Global.
Engineers based at a control center in Seattle will run tests on the satellite's camera and propulsion system, and verify BlackSky's ground segment is capable of processing imagery and sending commands.
The pathfinders'  mission is "proving out the fundamental capabilities of the spacecraft, retiring the risk around the technologies within the spacecraft, and then also demonstrating the end-to-end concept of operations, which means to the ability to rapidly task it, get an image back, and deliver it to the customer," Andrews said.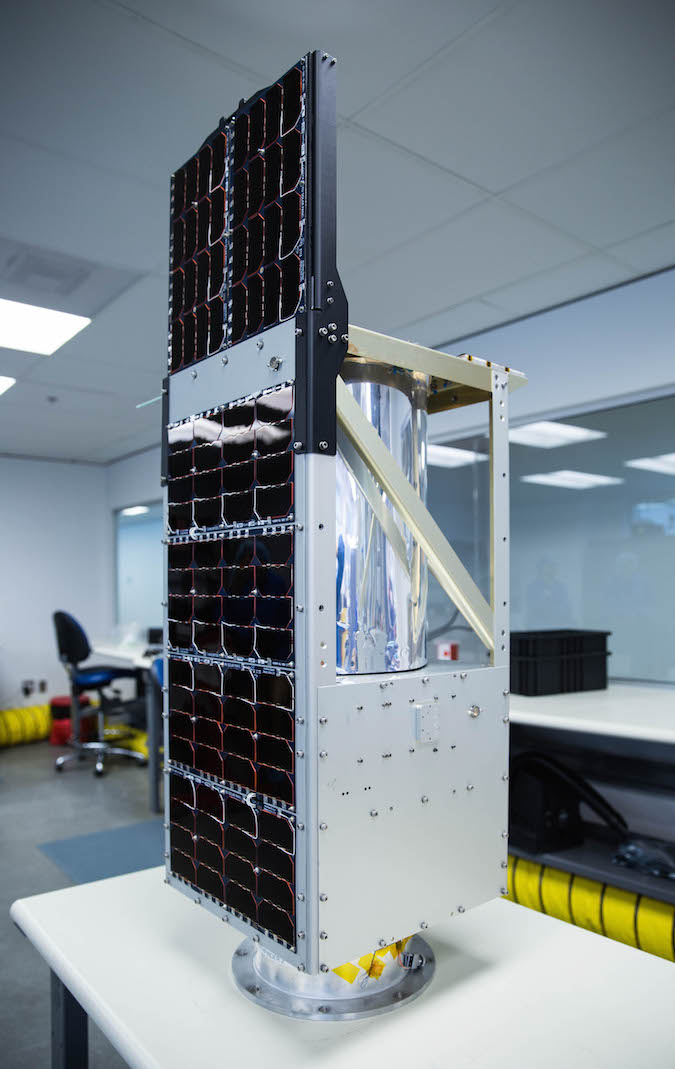 BlackSky is one of several U.S.-based start-up companies with an eye on the commercial Earth observation market. All aim to build and launch small satellites to offer high-resolution imagery, but not as sharp as pictures gathered by large multi-ton spacecraft operated by companies like DigitalGlobe and Airbus Defense and Space.
Rather than resolution, the key differentiator is cost and timeliness, Andrews said.
"Ultimately, the business plan for BlackSky is to enable us to look at the planet in real-time or near real-time," Andrews said in an interview with Spaceflight Now in June.
In contrast, companies usually build large commercial reconnaissance satellites one or two at a time, trading image resolution for coverage.
According to Andrews, BlackSky's satellites are designed for three-year lifetimes and will have an imaging resolution of about 3.3 feet (1 meter) from an altitude of 280 miles (450 kilometers).
Harris Corp.'s Space and Intelligence Systems division provides the optical imaging payloads for BlackSky's satellites.
"Right now, there really is no website where you can go online and get (high-resolution satellite) imagery in a usable manner," Andrews said. "There are a few small ones out there where you can pull up archive imagery, but you can't task imagery in real-time. You can't pull out your phone, pull up an app and task a satellite to get an image back in 90 minutes for $90."
That is BlackSky's vision, and Andrews said the company's recent acquisition of a firm named OpenWhere added expertise in user interfaces and cloud storage for the big data archive a constellation like BlackSky's will need. BlackSky finalized the purchase of OpenWhere after receiving an infusion of venture capital financing in June.
"These are going to be the smallest, highest-performing one-meter (resolution) imaging satellites ever built, at least to our knowledge," Andrews said. "That's the key technical demonstration."
BlackSky is positioned between two other growing satellite imaging companies: Planet and Google's Terra Bella.
Based in San Francisco, Planet has more than 50 CubeSat-sized satellites flying around Earth, but their images are not as detailed as the pictures planned by BlackSky. Terra Bella has seven one-meter resolution satellites in orbit, each one bigger than BlackSky's Pathfinder 1.
"This technology grew out of the Kestrel Eye program, which was a U.S. Army program, to look at how you would put small imaging satellites in space," Andrews said. "Think about UAVs in space. They really challenged the state of the technology to make it smaller, compact, as well as low-cost."
Andrews' company, Spaceflight Industries, built a Kestrel Eye satellite for the Army scheduled for launch some time next year.
Three satellites for Algeria were also launched Monday.
Built by Airbus Defense and Space for the Algerian Space Agency, AlSat 2B is the second in a pair of surveillance satellites ordered from the European aerospace contractor by Algeria. The 258-pound (117-kilogram) craft's camera can see objects down to 8 feet (2.5 meters) in size.
Officials confirmed the 227-pound (103-kilogram) AlSat 1B satellite, made by Surrey Satellite Technology Ltd. in Britain, was healthy after riding into orbit aboard Monday's PSLV mission. Like its companion, AlSat 1B will look down on Earth and collect wide-angle imagery for agricultural and resource monitoring, disaster management, land use mapping and urban planning, SSTL said in a statement.
The last of the trio of Algerian satellites launched Monday was a CubeSat built at Surrey Space Center in Britain on a joint educational mission for the UK Space Agency and the Algerian Space Agency.
Canada's CanX-7 mission, also based on a CubeSat design and partially funded by the Canadian military's research and development office, separated from the PSLV to begin a mission validating a de-orbit drag sail. Such a device could be used to remove future small satellites from orbit and avoid adding space junk to the increasingly crowded environment within a few hundred miles of Earth.
Two small satellites built by Indian university students, PRATHAM and PISAT, were also stowed aboard the PSLV for Monday's mission.
Email the author.
Follow Stephen Clark on Twitter: @StephenClark1.