CAPE CANAVERAL — Bound for an orbital rendezvous with the International Space Station on Wednesday, a commercial Cygnus freighter was successfully launched by an Atlas 5 rocket this afternoon to restart American cargo deliveries to the research outpost.
The United Launch Alliance booster rocket lifted off at 4:44:57 p.m. EST (2144:57 GMT) from Cape Canaveral on a trek to place the Orbital ATK-owned resupply ship into its preliminary 143-statute-mile orbit. At the time of ignition, the station was flying just off the east coast of the U.S.
Liftoff came after three straight days of foul weather conditions, which snapped a string of 26 consecutive Atlas missions to launch on the first attempt after being fueled.
Four minutes into flight, staging occurred and the hydrogen-fueled Centaur was lit to heave the hefty payload into the 51.6-degree orbit to match that of the space station.
The vehicle put its superior steering skills to use, guiding the rocket into the plane of the station despite the unprecedented, 30-minute launch window for a rendezvous mission of its kind.
And with a liftoff weight of 16,517 pounds, it was the heaviest Atlas payload ever launched.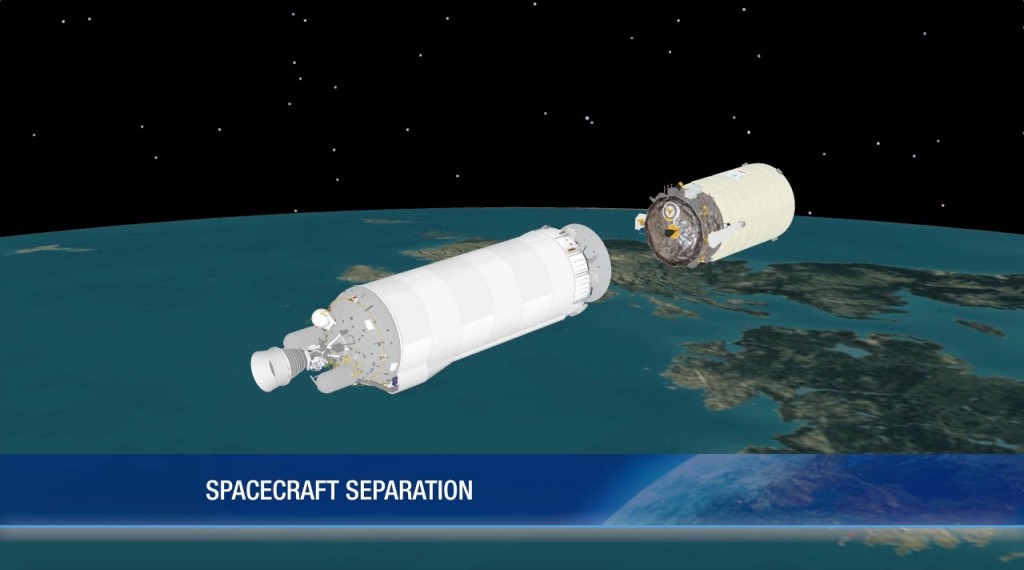 Dubbed the SS Deke Slayton II, Cygnus was released from the rocket 21 minutes after liftoff and became an autonomous, free-flying spacecraft. A short time later, the craft unwound in Chinese fan-style its new circular, lighter-weight solar arrays to generate electricity.
The Centaur, with its job complete, removed itself from orbit and was sunk south of Australia.
This marked the 131st successful launch in a row for the Atlas program spanning more than two decades and the 60th for an Atlas 5.
"This is about as good as it gets," said Vern Thorpe, United Launch Alliance's program manager for NASA missions.
"We launched OA-4 on our fourth attempt at 4:44 local time, so I guess all the numbers just lined up today."
"We were within 100 meters of the apogee and perigee we needed in order to get into orbit safely. That's pretty darn close," said Frank Culbertson, former space shuttle and station astronaut and now Orbital ATK's Space Systems Group president.
Tightly choreographed maneuvers over the 60-hour trek will guide the vessel to meet the International Space Station in close proximity early Wednesday. The first two burns are planned for later tonight.
Station astronaut and NASA flight engineer Kjell Lindgren, operating the Canadian-built robotic arm, will grab Cygnus around 6:10 a.m. for attachment to the Unity connecting module three hours later.
The Cygnus is loaded with 7,383 pounds of provisions, not counting packing materials, for the station and its resident crews. The total mass with packing is 7,745 pounds.
Crew supplies: 2,604 pounds
* Clothing for Scott Kelly, Tim Kopra, Tim Peake and Jeff Williams
* 144 Bulk Overwrap Bags of food
Vehicle hardware: 2,220 pounds
* Cycle ergometer, control panel and seat cushion
* Air, water, surface sampling kits
* Acoustic dosimeter
* Carbon dioxide monitor
* C2V2 communications gear
Science utilization: 1,867 pounds
* Canadian Space Agency: Vascular echo exercise band
* European Space Agency: Biolab
* Japan Aerospace Exploration Agency: Cassette, valve, disk drive and cables
* NASA: Gases and liquids behavior experiment, a flame suppression test, a new space life science facility and the first NanoRacks microsatellite to be deployed from the station
EVA gear: 500 pounds
* New SAFER spacewalk jetpack
* Legs and gloves for spacesuit
* Tethers, filters, batteries, velcro and tool bags
* Airlock Cooling Loop Recovery Kit
Computer resources: 192 pounds
* New T61P laptop, hard drives and USB cables
* Canon XH G1 and XF305, Nikon D4 cameras
"I was an astronaut for 16 years. I had a couple of missions and a great four-month stay on the space station. So giving those guys food and T-shirts is near and dear to my heart," said Dan Tani, Orbital ATK's senior director for mission and cargo operations.
The station needs 6,000 meals delivered every year and 500 pairs of socks, Tani said.
"Since 2009, we've had nominally six people (living on the station at any one time). That's a lot of people to keep alive and fed and busy with science."
"I'm guessing that Santa's sleigh is somewhere inside the Cygnus," Culbertson added. "They're probably excited about their stockings coming up, too."
Cygnus will remain parked at the space station through late January to be loaded with about 3,000 pounds of trash, packing materials and other waste. After being unberthed from the station, the freighter will fly away and reenter the atmosphere for disposal.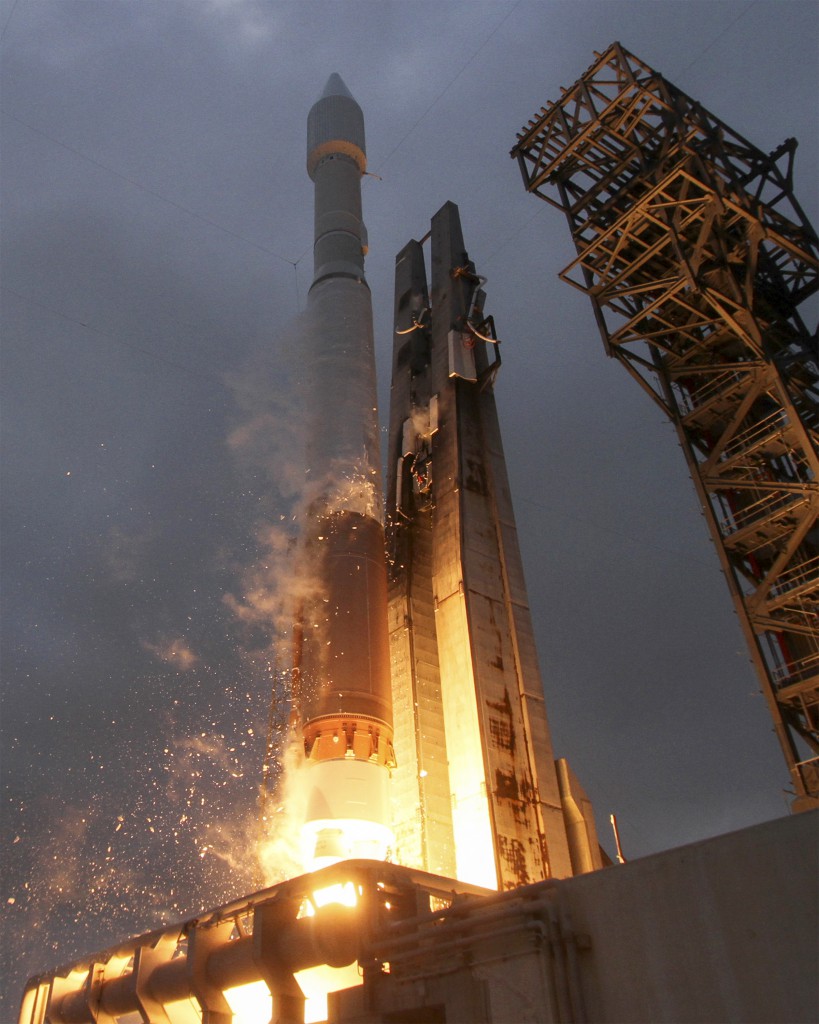 A second Atlas 5 will launch in 100 days, around March 10, with another Cygnus resupply mission to deliver a further 7,700 pounds of payload.
Orbital ATK bought the two Atlas 5 rides as gap-fillers while it recovers from the October 2014 failure of its own Antares rocket with a Cygnus in Virginia. The company has permanently replaced the Antares' troubled main engine with a modernized substitute and hopes to return the vehicle to flight by mid-2016.
"We scrambled after Orb 3 to figure out how we were going to get back into space. We did it in what I would say was a pretty remarkable amount of time, a little over 14 months," Tani said.
"It's wonderful to fly on ULA and the Atlas with their unbeliebable track record."
Today's launch was the ninth and final Atlas 5 flight of the year, the 12th and last for United Launch Alliance in 2015. ULA successfully launched about 115,000 pounds of satellites and cargo into space this year, including 16 spacecraft and 27 Cubesats.
"I can't think of a better way to end the year, really, than to support this critical mission," said Kevin Leslie, ULA mission manager.
* AV-052: Atlas 5-551 with MUOS 3 (Jan. 20)
* Delta 370: Delta 2-7320 with SMAP (Jan. 31)
* AV-053: Atlas 5-421 with MMS (March 12)
* Delta 371: Delta 4-M+4,2 with GPS 2F-9 (March 25)
* AV-054: Atlas 5-501 with fourth X-37B (May 20)
* AV-055: Atlas 5-401 with GPS 2F-10 (July 15)
* Delta 372: Delta 4-M+5,4 with WGS 7 (July 23)
* AV-056: Atlas 5-551 with MUOS 4 (Sept. 2)
* AV-059: Atlas 5-421 with Morelos 3 (Oct. 2)
* AV-058: Atlas 5-401 with NROL-55 (Oct. 8)
* AV-060: Atlas 5-401 with GPS 2F-11 (Oct. 31)
* AV-061: Atlas 5-401 with Cygnus OA-4 (Dec. 3)
Next up is the launch of the GPS 2F-12 navigation satellite on Feb. 3 aboard an Atlas 5 rocket. That is the first of 16 flights ULA has planned in 2016.
See earlier Cygnus OA-4 coverage.
Our Atlas archive.