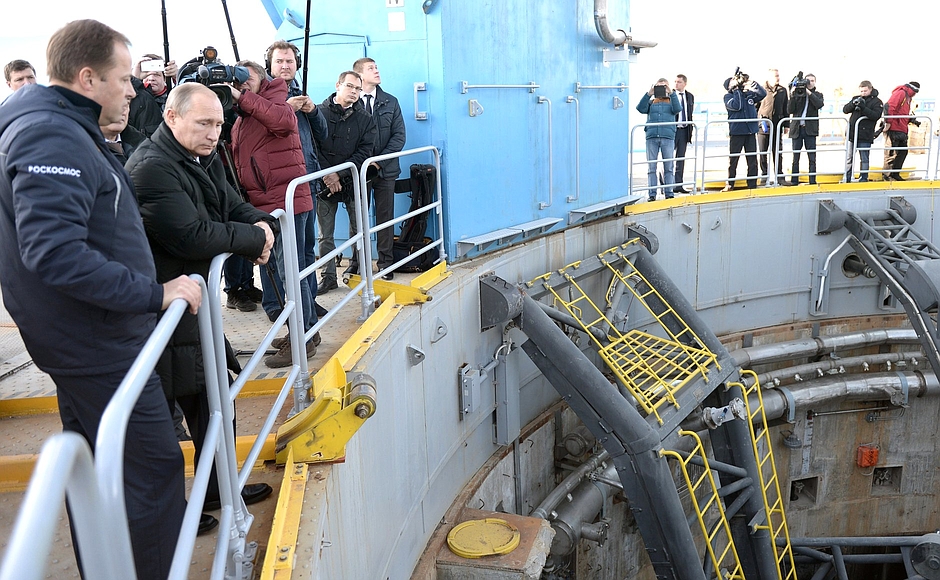 The first launch from Russia's new cosmodrome in the country's Far East will not occur until at least early 2016, Russian President Vladimir Putin announced last week, in a widely-anticipated delay after reports of botched construction and corruption beleaguering the spaceport project.
Putin traveled to the Vostochny Cosmodrome in Russia's Amur region near the Chinese border Oct. 14 for an update on the readiness of the launch base from Russian space officials in charge of its development.
Russian authorities long held to a schedule for launching the first satellite from Vostochny, which means "eastern" in Russian, by the end of 2015, the deadline established when Putin approved the spaceport's development in 2007.
But the Russian president relaxed the timetable in his Oct. 14 visit to the Siberian spaceport, according to transcripts of a meeting between Putin and deputy prime minister Dmitry Rogozin, whose portfolio includes the Russian space sector.
"Let's set our sights on a first launch in 2016, some time in spring," Putin said. "It would be good to time this for Cosmonautics Day (April 12), but there should be no mad rush if this is not possible. Work steadily and calmly to meet the deadline that will be set soon, but just let me know what that deadline will be."
Rogozin agreed, saying that launch teams would be ready for a liftoff in mid-April, but Putin cautioned space officials to only launch when ready, according to comments released by the Kremlin.
The activation of Vostochny — about 3,400 miles (5,500 kilometers) east of Moscow — would allow Russia to reduce its reliance on the Baikonur Cosmodrome in Kazakhstan, which the Russian government leases from the Central Asia nation for $115 million per year.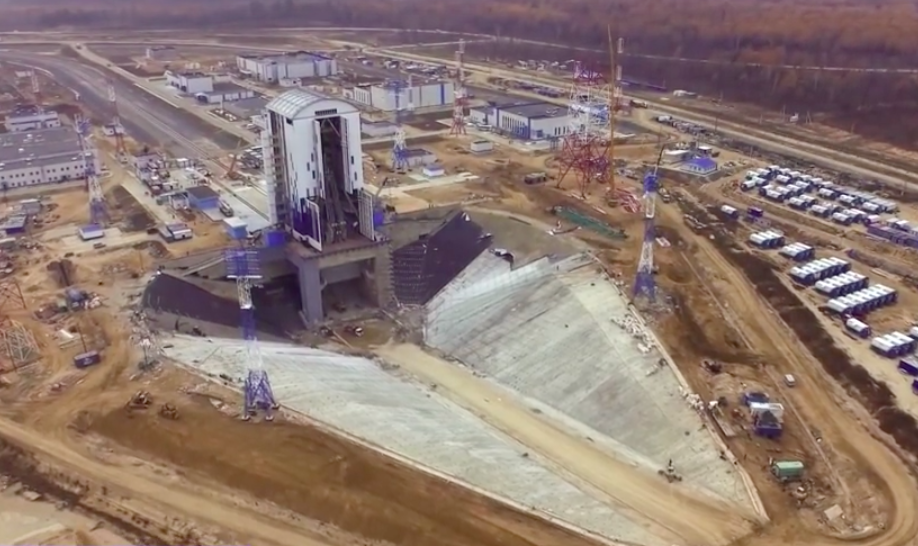 But the Vostochny project, part of the civilian Russian space agency's development program, has been mired in delays and scandal.
The Moscow Times reported Oct. 2 that equipment inside an assembly building at Vostochny was built to the wrong specification, and the Soyuz-2 rocket meant to fly from the cosmodrome would not fit in the building.
"On the matter of subcontractors, Spetsstroy (Vostochny's lead contractor) has brought in up to 130 such organizations," Putin said. "Close supervision of these organizations has not been organized. The qualifications of specialists working in this area require particularly close attention because we have seen a sizeable number of construction flaws. It is good that these problems have been detected in good time and measures and decisions have been taken to fix them."
Several managers in charge of Vostochny's construction have been arrested for allegedly embezzling money earmarked for the launch site. Russian prosecutors said in July they had discovered $130 million in theft at the construction site, according to Russia's Tass news agency.
"I realize that we are building a unique facility here, perhaps the most advanced and high-tech site of its kind in the world, and we understand that new ideas and solutions can arise during the project, but at the same time, we do need to keep the deadlines in mind and not let construction delays build up," Putin said.
According to Putin, Spetsstroy received about $1.1 billion (70.4 billion rubles) for the Vostochny project from 2011 through 2015. Construction work valued at less than half that figure has been approved and documented, he said.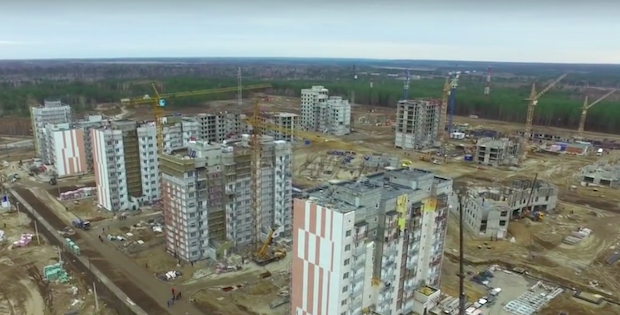 "We must ensure strict monitoring of funds," Putin said. "We know, sadly, that there are suspicions of criminal acts. I say 'suspicions' because the investigation is still underway, but I will ask the Investigative Committee to make sure that all work on opening criminal cases is completed and cases opened are sent on to the courts."
Workers went on strike at Vostochny earlier this year after not being paid on time, but Putin said the Russian government has allocated all the money needed for the project.
"We need to make a thorough check of how these advance payments have been spent and make sure that workers' wages are not paid late," Putin said. "We know, unfortunately, that there have been such problems. Why is this happening? This is not because the state authorities have not made the needed funds available. We have been sending all the needed amounts of money according to schedule.
"This is happening because there is a system of subcontractor organizations that are using funds sent for the space launch center to patch up their own holes elsewhere," he said. "This is completely unacceptable."
Rogozin, who was put in charge of Vostochny's development last year, said there are 20 criminal cases open for misappropriation, waste and fraud related to the cosmodrome's construction, and he promised wages to workers are now being paid on time.
"We continue to step in with regard to any case of delays even of a few days, and overall, we have put an end to the kind of disgrace that we had at the site last spring," Rogozin said.
The around-the-clock push to complete the cosmodrome's basic facilities — enough to enable a launch — was a tall order to be finished in time for a liftoff by the end of 2015, Rogozin said.
Although ground facilities are complete, testing is still in its early stages, he said, adding that past experience at Soyuz launch sites such as the Plesetsk Cosmodrome in Russia and in French Guiana shows preflight checks can take nearly a year.
The Soyuz-2 rocket assigned to the first launch from Vostochny arrived at the cosmodrome in September.
"The space sector is not the place for hasty bursts of last-minute work and super-human efforts," Putin said. "What we need here are a steady pace of work and reliable quality. We need quality results, not victorious reports."
Rogozin said the construction is ready to move into a second phase with the installation of a launch pad for Russia's new Angara rocket, which successfully completed its first two test launches from Plesetsk in 2014.
The first Angara launch from Vostochny is scheduled for 2021, he said, followed by the first piloted flight from the eastern spaceport in 2023 aboard a new-type space capsule to replace Russia's venerable Soyuz crew craft.
Email the author.
Follow Stephen Clark on Twitter: @StephenClark1.