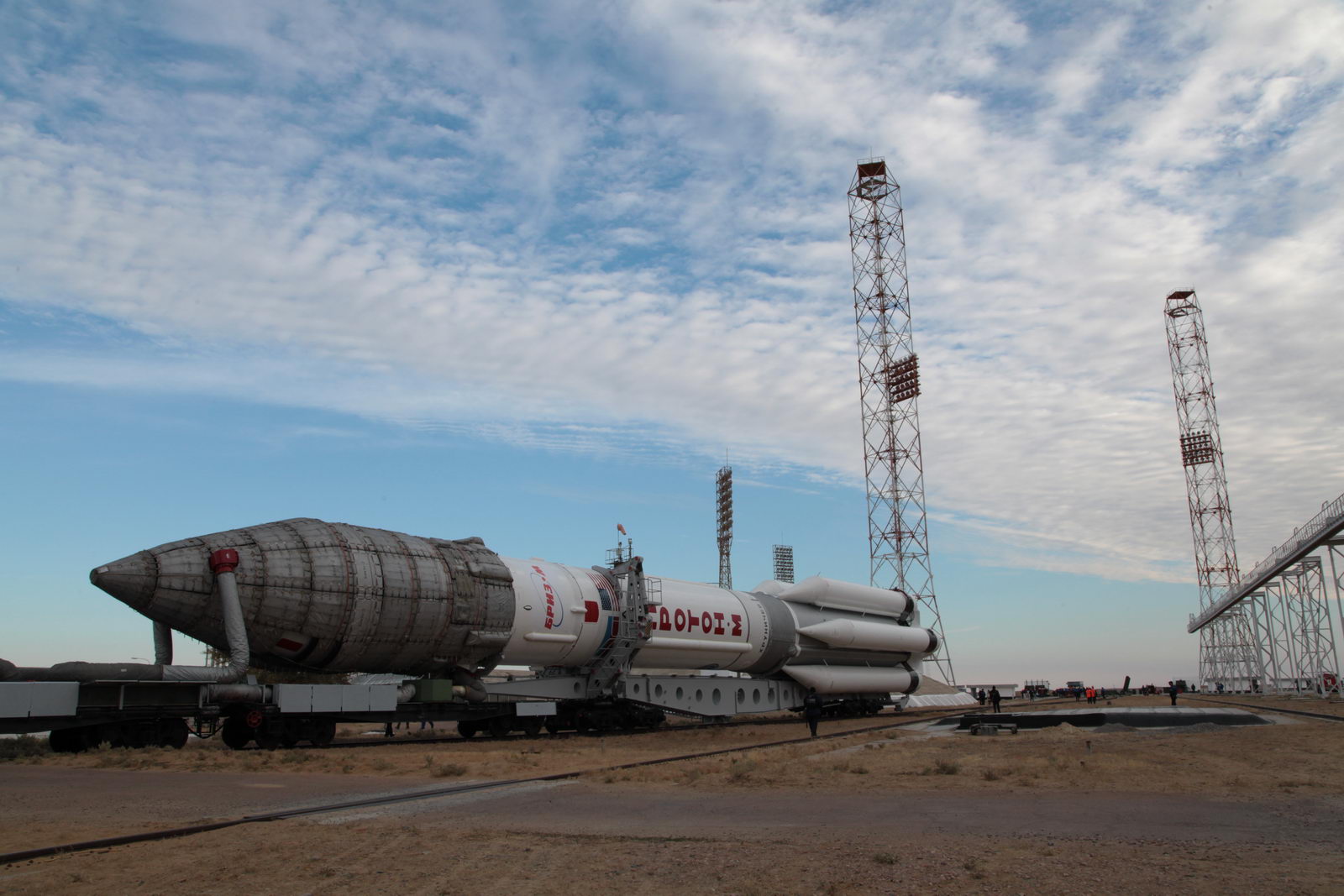 Russian ground crews moved a Proton rocket to its launch pad in Kazakhstan on Tuesday for liftoff with a Japanese-built broadcasting platform for Turkey's national telecom satellite operator Friday.
The 191-foot-tall booster was rotated vertical at the Baikonur Cosmodrome's Complex 200 launch facility after an early morning rollout by rail car from a nearby assembly hangar. A mobile service gantry was expected to move into place around the rocket to give workers access to the Proton for final prelaunch checks.
Liftoff from the arid launch base is scheduled for 2040:11 GMT (4:40:11 p.m. EDT) Friday from pad 39 at Complex 200, beginning a flight of more than nine hours to loft the Turksat 4B communications satellite into an egg-shaped geostationary transfer orbit.
The Proton booster's six RD-276 first stage engines, consuming a mixture of hydrazine and nitrogen tetroxide, will propel the rocket into the stratosphere before separating two minutes after liftoff. A second stage with four engines will fire for three-and-a-half minutes, then yield to a third stage RD-0213 powerplant to guide the rocket's Breeze M upper stage and Turksat 4B on an initial trajectory just shy of attaining orbital velocity.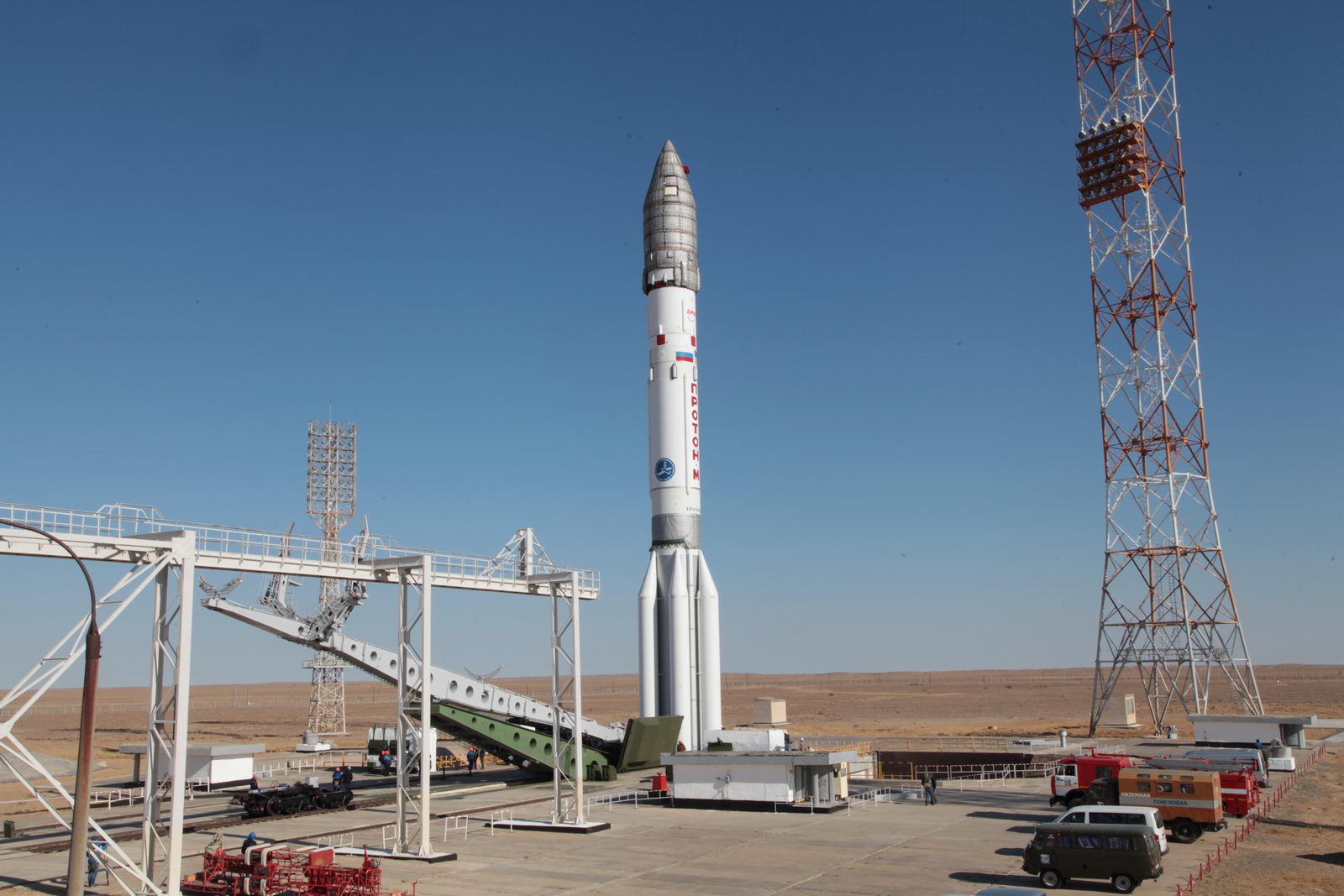 The Breeze M's main engine will burn five times to boost the Turksat 4B satellite into a higher orbit closer to its final operating post over the equator. Spacecraft separation is scheduled for 0553 GMT (1:53 a.m. EDT).
Produced by Khrunichev State Research and Production Space Center, the Proton/Breeze M vehicle will target deployment of Turksat 4B in an elliptical orbit with a high point of 22,236 miles (35,786 kilometers), a low point of 5,767 miles (9,281 kilometers), and an inclination angle of 13.2 degrees to the equator.
The flight marks the 407th launch of a Proton rocket since its debut in 1965, and the sixth Proton mission of 2015. It will be the 91st Proton launch for a commercial customer under the auspices of International Launch Services, a Virginia-based company which manages Proton sales in the global market.
Built by Mitsubishi Electric Corp., the Turksat 4B satellite is designed for a 15-year service life, according to Turksat AS, the craft's operator. The Proton/Breeze M will aim to deploy it in an orbit close enough to its final operating position to give the satellite 30 years of fuel life, ILS officials said.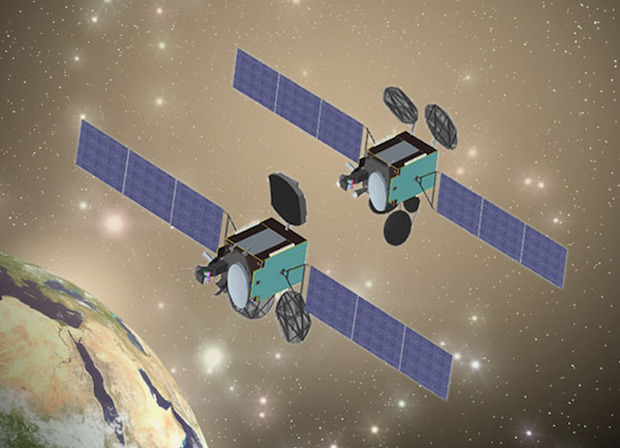 The satellite, which weighs 5.4 tons (4,924 kilograms) with its fuel tanks full, will use its own propulsion system to reach a circular geostationary orbit over the equator a couple of weeks after launch. Ground controllers will park the satellite at 50 degrees east longitude, where its payload will broadcast television, connect Internet and data networks, and beam other services across Europe, the Middle East, Africa and Central Asia.
Its coverage zone extends from England to China, according to Turksat.
Turksat 4B will join a similar communications craft named Turksat 4A launched in February 2014.
It was supposed to launch in late 2014, but was delayed after a pair of Proton launch failures grounded the rocket's manifest of commercial and Russian government missions. Friday's mission will be the Proton's third launch since returning to flight after its last crash in May.
Email the author.
Follow Stephen Clark on Twitter: @StephenClark1.