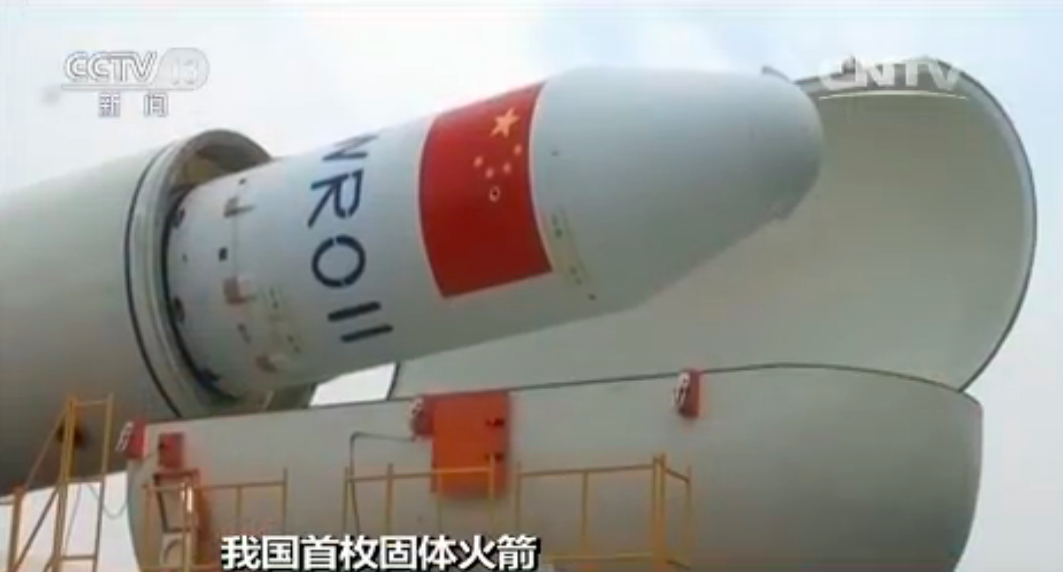 For the second time in less than a week, China has debuted a new type of rocket designed to broaden the scope of the country's Long March launcher family. This time a solid-fueled booster named the Long March 11 blasted out of a mobile launch canister with four Chinese tech demo satellites.
The Long March 11 rocket fired out of an upright launch tube at the Jiuquan launch base in northwest China at 0141 GMT Friday (9:41 p.m. EDT Thursday), according to the official Xinhua news agency.
Developed by the China Academy of Launch Vehicle Technology, or CALT, the four-stage launcher is designed as a quick response rocket for rapid call-up.
The liquid-fueled Long March 6 rocket took off on its maiden mission Sept. 19 from the Taiyuan space center in northeast China. It was also developed by CALT.
The Long March 11 is the first solid-fueled member of the Long March rocket family, and its first stage is the largest solid rocket motor in use by China today.
A similar quick response rocket named the Kuaizhou has launched two times from Jiuquan in 2013 and 2014. China has released little information about the booster, but like the Long March 11, it is solid-fueled, launches from a wheeled mobile transporter, and is sized to send small payloads into orbit.
The Kuaizhou launcher is managed by the  China Aerospace Science & Industry Corp., a different unit in China's state-run defense and aerospace apparatus than the developers of the Long March 11.
The four satellites shot into orbit by the Long March 11 on Friday are circling Earth at an altitude of about 475 kilometers, or 295 miles, at an inclination of 97.3 degrees, according to U.S. military tracking data.
One of the satellites, named Pujiang 1, features digital design technology, universal plug-and-play interfaces, and other design features aimed at ultimately allowing engineers to complete integration of the spacecraft within a month, launch preparations within a week and in-orbit commissioning within a day, according to China's state-owned People's Daily newspaper.
People's Daily reported Pujiang 1 carries a WiFi-enabled network to connect the satellite's sensors and systems together, and the refrigerator-sized satellite uses 3D-printed structure to support an antenna, aiding the project's goals of rapid development and low costs.
Pujiang 1 was built by the Shanghai Academy of Spaceflight Technology.
Three smaller tech demo CubeSats built by university students in partnership with the Shanghai Engineering Center for Microsatellites accompanied Pujiang 1 into orbit.
Email the author.
Follow Stephen Clark on Twitter: @StephenClark1.