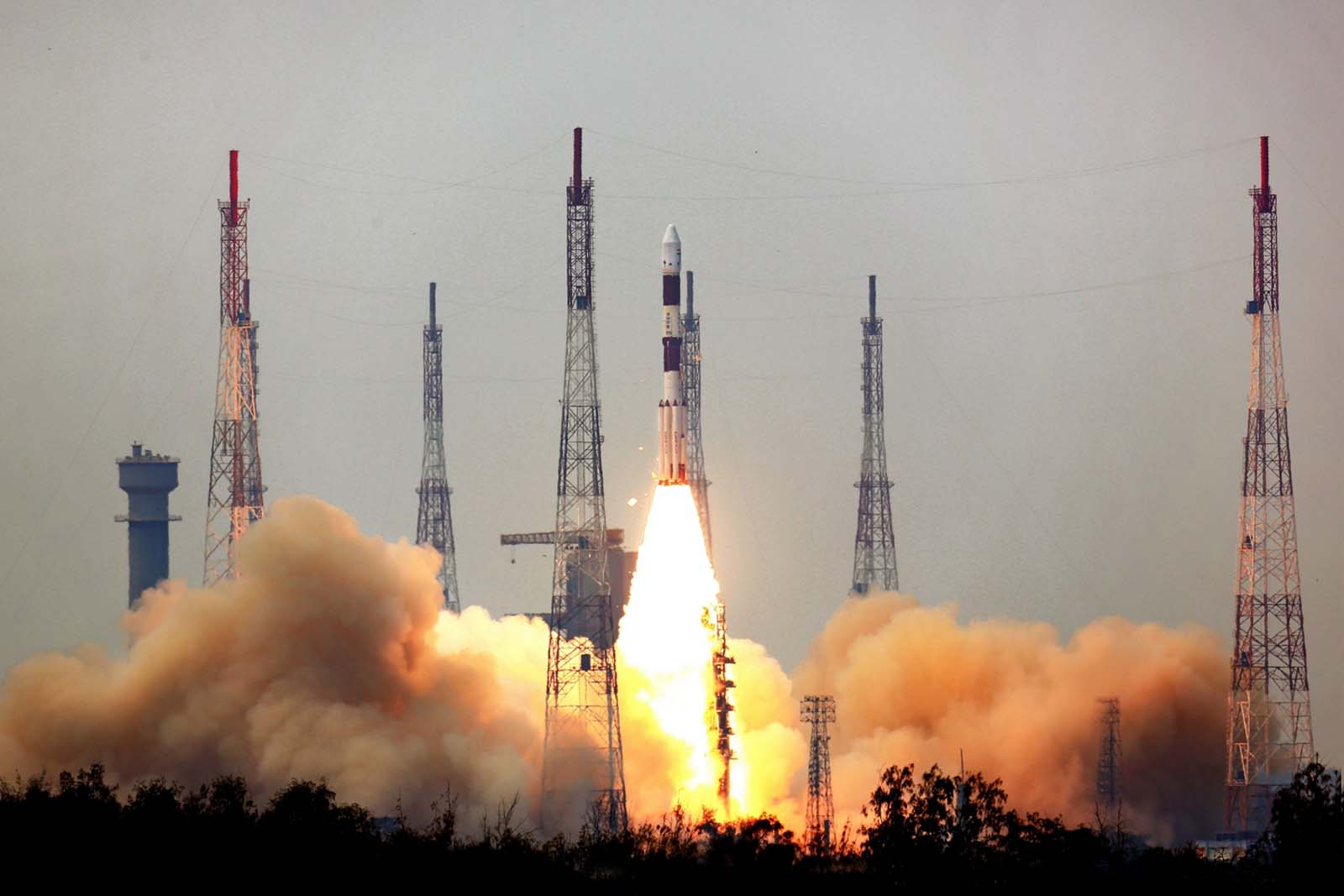 An Indian astronomical observatory rocketed into orbit Monday to study black holes and neutron stars — the compact, powerful remnants of exploded stars — in a five-year mission lauded as a milestone in India's space program.
The Astrosat spacecraft — joined by six smaller secondary payloads from Indonesia, Canada and the United States — lifted off at 0430 GMT (12:30 a.m. EDT) on top of a Polar Satellite Launch Vehicle.
Six strap-on rocket motors and a solid-fueled first stage combined to push the 145-foot-tall rocket off the launch pad at the Satish Dhawan Space Center on India's east coast with 2 million pounds of thrust.
Liquid-fueled and solid-fueled engines took turns firing to propel the PSLV's payloads into space, and a twin-engine hydrazine-fed fourth stage guided Astrosat and its companions into a nearly perfect orbit with a high point of 404 miles (651 kilometers) and a low point of 400 miles (644 kilometers).
The rocket achieved an inclination of 6 degrees, right on target for Astrosat, and officials declared the mission successful.
"Today, PSLV has completed its 30th consecutive successful mission with the injection of Astrosat and six more satellites into a very precise orbit," said P. Kunhi Krishnan, director of the Satish Dhawan Space Center.
Managers confirmed that Astrosat extended its two power-generating solar panels as planned shortly after deployment from the PSLV's fourth stage, with no indication of any problems. Ground controllers will complete commissioning of the satellite's five astronomical instruments over the next two months, officials said.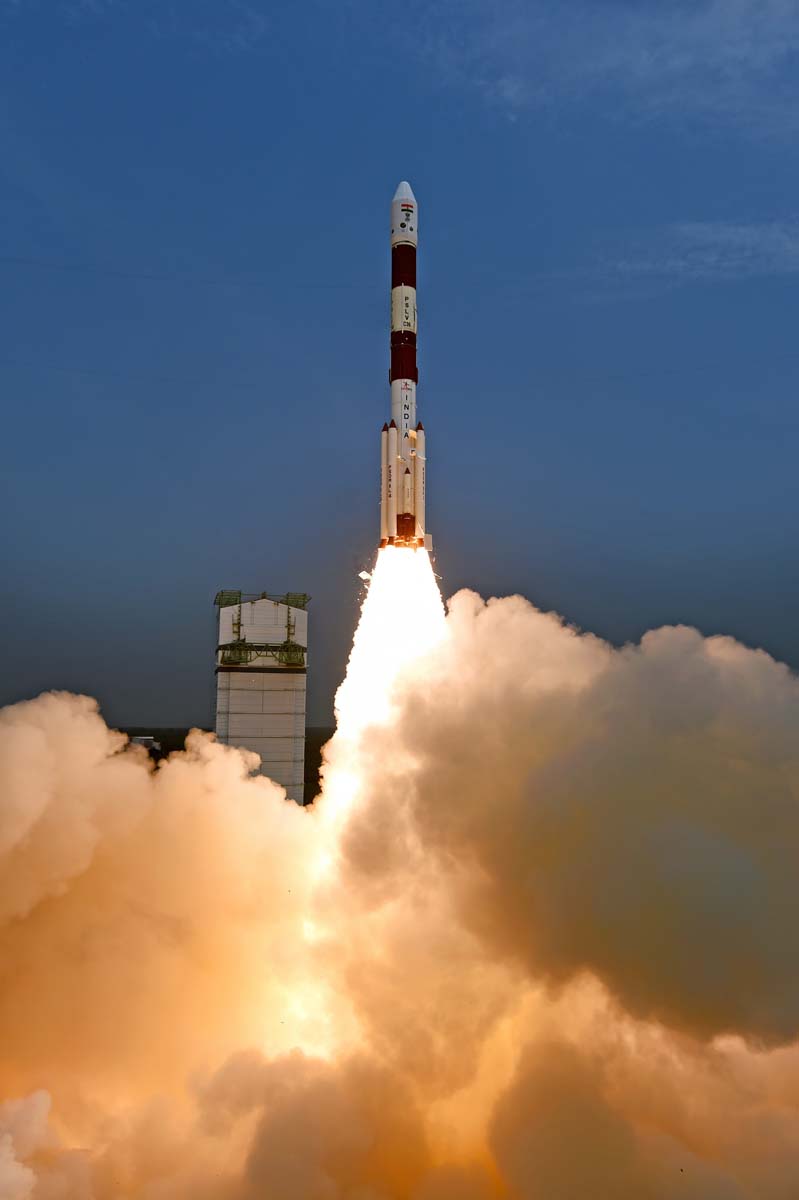 Astrosat is India's first space observatory, vaulting the South Asia power into a new league of space-faring nations. India's first Mars orbiter arrived at the red planet in 2014, and scientists celebrated its first anniversary in Mars orbit last week.
India's launch rate is also kicking into a new cadence, and Monday's flight marked the country's third successful space launch in three consecutive months.
"PSLV has put an astronomy mission, which has been looked at not only within the country but globally, for bringing new information to the scientific community," said A.S. Kiran Kumar, chairman of the Indian Space Research Organization, in remarks after the launch.
The 3,335-pound (1,513-kilogram) Astrosat spacecraft hosts four X-ray science instruments and an ultraviolet telescope. Assembled at the ISRO Satellite Center in Bangalore, Astrosat carries reaction wheels, magnetic torquers, and rocket thrusters to keep the spacecraft pointed at its celestial targets.
While significantly smaller than space observatories launched by the United States and Europe, Astrosat is the first mission of its kind in India, which reportedly spent about $27 million on the project.
"Astrosat's five payloads are chosen to facilitate a deeper insight into the various astrophysical processes occurring in the various types of astronomical objects constituting our universe," officials wrote in a press kit released by the Indian Space Research Organization.
Astronomers in India plan to use Astrosat to survey the galaxy for black holes and measure the intense magnetic fields generated by neutron stars, the collapsed ultra-dense leftovers of supernovas. The supermassive black holes at the centers of galaxies are also on Astrosat's observing agenda.
Astrosat will also observe X-ray binaries — systems where a black hole or neutron star can suck matter away from a nearby star, emitting bright signals visible to X-ray telescopes.
The observatory's ultraviolet imaging telescope will scan the sky in visible, ultraviolet and far ultraviolet light, focusing on star-forming clouds throughout the nearby universe and infant solar systems closer to home.
Scientists will also coordinate simultaneous observations between Astrosat's ultraviolet and X-ray sensors, which were developed by Indian scientific institutions, the University of Leicester in Britain, and the Canadian Space Agency.
The University of Leicester supplied a CCD camera for Astrosat's soft X-ray telescope.
"Astrosat has unique capabilities to enable the study of black holes and other powerful energy sources in the universe," said Paul O'Brien, head of the University of Leicester's department of physics and astronomy, in a press release.
Canadian scientists provided detectors for Astrosat's twin ultraviolet and visible imaging telescopes.
"These are not your run-of-the-mill stars and galaxies," said John Hutchings of the National Research Council Canada, principal investigator for Canada's contribution to Astrosat. "Some are so powerful, they affect the whole universe. We'll be able to see how they form and study their brightness, distribution, life cycle and more."
Contributions from Canada and Britain ensure scientists in those countries observing time on Astrosat.
"All of the hottest and most exotic objects in the universe radiate strongly in the ultraviolet range," Hutchings said in a press release. "By exploring distant galaxies in ultraviolet light, we can study the formation and life cycle of galaxies, as well as star formation within galaxies. That's one of the science drivers of this project."
Astrosat took more than a decade to develop, and scientists are eager to put the satellite to work.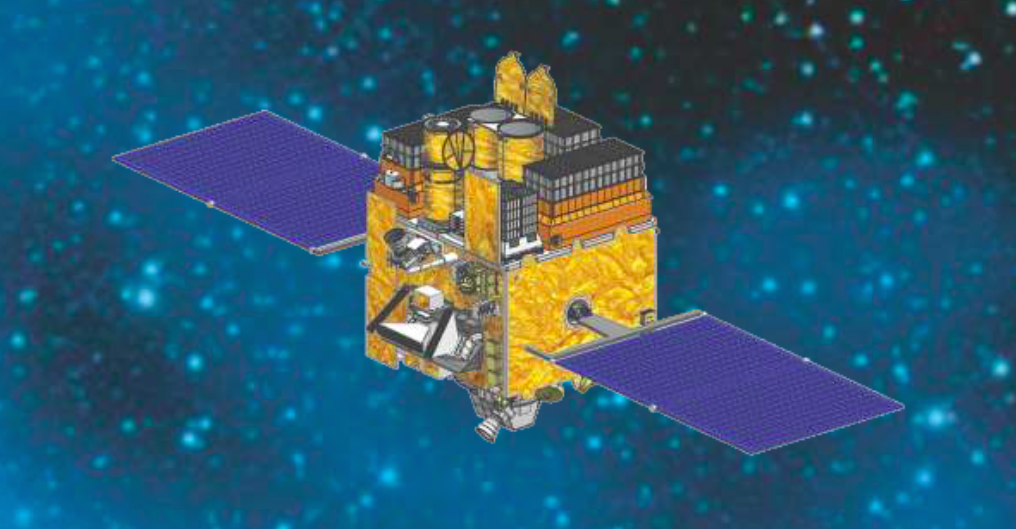 "It is the first time we have a capability in the system to look at a particular object in the sky with multiple wavelengths," said K. Kasturirangan," a former chairman of ISRO who led the space agency when Astrosat development started.
"There is no other satellite of this class, and it's still very relevant," Kasturirangan said in a post-launch speech at the PSLV control center, referring to Astrosat's lengthy development.
Four satellites owned by Spire Global, a San Francisco startup aiming to develop spacecraft for commercial weather applications, are fastened aboard the PSLV for Monday's launch. The Lemur 2 CubeSats, each about the size of a toaster oven, carry maritime tracking and GPS radio occultation payloads.
The exactView 9 ship-monitoring satellite built by the University of Toronto Institute for Aerospace Studies Space Flight Laboratory is also packaged as a secondary passenger on Monday's launch. About the size of a small briefcase, exactView 9 is owned by exactEarth Ltd. of Canada, which specializes in vessel tracking services.
Indonesia's Lapan A2 microsatellite carries video and digital cameras to image Earth from orbit, plus a ship-tracking payload and amateur radio equipment.
India's next space launch is set for December, when a PSLV will haul six satellites into orbit for Singapore on a purely commercial flight.
Email the author.
Follow Stephen Clark on Twitter: @StephenClark1.