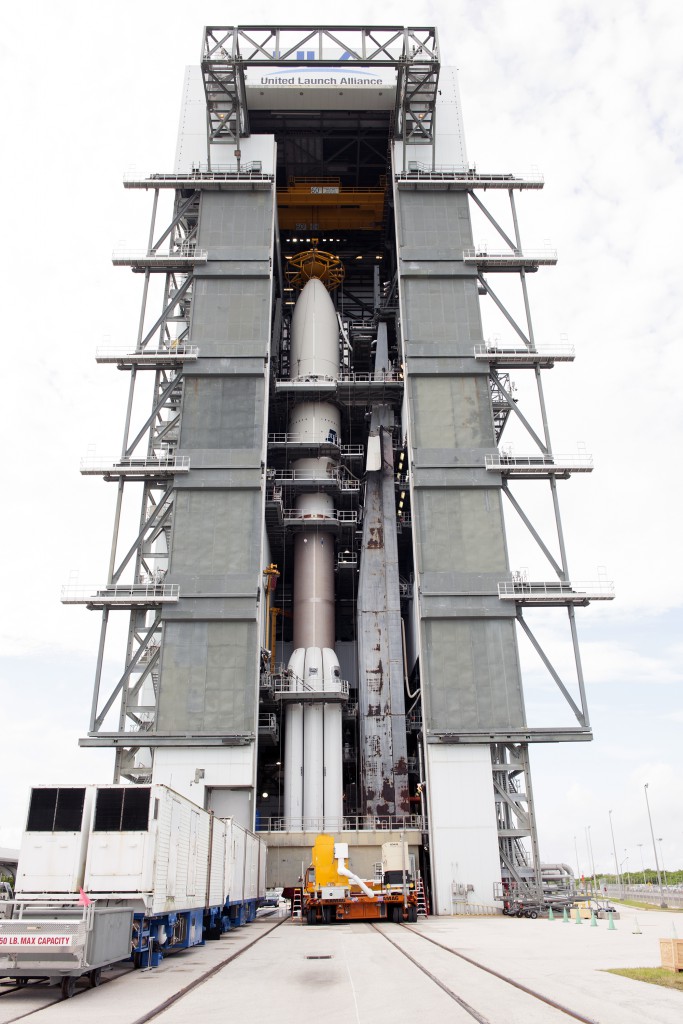 CAPE CANAVERAL — Plans to launch a Navy communications satellite aboard an Atlas 5 rocket early Monday have been interrupted by Tropical Storm Erika, an unpredictable cyclone with its sights on Florida.
"We've been Erika'ed," United Launch Alliance CEO Tory Bruno tweeted.
Officials made the decision Friday night to postpone the scheduled Saturday rollout of the rocket from its assembly building to the launch pad at Cape Canaveral's Complex 41, choosing instead to leave the 206-foot-tall booster in the safe confines of the hangar for now.
That, in turn, has delayed the Monday liftoff attempt until the storm passes.
"The launch of a United Launch Alliance Atlas 5 rocket carrying the MUOS 4 mission has been postponed to due uncertainty in the weather conditions associated with Tropical Storm Erika," officials said in announcing the delay.
If the rocket was fueled during the countdown for a Monday launch attempt, it would take 24 hours before a rollback to shelter could occur.
Complex 41 is an open-air. clean-pad facility without a protective service gantry, meaning the rocket would have to sit exposed to whatever weather Erika threw at it.
Launch is re-targeted for no earlier than Wednesday morning. The workload and the predawn launch time mean rollout happens roughly 44 hours before liftoff.
A Monday launch was timed to occur at 6:07 a.m. EDT. The launch opportunity moves four minutes earlier for each day it is delayed.
"If you are like me, you probably have a bookmark for the National Hurricane Center website and take a look at everything that's going on," Dr. Walt Lauderdale, MUOS 4 mission director from the Air Force's Space and Missile Systems Center, told reporters at a Friday afternoon news conference.
"The integrated team is following this very, very closely to make sure we don't make any decisions that could compromise the safety of our people or of the mission stack."
The United Launch Alliance rocket is carrying the Navy's fourth Mobile User Objective System mobile communications satellite. MUOS No. 4 will fill the last remaining gap to create global coverage for the military's new rugged smartphone system.
See earlier MUOS 4 coverage.
Our Atlas archive.