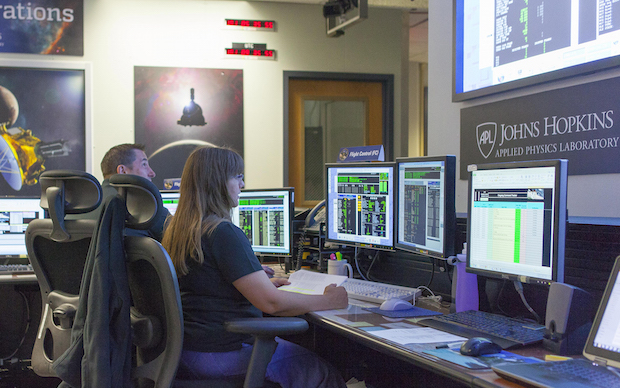 NASA's New Horizons space probe, 10 days from a one-shot encounter with enigmatic Pluto, stopped collecting science data Saturday after a technical problem interrupted the spacecraft's tightly-choreographed flight plan.
Engineers at the New Horizons control center in Maryland lost contact with the distant spacecraft for nearly an hour-and-a-half Saturday. The controllers restored communications with New Horizons via NASA's Deep Space Network antennas at 3:15 p.m. EDT (1915 GMT), according to a status update posted on the mission's website.
"During that time the autonomous autopilot on board the spacecraft recognized a problem and — as it's programmed to do in such a situation — switched from the main to the backup computer," mission officials said. "The autopilot placed the spacecraft in 'safe mode,' and commanded the backup computer to reinitiate communication with Earth. New Horizons then began to transmit telemetry to help engineers diagnose the problem."
New Horizons is barreling toward a flyby of Pluto on July 14, heading for a point 7,750 miles from Pluto's surface. The unexplored world, along with its five moons, were being resolved by New Horizons' camera in greater detail in recent weeks.
The speedy spacecraft, fitted with a plutonium power source, has stopped collecting science data while ground controllers troubleshoot Saturday's problem, according to NASA.
New Horizons is traveling nearly 3 billion miles — 4.9 billion kilometers — from Earth. At such distances, radio waves take four-and-a-half hours to reach Earth from New Horizons, and double that for a round-trip message.
Because of the communications lag, NASA expects full recovery of the spaceraft to take between one and several days.
An anomaly review board convened Saturday afternoon to discuss the problem and initiate a recovery plan, according to NASA.
Officials uploaded the final pre-programmed commands for the spacecraft's flyby sequence Friday. Scientists meticulously planned the flight program because New Horizons must conduct its observations autonomously with a sequence of pointing maneuvers to ensure the craft's sensors are properly aimed at Pluto and its largest moon Charon, along with the frigid world's other four natural satellites.
New Horizons and its seven science instruments are about the size of a baby grand piano, and the probe's high-speed flyby is set for around 7:50 a.m. EDT (1150 GMT) on July 14.
Email the author.
Follow Stephen Clark on Twitter: @StephenClark1.