Although recovery teams in the Atlantic Ocean have retrieved wreckage from Sunday's Falcon 9 launch failure, the best clues to the cause of the crash lie in raw data transmitted from the rocket as it disintegrated, SpaceX officials said Wednesday.
Officials with the California-based rocket company said there is no breakthrough in the investigation into the failure, the first mishap in 19 launches by SpaceX's Falcon 9 rocket.
"The process for determining the root cause of Sunday's mishap is complex, and there is no one theory yet that is consistent with the data," said John Taylor, a SpaceX spokesperson. "Our engineering teams are heads down reviewing every available piece of flight data as we work through a thorough fault tree analysis in order to identify a root cause."
SpaceX chief executive Elon Musk said Sunday that the Falcon 9 rocket had an "overpressure event" in the launcher's second stage liquid oxygen tank.
The failure occurred about 139 seconds after liftoff from Cape Canaveral, when the Falcon 9's nine first stage engines were still firing at an altitude of approximately 45 kilometers — 28 miles — while traveling around 5,000 kilometers per hour, or 3,100 mph, SpaceX officials said.
The Falcon 9's first stage continued firing for a few seconds as the upper stage broke apart, spilling a cloud of propellant vapors around the launcher. The U.S. Air Force, which is in charge of public safety at the Cape Canaveral launch range, said safety officers issued destruct commands after the rocket's mid-air break-up.
The crash destroyed a SpaceX-owned Dragon supply ship bound for the International Space Station.
Within hours, the U.S. Coast Guard and SpaceX mounted a survey for debris in the Atlantic Ocean about 150 miles offshore Florida. Coast Guard officials said the service's search team dropped a buoy to measure ocean currents to help track the movement of debris.
The Coast Guard released a video, seen below, showing air crews dropping flares in the search zone.
The fragments found so far offer little insight into what happened, and SpaceX officials said engineers are focusing on information radioed to the ground in real-time as the rocket malfunctioned.
SpaceX said the flight data is the "best resource" available to the failure investigation team, which is led by Hans Koenigsmann, the company's vice president of mission assurance and launch chief engineer.
Koenigsmann, the public face of SpaceX's launch operations in Florida, is managing investigators at Cape Canaveral and the company's headquarters in Hawthorne, California.
Michael Curie, a NASA spokesperson, said Wednesday the agency is assisting with the inquiry into Sunday's mishap. An engineer from NASA's Launch Services Program, which oversees the agency's unmanned rocket launches, is a member of the failure inquiry board, Curie said.
The Air Force and the Federal Aviation Administration, which has regulatory jurisdiction over SpaceX's commercial launch operations, are also participating.
SpaceX officials said the Falcon 9 beamed back more than 3,000 data streams during Sunday's flight, including on-board video.
Musk said Monday on Twitter measurements from the final few milliseconds of the flight will be run through hex editors, computer programs that allow engineers to manipulate fundamental data — the ones and zeros of binary code — when nothing is obvious in the channels of pre-processed information from the rocket.
Officials said SpaceX's vertically-integrated supply chain could help move the investigation forward.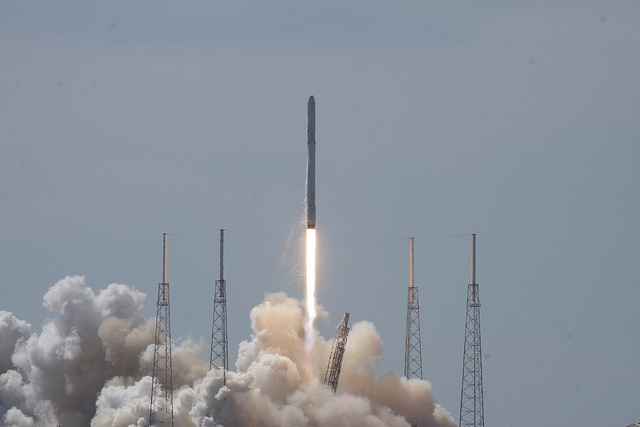 "I don't want to speculate as to what it's going to take to get back to flight because we haven't pinpointed exactly what happened yet," said Gwynne Shotwell, SpaceX's president and chief operating officer, in a briefing with reporters after Sunday's failure. "However, we're certainly in an extraordinary position to find what happened, to fix what happened and to get back to flight given the fact that the majority of this launch vehicle, and all its components, are ours.
"So we don't have to go through legal contracts, negotiations and discussions to get data on any components," Shotwell said. "We own it all. I'm sure we'll find it rapidly, and we'll get back to flight as soon as we safely and reliably can."
SpaceX officials said they notified customers booked to launch satellites on upcoming Falcon 9 rockets to expect delays of a few months. After Sunday's launch, next up on the Falcon 9 manifest was the Jason 3 satellite, a joint U.S.-European ocean observatory jointly.
NOAA is in charge of the U.S. contribution to the Jason 3 mission, and the weather agency announced Monday the satellite's liftoff from Vandenberg Air Force Base in California would be postponed past its targeted Aug. 8 launch date.
Other missions in SpaceX's pipeline later this year included satellite deliveries for Luxembourg-based operator SES, Orbcomm's maritime and asset tracking service, and two more space station cargo missions for NASA.
The Falcon 9 crash dealt a setback to SpaceX, which grew to rival market leaders in the launch business for large U.S. government and commercial satellites.
After a two-year certification review led by the Air Force, the Pentagon in May agreed to allow SpaceX to compete with United Launch Alliance to send up the military's most sensitive spacecraft. SpaceX is also a main competitor with Arianespace in the global launch services market, primarily aimed at deploying commercial broadcasting satellites.
Email the author.
Follow Stephen Clark on Twitter: @StephenClark1.