Updated June 30 with SpaceX comment.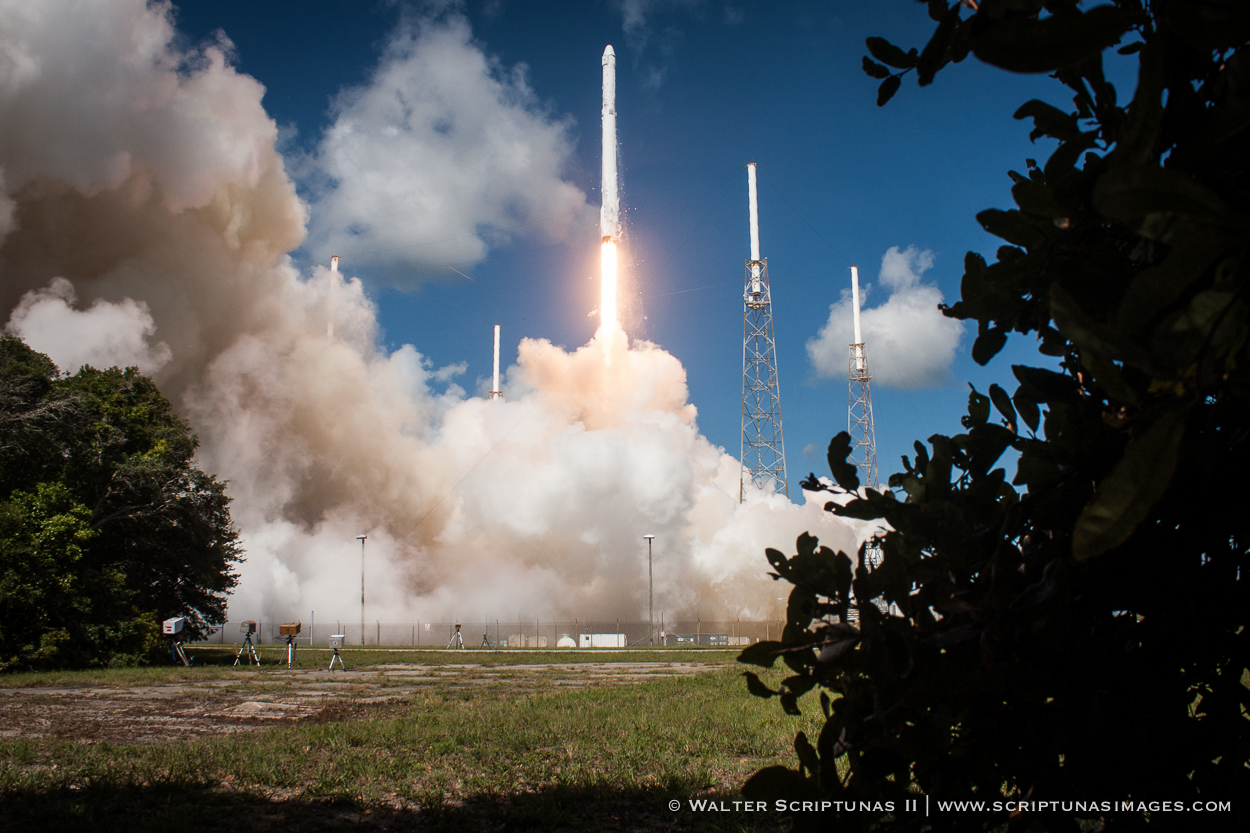 The long queue of satellites waiting on launches aboard SpaceX's Falcon rockets — a backlog the company says is worth $7 billion — will stay grounded while investigators determine what caused a Falcon 9 booster to disintegrate after liftoff Sunday with supplies heading for the International Space Station.
Commercial and government satellite operators — from telecom giant SES to NOAA's climate research team — were lined up to fly on SpaceX's Falcon 9 rocket in the coming months, and they will have to wait longer than bargained for when they signed on to launch on the commercial booster.
It is an experience shared by satellite owners waiting to launch on Russia's Proton rocket, which had its second failure in a year in May. Both Proton rocket crashes were apparently caused by the same problem with the booster's third stage steering engine, according to Russia's space agency, Roscosmos, leaving satellites from Inmarsat, Eutelsat, Turksat and Intelsat on factory floors instead of generating revenue in orbit.
SpaceX had replaced the Proton rocket, which is marketed by U.S.-based International Launch Services, as a leader in the worldwide launch services sector before Sunday's failure. The California-headquartered rocket firm, founded in 2002 by technology billionaire Elon Musk, could retain its position in the commercial launch market barring more setbacks or lengthy delays, industry officials said.
NOAA's Jason 3 oceanography satellite was next on the Falcon 9's launch schedule, and the U.S. weather agency announced Monday the mission will miss its Aug. 8 target launch date. The Jason 3 spacecraft is being prepared for launch at Vandenberg Air Force Base, California.
The ocean observatory arrived via air transport at Vandenberg on June 18 after a trans-Atlantic trip from its factory at Thales Alenia Space in Cannes, France. Valued at approximately $350 million, Jason 3 is a joint project between NOAA and its European counterpart, Eumetsat, with support from NASA and CNES, the French space agency.
Technicians from Thales plan to suspend prelaunch processing of Jason 3 before loading in-space maneuvering fuel into the spacecraft, which is designed to measure sea level and wave height from orbit.
"The SpaceX Falcon 9 launch mishap of the unmanned rocket to resupply the International Space Station has impacted the projected launch date for the Jason 3 mission," NOAA said in a statement Monday. "While the incident review team looks into the cause of the mishap, NOAA and NASA are working with the European partners, CNES and Eumetsat, to determine the next steps toward a new target launch date for Jason 3."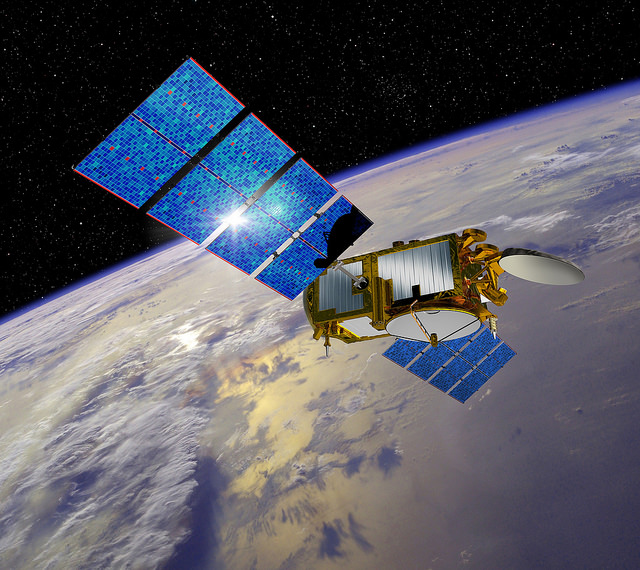 "Given the early stage of the investigation, we don't yet know the specific impact Sunday's mishap will have on future launches," said SpaceX spokesperson Phil Larson. "We are working with our partners to prepare for potential delays on the order of a few months. Once the root cause is identified, we will be able to better determine any changes to future launch dates, including Jason 3."
NASA in May formally certified the Falcon 9 rocket for the launch of Jason 3 and most of the agency's other Earth observation and interplanetary missions. The Air Force granted certification to the Falcon 9 two weeks later, clearing the way for SpaceX to win lucrative contracts to launch critical national security satellites for the U.S. government.
The Air Force was set to stage its first open competition this summer between United Launch Alliance and SpaceX for the right to launch a GPS navigation satellite.
Sunday's loss marked the first total failure for the Falcon 9 rocket, which deployed Dragon cargo craft for the International Space Station and commercial communications satellites.
Before Sunday's mishap, SpaceX was in control of the global commercial launch market with Arianespace, a French launch provider which operates the Ariane 5, Soyuz and Vega rockets at a spaceport in French Guiana. The rivals have claimed all of the competitive launch contracts for large geostationary telecom satellites since the beginning of 2014.
SpaceX carved out its share of the launch business by offering flights at a lower price than its competitors. SpaceX used the same price argument as it pushed into the national security launch market dominated by ULA, a 50-50 joint venture owned by Boeing and Lockheed Martin.
SpaceX's Falcon 9 also won commercial launch competitions by amassing 18 straight successes in the rocket's first 18 missions.
The withdrawal of Sea Launch, a Russian-led consortium with an operations base in Long Beach, California, from the launch services market also opened a window for SpaceX. Chinese Long March rockets are off limits for satellites with U.S.-made components — a restriction that covers nearly all commercial communications platforms — and Russia's Proton rocket has reliability woes.
ULA's Atlas 5 rocket is a marginal player in the commercial marketplace due to high prices and a manifest crammed with U.S. government missions.
SpaceX's order book includes nearly 50 missions, accounting for government and commercial agreements, plus internal plans for test flights and crew and cargo launches to the space station.
Engineers are working an a new version of the Falcon 9 to haul 30 percent more mass into orbit, an upgrade SpaceX says is possible by qualifying the rocket's Merlin engines for higher throttle settings and adjusting the temperature of the booster's fuel. SpaceX is also working on the Falcon Heavy, a powerful rocket devised by combining three Falcon 9 booster cores into a triple-body launcher to loft even heftier cargoes.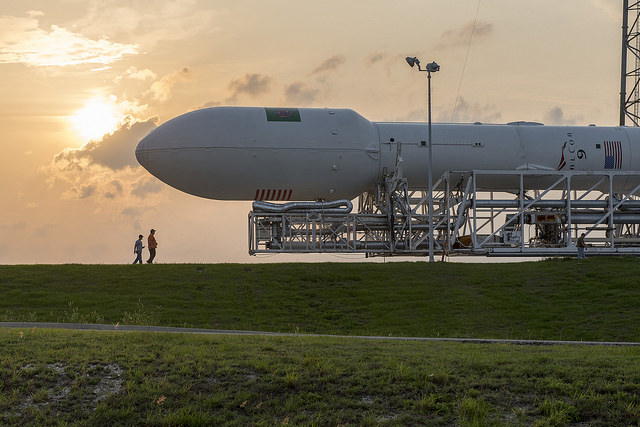 The first launch of the souped-up Falcon 9 was supposed to take off as soon as August with the SES 9 relay station, a commercial spacecraft owned by SES, one the world's biggest satellite fleet operators.
SES 9 is in storage at its Boeing factory in El Segundo, California, awaiting orders to ship to the Cape Canaveral launch base, a senior SES official said Monday. Before Sunday's failure, the satellite waited on SpaceX to finish qualification of the full-power Falcon 9. Now, SES is standing by for the results of a mishap investigation that could take months.
SES 9 is the first of five satellites from Luxembourg-based SES contracted to launch with SpaceX before the end of 2017. SES has two other communications payloads under construction for launches on Ariane 5 rockets.
Another payload ready but without a ride is an 11-satellite package for Orbcomm, which specializes in machine-to-machine and asset tracking services for maritime and freight customers.
Marc Eisenberg, chief executive of the New Jersey-based company, said Monday the last of the 11 spacecraft — each about the size of a washing machine — is due to complete factory testing this week at Sierra Nevada Corp. in Louisville, Colorado.
Orbcomm sent up six satellites on a Falcon 9 rocket in July 2014, and Eisenberg said those spacecraft are plugging holes in Orbcomm's constellation to keep the company's services going.
"I don't imagine a few more months delay will impact our business," Eisenberg said, adding that Orbcomm's financial guidance for 2015 already projected little revenue from the new satellites before the end of the year.
The next Dragon logistics freighter was supposed to blast off to the space station around Sept. 2, carrying up another load of experiments and supplies. An experimental inflatable module made by Bigelow Aerospace, which hopes to test the technology in space before building a privately-owned space station, was assigned to fly in the Dragon capsule's unpressurized trunk on the September resupply flight.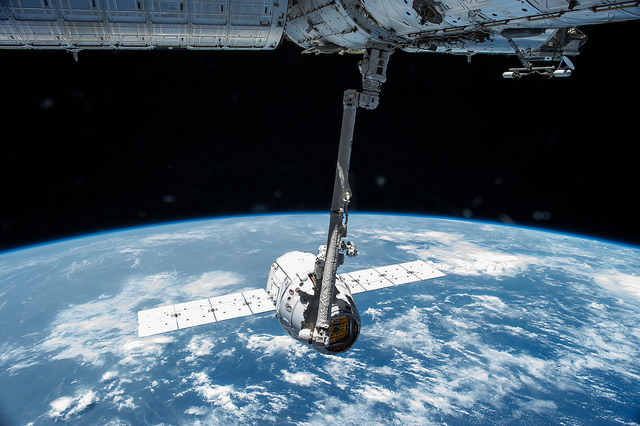 It is not clear which of the missions will fly first once SpaceX gives the all-clear for the Falcon 9 rocket to resume launches.
SpaceX officials are still probing the cause of Sunday's high-altitude anomaly, which occurred near the end of the Falcon 9's first stage burn 139 seconds after liftoff from Florida. Telemetry from the rocket indicated an "over pressure" event in the Falcon 9's second stage, according to Musk.
Gwynne Shotwell, SpaceX's president and chief operating officer, told reporters Sunday it could be a "number of months" before the investigation and corrective actions are finished.
Some satellite owners could insist NASA take the Falcon 9's next launch slot, given the space agency's financial and political stake in SpaceX, one industry official said. Pressure on the space station's supply lines with Earth may prompt NASA to approve launch of a fresh Dragon cargo mission as soon as the Falcon 9 is ready.
A Japanese television broadcasting satellite named JCSAT 14 is also on pace to be prepared for a Falcon 9 launch later this year. A dual-satellite stack for Eutelsat and Asia Broadcast Satellite is finishing up assembly and final checks at Boeing for a launch opportunity in the fourth quarter of 2015.
The ninth Dragon space station cargo mission in SpaceX's 15-mission resupply contract with NASA was scheduled to take off in December to wrap up the company's Falcon 9 launch schedule for 2015.
Already hamstrung by Proton's run of trouble, satellite operators say the market needs three viable launchers to ensure robust competition on cost, schedule and reliability.
John Celli, president of satellite manufactor Space Systems/Loral in Palo Alto, California, sees evidence of the launch shortfall in his company's integration rooms, which are packed with components for 21 geostationary telecom spacecraft at various stages of assembly and testing.
Some are on hold waiting for a launch opportunity.
"You really can't have access to space with only two launchers," Celli said in an interview last week, before Sunday's Falcon 9 failure. "It's limiting. There are satellites here waiting for launch vehicles."
Email the author.
Follow Stephen Clark on Twitter: @StephenClark1.