Updated at 5 p.m. EDT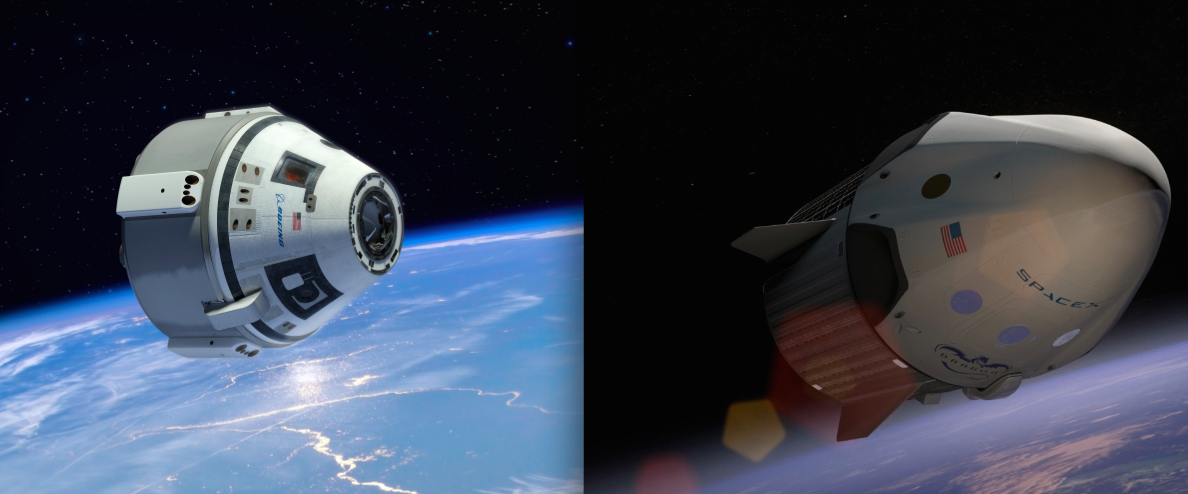 NASA officials and lawmakers warned Wednesday that U.S. astronauts will continue riding to the International Space Station aboard Russian spacecraft longer than planned if a spending plan under consideration in the Senate becomes law.
The space agency has targeted 2017 for the first crewed launches of new commercial spaceships built by Boeing and SpaceX, but officials said the program needs $1.2 billion next year to stay on track.
A Senate subcommittee in charge of crafting budgets for NASA approved $900 million for the commercial crew program Wednesday. The House version of NASA's budget appropriates $1 billion to the effort in fiscal year 2016, which begins Oct. 1.
At those levels, there will likely be a delay in the first flights of the Boeing and SpaceX crew capsules beyond 2017, according to numerous statements by top NASA officials imploring Congress to grant the Obama administration's $1.2 billion request for the program.
"I am deeply disappointed that the Senate Appropriations subcommittee does not fully support NASA's plan to once again launch American astronauts from U.S. soil as soon as possible, and instead favors continuing to write checks to Russia," NASA Administrator Charles Bolden said in a statement released late Wednesday.
The budget went before the full Senate Appropriations Committee on Thursday, when Sen. Barbara Mikulski, the ranking Democrat on the panel, offered an amendment to add $300 million to the commercial crew funding line, but the measure failed.
"Remarkably, the Senate reduces funding for our commercial crew program further than the House already does compared to the president's budget," Bolden said. "By gutting this program and turning our backs on U.S. industry, NASA will be forced to continue to rely on Russia to get its astronauts to space — and continue to invest hundreds of millions of dollars into the Russian economy rather than our own."
The Senate and House still must resolve the differences between their versions of the NASA budget before sending a bill to President Obama.
The White House issued a veto threat to the House budget bill, highlighting multiple concerns including the "underfunded" commercial crew program in a policy statement issued June 1.
Sen. Bill Nelson, a Florida Democrat, raised the commercial crew funding issue in a speech on the Senate floor Wednesday.
"If that cut in the subcommittee is sustained in the full committee, and ultimately in the final appropriations bill, it's going to delay us from being able to launch Americans on American rockets," Nelson said. "Instead of 2017, just two years from now, it'll delay us another four years — that's four more years of relying on the Russians."
Until the commercial crew spaceships start flying, all space station crews must ride Russian Soyuz capsules to and from the outpost orbiting 250 miles above Earth. NASA says it spends about $500 million per year buying round-trip seats on the Soyuz ferry craft for astronauts from the United States and other station partners.
NASA has agreements with Roscosmos, the Russian space agency, to launch U.S. crew members to the space station through 2017, with provisions for landings into early 2018. NASA is negotiating with Russia to extend the crew transportation contract one year as a backup in case of delays in the development of U.S. spacecraft.
"The money that supposedly is being cut, which is just a little over $300 million, we would lose that in still paying that money to the Russians to fly an additional two years," Nelson said. "We need to wake up to what's happening."
Subcommittee chairman Sen. Richard Shelby, a Republican from Alabama, said NASA's topline budget of $18.3 billion in the Senate funding plan preserves a "balanced space program" with extra funding for the Space Launch System and Orion crew capsule, a huge mega-rocket and spacecraft rated to send astronauts into deep space.
The Space Launch System is set for its first test flight in 2018, and NASA officials have told Congress additional funding for the powerful launcher will not advance its first mission.
NASA's budget is part of a $51 billion spending package for the federal government's commerce, justice and science agencies.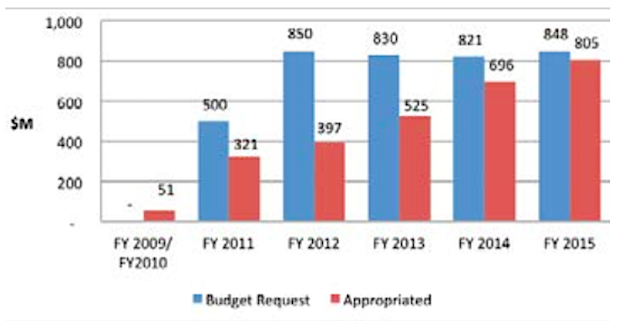 The $900 million commercial crew budget outlined by the Senate appropriations subcommittee would mark the highest spending in the program's history, but Congress has never matched NASA's annual request for funding since the space taxi project began in 2010.
NASA officials blame earlier budget shortfalls for delays that pushed back the first flight of a commercial crew spacecraft from 2015 to 2017.
Phil McAlister, NASA's director of commercial spaceflight, said in April inadequate funding would force NASA to renegotiate its contracts with Boeing and SpaceX, which the agency awarded in September.
NASA signed "firm fixed price" cost-sharing contracts with Boeing and SpaceX, and industry officials said a work slowdown due to insufficient NASA funding could come with higher costs to the commercial crew program.
McAlister told a NASA advisory committee that the White House arrived at the $1.2 billion level for the commercial crew budget request after adding up the government's payment commitments to each contractor next year. The space agency pays Boeing and SpaceX as they achieve key development milestones on the human-rated CST-100 and Crew Dragon spaceships.
He described the 2016 budget as the "high water mark" for commercial crew spending, which was expected to decline in following years as development of the spacecraft ends and operational crew rotation missions are paid out of the International Space Station's transportation account, a separate funding line.
Email the author.
Follow Stephen Clark on Twitter: @StephenClark1.