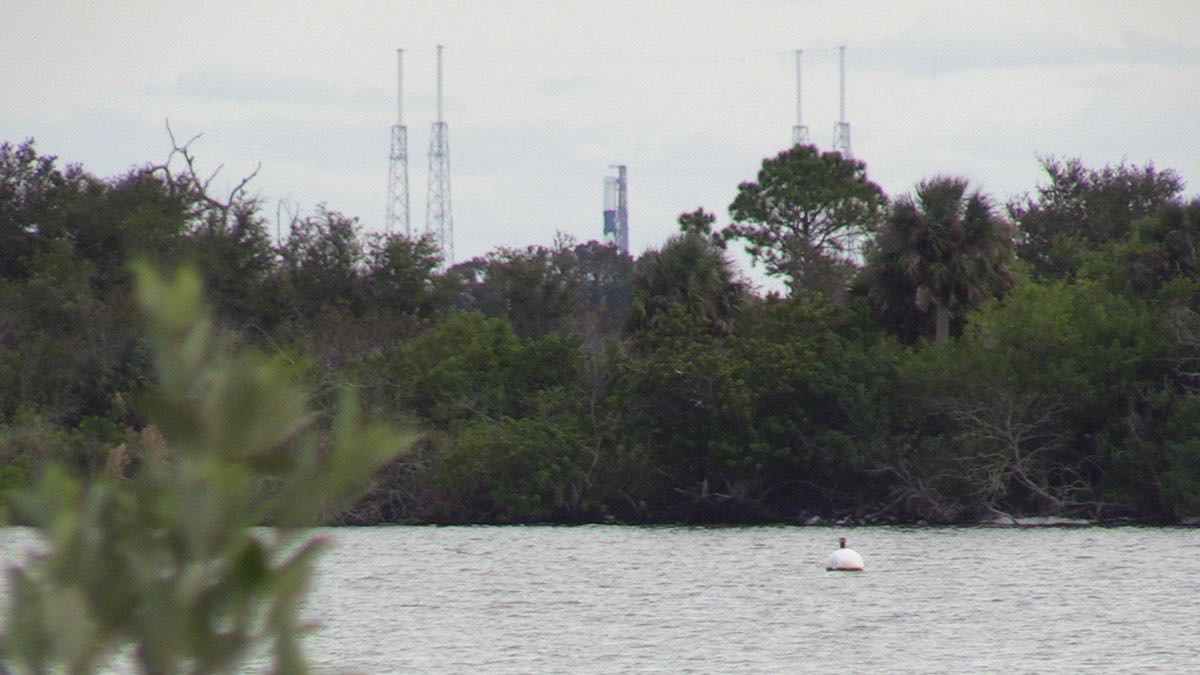 The Falcon 9 rocket slated to launch SpaceX's 16th operational resupply mission to the space station stands at pad 40 at Cape Canaveral on Thursday. Credit: Steven Young/Spaceflight NowAn all-new SpaceX Falcon 9 rocket fired its engines Friday night on launch pad 40 at Cape Canaveral, the opening act in a busy weekend of SpaceX launch preps leading up to a pair of blastoffs Sunday and Tuesday from California's Central Coast and Florida's Space Coast, respectively.
The two-stage Falcon 9 launcher test-fired at pad 40 Friday night is set to blast off Tuesday at 1:38 p.m. EST (1838 GMT) with an automated Dragon supply ship heading to the space station. The Dragon cargo craft will haul several tons of supplies and experiments to the station, including NASA-funded payloads to be affixed outside the research complex to study Earth's forests and demonstrate in-orbit satellite refueling techniques.
A weather forecast issued by the U.S. Air Force's 45th Weather Squadron at nearby Patrick Air Force Base suggests rain showers, thunderstorms and clouds might be a problem for Tuesday's instantaneous launch opportunity. There is a 60 percent probability that weather conditions at Cape Canaveral will prevent liftoff, with the major concerns involving the thick cloud, cumulus cloud, and flight through precipitation launch rules.
A backup launch opportunity is available Wednesday.
SpaceX's launch team loaded kerosene and liquid oxygen propellants into the Falcon 9 rocket Friday evening at pad 40, ran the launcher through a mock countdown, then ignited the first stage's nine Merlin 1D main engines for several seconds at 10:20 p.m. EST (0320 GMT Saturday), while hold-down restraints kept the vehicle firmly on the ground. Workers will lower the rocket horizontal, return it to SpaceX's nearby hangar, and install the Dragon spacecraft on the launcher this weekend before rolling the fully-assembled vehicle back to the pad.
A hotfire attempt was apparently previously planned for Thursday night, but SpaceX aborted the engine firing and tried again Friday.
It will be SpaceX's 16th resupply launch to the space station under a $3.04 billion NASA contract for 20 cargo transport flights through next year. SpaceX and NASA have a follow-on deal for at least six additional cargo missions through 2024, plus a separate contract covering development and missions by SpaceX's Crew Dragon spaceship for astronaut transport services.
The Falcon 9 rocket set to lift off Tuesday, weather permitting, will fly with a new first stage booster. SpaceX plans to land the rocket at Landing Zone 1 at Cape Canaveral Air Force Station a few miles south of pad 40, the first such rocket return to Florida's Space Coast since February.
The Dragon capsule was recovered in March 2017 following a previous resupply flight to the station, then refurbished and outfitted for a second flight. Assuming an on-time launch Tuesday, the Dragon supply ship will reach the space station Thursday, Dec. 6, to begin a roughly one-month stay before departing and heading back to Earth for a parachute-assisted splashdown in the Pacific Ocean.
Meanwhile, a SpaceX team at Vandenberg Air Force Base in California is preparing to launch a different Falcon 9 rocket Sunday at 10:31 a.m. PST (1:31 p.m. EST; 1831 GMT) on a commercial flight with 64 smallsats built and owned by companies, governments and institutions from 17 countries. The launch was set for Nov. 19, but SpaceX ordered a delay to conduct additional inspections, and the launch was further pushed back to wait for better weather.
Sunday's launch from California will set a record for the highest number of satellites ever launched on a U.S. rocket. The rideshare mission, arranged by Seattle-based Spaceflight, will also mark the first time SpaceX has flown the same Falcon 9 first stage booster a third time.
SpaceX has re-launched Falcon boosters 17 times since March 2017 — the fruits of a multi-year effort to recover the rockets and cut launch costs — but no Falcon 9 first stage has flown more than twice. That changes Sunday.
Email the author.
Follow Stephen Clark on Twitter: @StephenClark1.