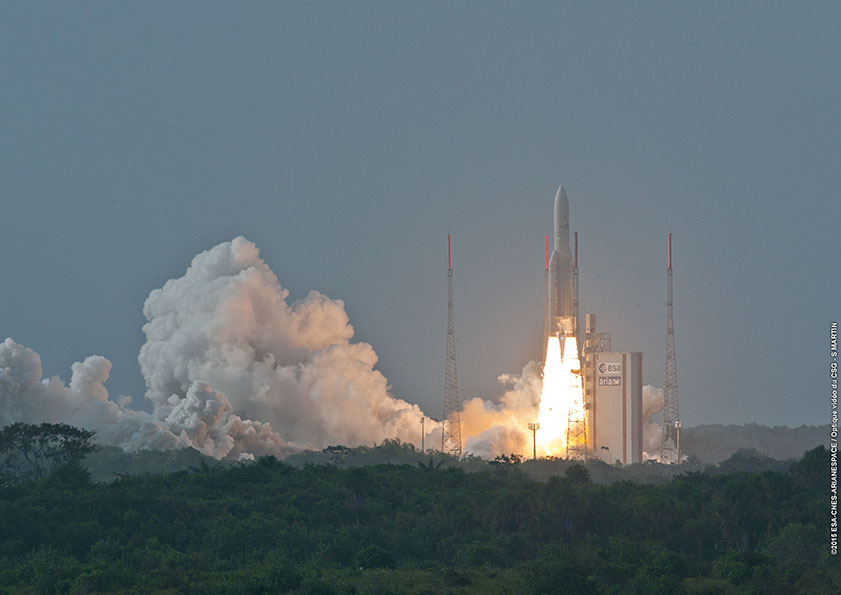 Blasting into space atop an Ariane 5 launcher, two communications satellites started missions Sunday to beam broadband services to ships, airplanes and offshore oil rigs for a commercial Norwegian operator and relay signals for the Italian and French armed forces.
The dual satellites lifted off at 2000 GMT (4 p.m. EDT) from the Guiana Space Center on the northeastern coast of South America, riding an Ariane 5 rocket across the Atlantic Ocean before deploying into orbit thousands of miles above Earth.
The rocket stayed on the ground 23 extra minutes Sunday to give officials time to resolve a problem with the space center's ground infrastructure.
The Ariane 5's core Vulcain 2 engine and twin solid rocket boosters did most of the heavy lifting, and an upper stage engine guided the Thor 7 and Sicral 2 communications satellites into an egg-shaped geostationary transfer orbit less than a half-hour after launch.
The rocket released Thor 7 first, then re-oriented for separation of a cover to reveal the Sicral 2 spacecraft in the Ariane 5's lower berth.
Applause erupted inside the Jupiter launch control center at the French Guiana space base as officials announced the deployment of Sicral 2.
Stephane Israel, Arianespace's chairman and chief executive, confirmed the on-target separation of Thor 7 and Sicral 2.
"Arianespace is delighted to announce that according to our on-board telemetry system Thor 7 and Sicral 2 were separated as planned," Israel said. "Now a long life to Thor 7 and Sicral 2 in orbit."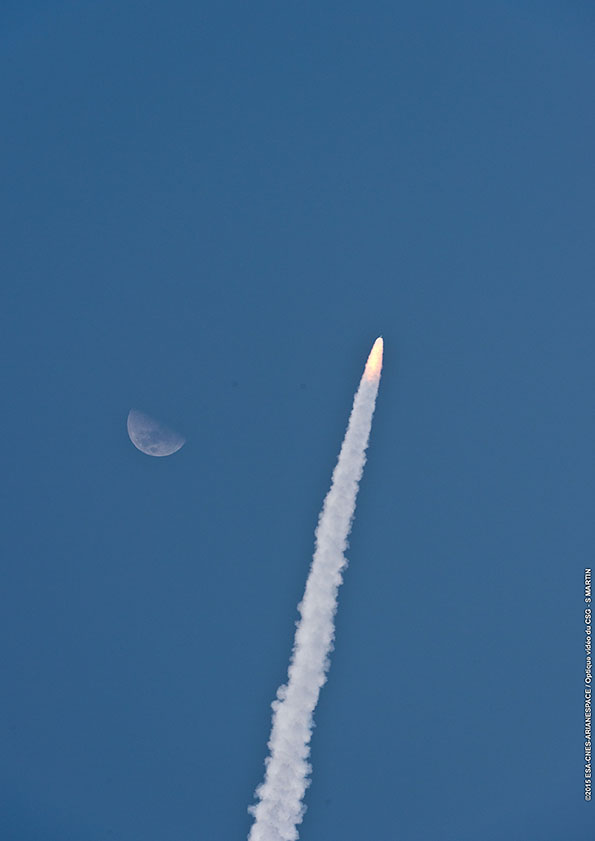 The launch was aiming for a geostationary transfer orbit with a high point of 22,328 miles, a low point of 155 miles and an inclination of 6 degrees.
Sunday's launch was on track to occur Friday, but engineers discovered a disconnected helium vent line on the Ariane 5 rocket. Ground crews returned the 18-story launcher to a hangar for repairs, then moved it back to the launch pad Saturday in time to support a launch attempt Sunday.
The mission marked the Ariane 5 rocket's 64th consecutive success since 2003.
"Tonight's launch gives a perfect demonstration of Arianespace's dual ambition: Be the leader on the commercial space transportation market while providing European institutions with guaranteeed, independent and reliable access to space," Israel said in post-launch remarks.
The Thor 7 satellite owned by Norway's Telenor Satellite Broadcasting carries Ku-band and Ka-band telecom payloads to broadcast television across Central and Eastern Europe and provide broadband connectivity to Telenor's clients the maritime, energy and aeronautical sectors.
The spacecraft's 25 Ka-band spot beams will offer customers uplink speeds between 2 megabits and 6 megabits per second, supporting applications such as Internet connectivity, remote conferencing, network access, and video streaming.
Thor 7 will also relay meteorological data from Antarctic stations, according to Telenor.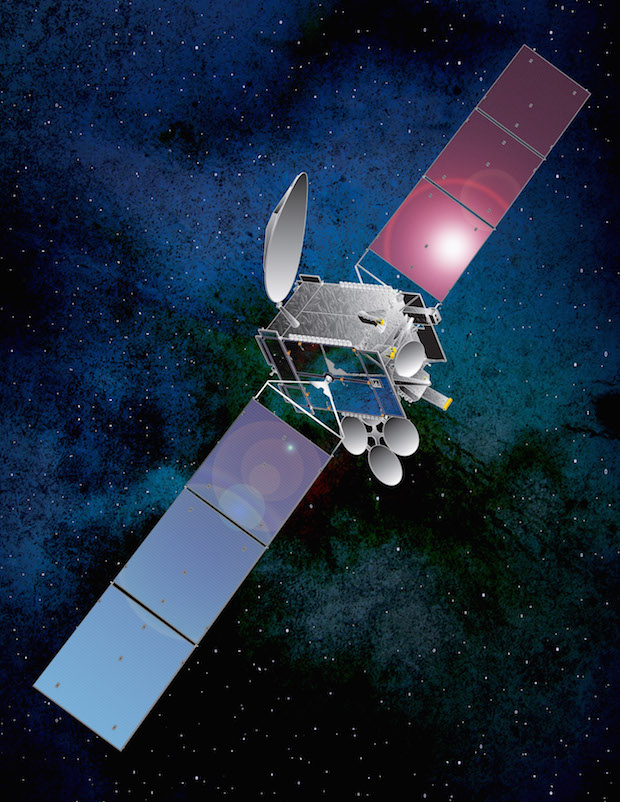 "This is a very, very happy day and important day for Telenor Satellite Broadcasting," said Morten Tengs, Telenor's CEO. "Thor 7 will provide us with growth capacity so it can strengthen the position we have in both broadcasting and telecom. It's very good for the company."
Built in California by Space Systems/Loral, Thor 7 weighed about 10,119 pounds at launch, and the satellite was scheduled to begin raising its orbit Monday with the first of four rocket burns by its own propulsion system. Ground controllers will activate the satellite's communications payload 10 days after launch for testing.
Thor 7's final operating post 22,300 miles above Earth in geostationary orbit will be along the equator at 1 degrees west longitude.
The 9,620-pound Sicral 2 satellite — manufactured by Thales Alenia Space in France and Italy — will begin its own series of orbit-raising maneuvers about two days after launch.
En route to a position in geostationary orbit at 37 degrees east longitude, Sicral 2 hosts ultra-high frequency and super-high frequency communications instruments for Italian and French defense authorities. The new satellite supplements Italy's previous Sicral series of relay platforms, France's Syracuse satellite communications network, and the joint Franco-Italian Athena-Fidus spacecraft launched last year, which was developed under the same agreement governing the Sicral 2 program.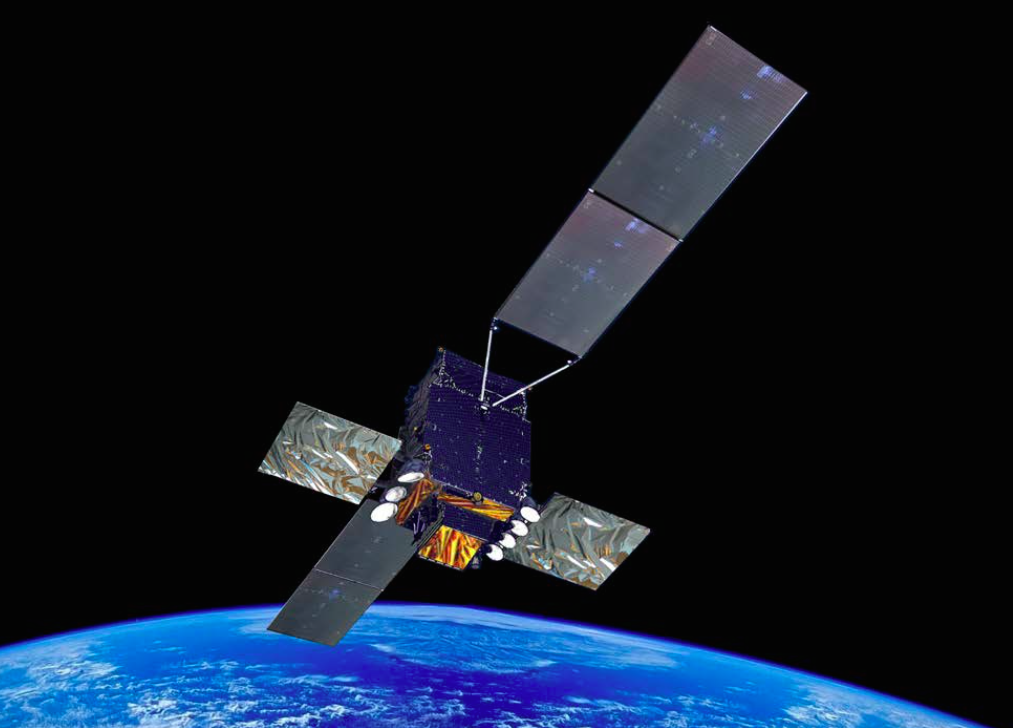 Telespazio of Italy developed ground systems for the Sicral 2 satellite and will manage testing of the spacecraft after launch, a phase expected to last up to six weeks.
Sicral 2 will provide strategic and tactical communications coverage over domestic territories and in support of foreign operations, and Telespazio retains control of part of the satellite's communications capacity to offer bandwidth to other NATO countries.
The Italian and French armed forces hold a 62 percent and 38 percent stake in the Sicral 2 program, respectively, according to Thales.
"Today, with the excellent success of the Sicral 2 launch, we have accomplished the goal to have available a complete portfolio of MILSATCOM (military satellite communications) capabilities in terms of strategic and tactical military bands, available also for supporting civilian SATCOM in many other institutional contexts, for example security, emergency, disaster relief and environmental calamities," said Rear Admiral Davide Gabrielli, deputy head of the command, control, communications, computers and intelligence division in the Italian Defense General Staff.
Sicral 2 replaces the aging Sicral 1 satellite launched aboard an Ariane 4 rocket in 2001.
Another Ariane 5 rocket is ready to move into the Guiana Space Center's final assembly building to receive two DirecTV broadcasting satellites for launch May 22.
Follow Stephen Clark on Twitter: @StephenClark1.