STORY WRITTEN FOR ASTRONOMY NOW & USED WITH PERMISSION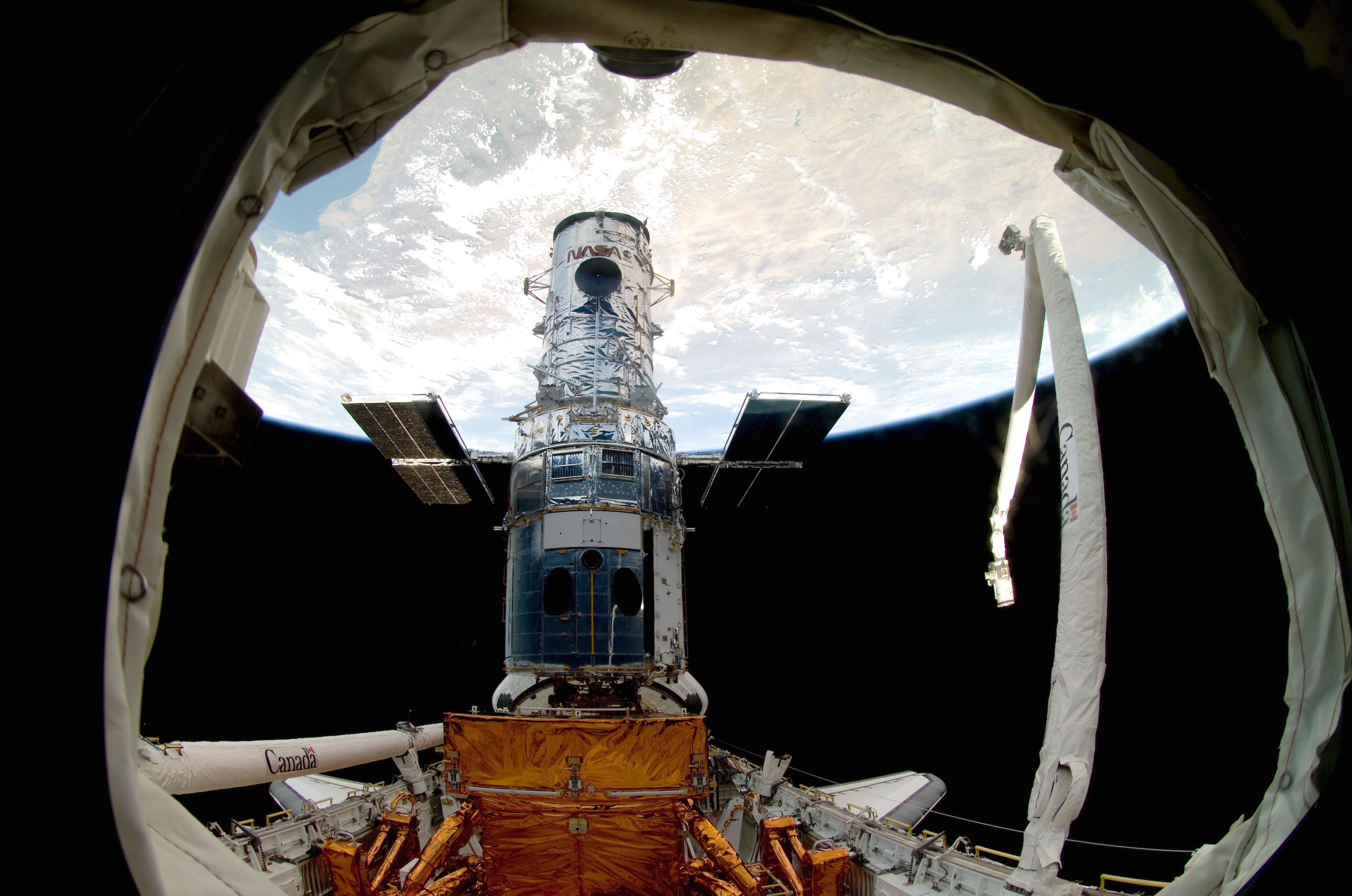 You can thank thousands of thinkers — unafraid to get their hands dirty — for the steady diet of discoveries and jaw-dropping vistas produced by the Hubble Space Telescope over the last quarter-century.
Engineers, scientists, craftsmen and astronauts repeatedly devised ways to transform a flawed, aging observatory into a state-of-the-art research instrument, breathing new life into Hubble each time it needed a rejuvenating jolt of new technology.
Five Hubble repair missions launched on four of NASA's iconic reusable space shuttles from 1993 until 2009, rescuing the telescope more than 300 miles above Earth and adding new capabilities not even imagined when Hubble was still on the ground. The telescope responded by throwing hurdles in the path of spacewalking astronauts, forcing crews and mission control to respond with ingenious — and sometimes forceful — solutions.
For a generation of astronomers, students and global citizens — and like the cornerstone discovery of the telescope's namesake — Hubble has been a constant.
"It's not only a science mission, but I think Hubble is the people's telescope," says John Grunsfeld, a former Hubble repairman and now chief of NASA's science division.
Grunsfeld flew on five space shuttle missions, including three servicing missions to Hubble, then held a leadership post at the Space Telescope Science Institute managing the telescope's science program. He was appointed associate administrator for NASA's science mission directorate in January 2012, nearly three years after his last visit to Hubble.
"Hands down, the most rewarding part of working on Hubble was being a small part of the awesome team of out-of-the-box thinkers," says Ed Rezac, an engineer at NASA's Goddard Space Flight Center who helped plan some of the most intricate Hubble repair tasks. "The personalities, the talent, the imaginations that came together to pull off that magic that today continues to amaze and educate with new discoveries. To have been a part of that wonderful endeavor is a dreamer's dream."
"Everybody associates with it," Grunsfeld says of the social and scientific capital accrued by Hubble since its launch in April 1990. "When I started at NASA in 1992, one of my jobs was actually working on that first servicing mission, and at that time, there were lots of people who didn't know about Hubble."
Many in the public first learned about Hubble as a punchline to jokes and the subject of congressional investigations after scientists discovered an error in the shape of the telescope's 7.9-foot main mirror.
"There were cartoons of the great disasters of history. Right next to the Hindenburg was Hubble. Yes, it was a disaster," former astronaut Jeff Hoffman, an astrophysicist who flew on the space shuttle Endeavour's repair mission to Hubble in 1993, said in 2009. "NASA's reputation was really on the line. It was a disaster for NASA. It was a disaster for the astronomy community. So many people had worked on Hubble, and so many other people were planning to use Hubble. It's really hard to know what would have happened had we not been able to fix Hubble."
Ground teams devised new instruments to correct the flaw — called spherical aberration — opening the gates for a campaign of scientific discovery now in its third decade.
"When I go out and talk now — say to college students — virtually everyone in the audience except for the faculty members has been born since Hubble started doing science," Grunsfeld tells Astronomy Now. "All the kids in high school and in college are the Hubble generation. That's a neat thing to think about. They've only known a world with the Hubble Space Telescope."
Four servicing missions by space shuttles followed the 1993 repair mission, improving Hubble's capabilities, replacing failed and obsolete components, and giving the observatory a new lease on life expected to last into the 2020s.
Space shuttle Discovery reached the telescope in February 1997, carrying a seven-man crew to swap out two aging spectroscopy instruments and replace them with a new imaging spectrograph named STIS and a near-infrared camera called NICMOS, extending Hubble's vision into a new area of the electromagnetic spectrum.
Discovery grappled Hubble after a two-day chase following launch from the Kennedy Space Center in Florida, and using more than 150 tools and crew aids, the shuttle's astronauts completed five spacewalks in five days. In addition to the added instruments, the STS-82 mission installed a new sensor to keep Hubble stable when pointed toward astronomical targets, swapped out a data recorder and a reaction wheel, and fabricated thermal insulation panels on the fly when astronauts noticed the observatory's outer blankets were cracking.
"The point of the Hubble servicing mission that I was on was not to fix Hubble, but to improve it," Steve Hawley, who operated Discovery's robot arm on the STS-82 mission, told NASA historians in an oral history interview. "By then it was working fine, but we were now realizing the original design promise of Hubble, as technology improved on the ground, there'd be a way to incorporate it in the telescope on orbit and keep it state-of-the-art."
Some worried the repairs could inadvertently break something on Hubble.
"There was some discussion in the community, before the mission, whether it was worth taking the risk to improve Hubble," Hawley says. "Of course, that had always been the plan, and that was what, of course, everyone decided to do. But that was characteristic of some of the thinking that was going on: 'Hey, this is working great. Maybe we shouldn't mess with it.' But the point was to be able to mess with it so that you could continue to make it a modern telescope. So we were happy to be able to show you could really do that."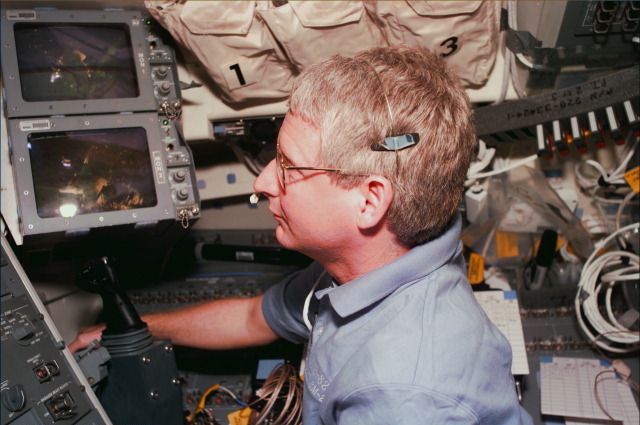 In 1999, when Discovery again launched on another repair mission to Hubble, the observatory was again on the verge of failing.
Four of Hubble's six gyroscopes, which pivot the telescope to point toward stars and galaxies, had failed by the time Discovery lifted off in December on an urgent maintenance mission that spanned the Christmas holiday.
The 1999 repair flight — named STS-103 — marked Grunsfeld's first visit to Hubble.
Science operations with Hubble were suspended by the time Discovery reached the telescope, and astronauts mounted three spacewalks to restore the observatory to full working order, replacing gyroscopes, a radio transmitter, and a computer with a then-new Intel 486 microchip, representing an upgrade with 20 times the processing speed and six times the memory of the older unit.
For Grunsfeld, the Hubble repair mission in 1999 marked the first of eight spacewalks of his career.
"It just seemed so fantastic that, for a moment, I felt like I had to pinch myself to make sure it was true, but I couldn't," Grunsfeld says. "I just reached out with my arm and my index finger and touched the Hubble, kind of symbolically doing a, 'This is too good to be true' moment."
Although the STS-103 flight did not add any new capabilities to Hubble, it was imperative to bring the observatory back to the forefront of astronomy, so important that NASA elected to launch the mission sooner than planned in response to failures aboard the telescope.
"We felt that was an incredible gift to everybody on planet Earth, to be able to deploy Hubble for Christmas as a working telescope, because it hadn't been working before," Grunsfeld says.
Then came the first of Hubble's two 21st century scientific tune-ups.
Space shuttle Columbia rocketed into orbit in March 2002, reached Hubble two days later, then installed a new camera, repaired another instrument, and replaced the observatory's power-generating solar arrays, giving the telescope perhaps its most wholesale upgrade since the first servicing mission in 1993.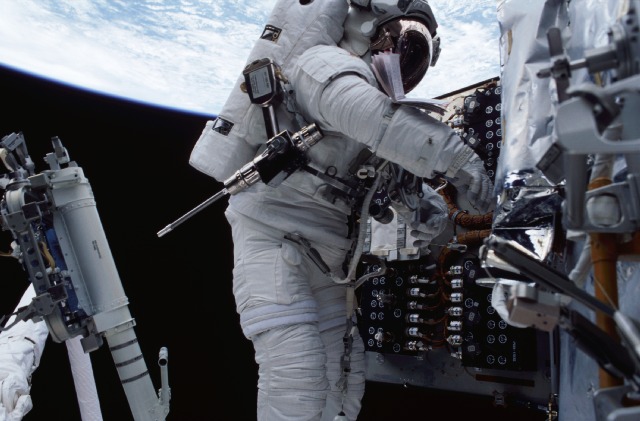 The Advanced Camera for Surveys had twice the field-of-view of Hubble's previous camera, and scientists heralded the new instrument's capability, saying it increased the observatory's potential for new discoveries by a factor of ten. Sensitive to near-infrared, visible and ultraviolet light, the ACS allowed astronomers using Hubble to observe galaxies in the young universe, study how stars and planets form out of filaments of dust, and watch planets in our own solar system.
Hubble's main infrared camera, installed by astronauts in 1997, also got a new lease on life on Columbia's 2002 mission. Grunsfeld and Rick Linnehan replaced the NICMOS instrument's cryogenic cooler, which ceased operating in early 1999, with an experimental refrigerator-like device to cool the camera's infrared detectors and make them sensitive to see some of the coldest pockets in the universe.
Grunsfeld singled out the repair as one of his favorite moments from his three missions to Hubble.
"We were having a devil of a time getting a radiator on the side of the telescope that didn't fit," says Grunsfeld. "It was supposed to fit easily, and we tried and tried, and with all our strength, we couldn't get it on. Finally, we made one more go of it and it latched into place. It was just surprising that we had to manhandle it that way, when everything else on Hubble is like delicate brain surgery. Here we were using the brute force of a human being to try to correct a slight misalignment, and try to get something to fit."
Hubble's future was in doubt after the loss of Columbia and a seven-person crew on a scientific research flight in 2003, grounding the space shuttle program for two-and-a-half years. As officials planned the shuttle's return-to-flight, NASA decided to cancel the next repair mission to Hubble, concluding the flight was unsafe because astronauts could not take refuge in the International Space Station in the event of damage to the shuttle's heat shield, which brought down Columbia.
NASA Administrator Mike Griffin, who took over the space agency's top post in 2005, reversed the decision and engineers crafted an elaborate rescue plan, in which the shuttle Atlantis would fly to the observatory and another shuttle would be on standby on the launch pad to rescue the Atlantis crew if required.
Atlantis launched on the fifth shuttle servicing flight to Hubble in May 2009, again with Grunsfeld on-board.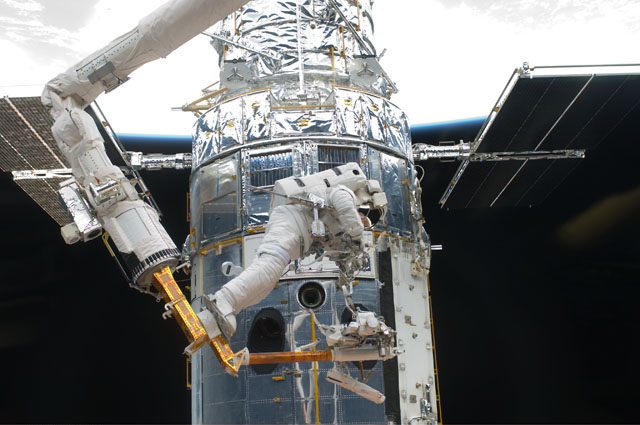 Rezac says the 2009 flight was his "personal favoriate servicing mission — and in my opinion, most likely one of the most ambitious manned space flights, in terms of mission objectives, ever flown."
Grunsfeld and his six crewmates trained for nearly three years — much longer than the typical shuttle crew — learning the ins and outs of Hubble, developing and practicing procedures, and rehearsing for a rescue by another shuttle should something go wrong.
Their work included the addition of two new revolutionary instruments to bolster the heart of Hubble's scientific prowess. The Wide Field Camera 3 and Cosmic Origins Spectrograph replaced two instruments launched in 1993, which Atlantis returned to Earth for display in museums.
"With Hubble's new camera, the Wide Field Camera 3, we've been able to study Andromeda, the closest galaxy to us, in such detail that we're able to map out individual stars — millions and millions of stars — and study them the way we study stars in our galaxy," says Grunsfeld.
Two teams of spacewalkers also broke into the Advanced Camera for Surveys and Space Telescope Imaging Spectrograph for repairs the instruments were never designed to receive, requiring the design of new tools just for one job.
Grunsfeld and Drew Feustel got the orders to repair the ACS instrument, with the warning that even a minor slip-up could jeopardize the entire Hubble Space Telescope.
"I worked so closely with people on the ground … on how to repair an instrument that hadn't been designed to be repaired," says Grunsfeld. "That involved cutting through aluminum, that involved taking out tiny screws and not losing them, then pulling out circuit boards. At any stage, it all could have gone wrong."
In all, astronauts went outside on 23 spacewalks to maintain Hubble. With the help of engineers like Rezac, shuttle crews positioned Hubble for discoveries once never envisioned.
"We got all that done, and when we deployed Hubble, I was just so happy," says Grunsfeld. "Hubble was in the greatest shape ever, and we sent it off to hopefully a long life."
As for a 30-year anniversary in 2020?
"So far, so good," Grunsfeld says. "We've made it six years since 2009. I think Hubble will last quite a bit longer. The chances are pretty good at getting to 30 years."
Follow Stephen Clark on Twitter: @StephenClark1.