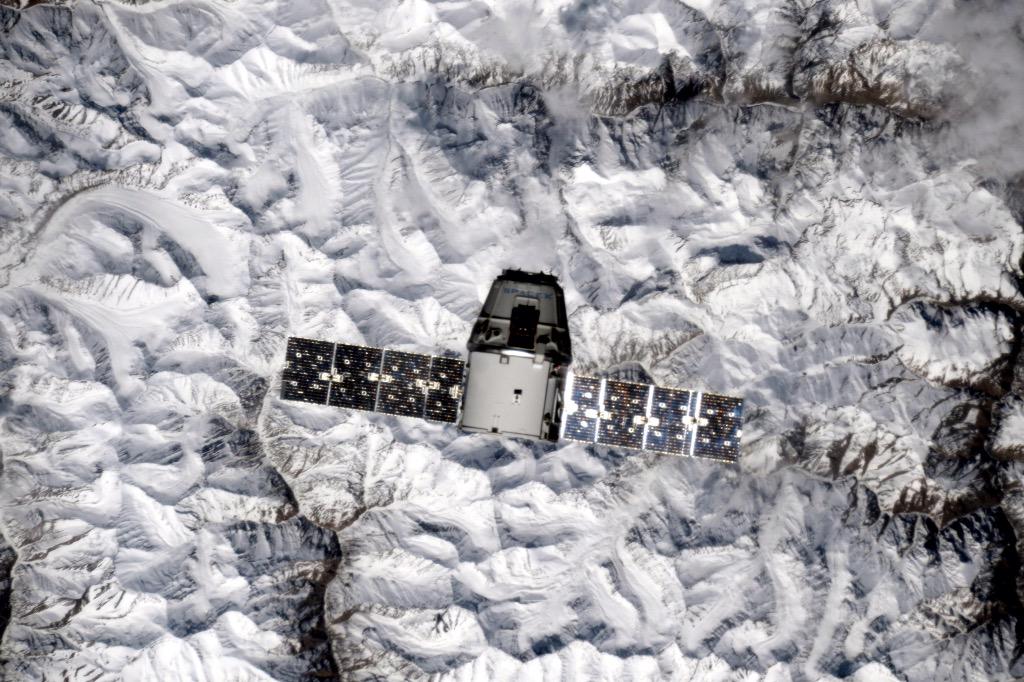 Packed with an array of experiments and provisions, including a custom-made Italian espresso maker, SpaceX's unmanned Dragon cargo capsule reached the International Space Station on Friday after a precise laser-guided rendezvous more than 250 miles above Earth.
The commercial supply ship launched from Cape Canaveral on Tuesday, sailed into orbit a few minutes later, then kicked off a series of thruster burns to fine-tune its path toward the space station with nearly 2.2 tons of equipment inside its pressurized cabin.
The last step in the rendezvous began early Friday, with the Dragon's final approach from underneath the space station guided by laser navigation sensors providing real-time data on each spacecraft's position and relative motion.
European Space Agency astronaut Samantha Cristoforetti extended the space station's 58-foot Canadian-built robotic arm to grab hold of the Dragon capsule at 6:55 a.m. EDT (1055 GMT), then engineers on Earth took over to steadily move the supply ship to a berthing port on the lab's Harmony module.
"Capture confirmed," said Dan Huot, NASA TV's commentator for Friday's arrival sequence. "The sixth Dragon resupply spacecraft captured by the crew of Expedition 43 — Samantha Cristoforetti at the controls — the Dragon and its 4,300 pounds of cargo now in the hands of the International Space Station."
The link-up over the Pacific Ocean marked the sixth operational cargo delivery by SpaceX since 2012. NASA and SpaceX have a contract worth approximately $2 billion for 15 resupply missions through the end of 2017.
"Houston, capture is complete," radioed Terry Virts, commander of the station's Expedition 43 crew. "We are go for post-capture reconfiguration. Samantha did a perfect job capturing Dragon."
Virts and Cristoforetti tracked the Dragon's final approach from the space station's cupola module, a small room perched on the Earth-facing side of the complex with panoramic windows offering good views of the planet and visiting vehicles.
Cristoforetti sent down her thanks a few moments after snaring the Dragon spacecraft with the robot arm.
"I just want to say thank you to the folks at SpaceX and you guys in Houston," Cristoforetti told mission control. "It's been just amazing watching the launch, and knowing it was heading our way, and sure enough it came knocking at our door. It was steady as a rock, and we're just very, very happy to have it here."
A native of Italy, Cristoforetti mentioned one of the cargo capsule's most unique payloads: an espresso maker made by Lavazza, a producer of coffee products based in Turin, Italy.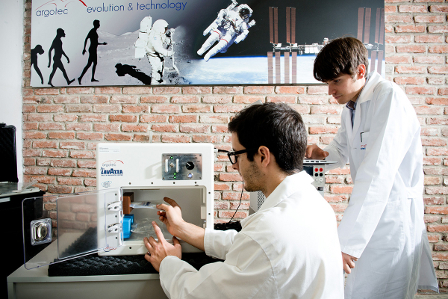 "It's exciting to have a new SpaceX docked mission coming up," Cristoforetti said. "It's going to be busy, but lots of science and even coffee is in there, so that's pretty exciting."
She later put on a Star Trek uniform and posed for a picture with the Dragon capsule, joking, "'There's coffee in that nebula' … ehm, I mean… in that Dragon."
The espresso machine was developed in a partnership between Lavazza, the Italian Space Agency and Argotec, an Italian company which provides European food to space station crews and helps train European astronauts for space missions.
"Today we are in a position to overcome the limits of weightlessness and enjoy a good espresso — the indisputable symbol of made in Italy products — on board the International Space Station," said Giuseppe Lavazza, vice president of Lavazza. "We are proud to have worked on this major project with Argotec, through the Lavazza Innovation Center, our division dedicated to research and product innovation: a scientific and engineering challenge which we hope will improve the living and nutrition quality of astronauts engaged on long missions."
NASA says the astronauts can use the espresso machine, dubbed ISSpresso, to brew coffee, tea, broth and other hot beverages. Lessons learned from the machine could help improve brewing methods in the future.
An animal habitat with 20 mice, 600,000 tomato speeds, plant and worm specimens and spare parts for the space station's air revitalization system were also delivered by the Dragon spacecraft Friday.
The mice will be euthanized and dissected by astronauts in orbit to help scientists study how their immune systems respond to infection in space.
Researchers will also use the mice to examine intracranial pressure build-up in microgravity as they seek to find the cause of vision impairment experienced by some astronauts after long-duration space missions.
The mission took up 4,387 pounds of cargo to the space station.
The cargo manifest's breakdown includes 1,860 pounds of science experiments, 1,142 pounds of gear to maintain space station hardware, 1,102 pounds of food, clothing and provisions for the lab's six-person crew, 51 pounds of spacewalking equipment, and 35 pounds of computers and cameras.
NASA says the cargo load will support 40 scientific investigations.
The returnable logistics freighter is scheduled to depart the space station May 21 and head for Earth with 3,020 pounds of cargo inside, primarily research specimens such as refrigerated blood, urine and tissue samples from the mice launched inside the Dragon spaceship.
Friday's delivery came three months after SpaceX's last resupply launch in January. The California-based space transport company has three more cargo flights to the space station scheduled before the end of the year.
The next SpaceX resupply launch is due June 19 at approximately 1:51 p.m. EDT (1751 GMT).
Follow Stephen Clark on Twitter: @StephenClark1.