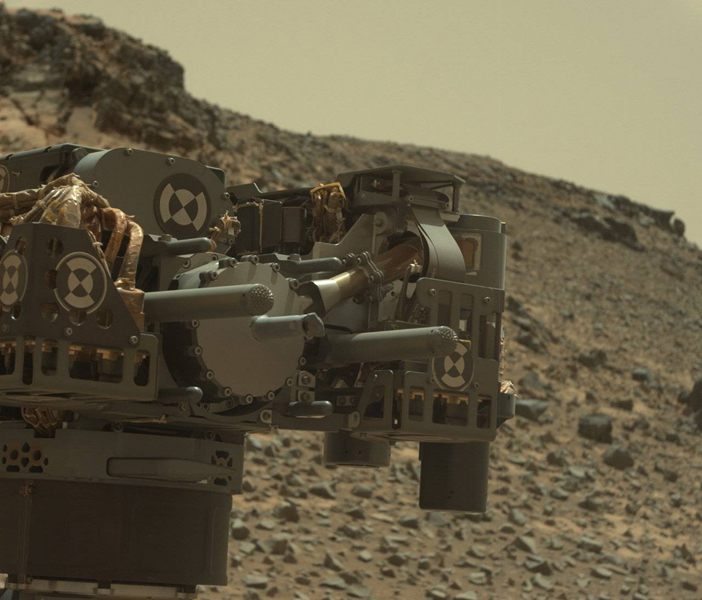 Officials are assessing how to adjust operations to collect future rock core samples with NASA's Curiosity Mars rover after identifying its drill as the likely source of a short circuit that stopped the rover's movement in late February.
The rover ran into the problem Feb. 27 as it tried to transfer a drill sample to its on-board instruments for analysis. Curiosity's fault-protection software automatically detected the glitch — described by NASA as a fluctuation in an electrical current — and halted movement of the robotic arm, which holds the drill and sampling mechanism.
The rover has kept still since the problem occurred, as engineers on Earth analyze the cause of the short circuit.
"Diagnostic testing this week has been productive in narrowing the possible sources of the transient short circuit," said Jim Erickson, Curiosity's project manager at NASA's Jet Propulsion Laboratory. "The most likely cause is an intermittent short in the percussion mechanism of the drill. After further analysis to confirm that diagnosis, we will be analyzing how to adjust for that in future drilling."
Curiosity drilled into a rock at the base of Mount Sharp — a towering peak on Mars where layered sediments could hold clues of an ancient habitable Martian environment — in late February.
NASA says the drill unit uses rotation and a hammering motion to push into rocks. Powder from rocks drilled by Curiosity is captured in the grooves of the drill, then shaken into a mechanism to sift the sample before it is dropped into the rover's miniature laboratory.
Curiosity uses a percussive mechanism to clear the powder off the drill's grooves.
Engineers this week repeated the motion of the drill that led to the short circuit as part of testing to determine the cause.
"During the third out of 180 up-and-down repeats of the action, an apparent short circuit occurred for less than one one-hundredth of a second," NASA said in a status report Friday. "Though small and fleeting, it would have been enough to trigger the fault protection that was active (Feb. 27) under the parameters that were in place then."
The rover gathered five previous drill samples with no problems.
Ground controllers plan to move the rover's robotic arm and check if the short circuit goes away when the appendage is in a different orientation.
"After those tests, the team expects to finish processing the sample powder that the arm currently holds and then to deliver portions of the sample to onboard laboratory instruments," status report said. "Next, Curiosity will resume climbing Mount Sharp."
Follow Stephen Clark on Twitter: @StephenClark1.