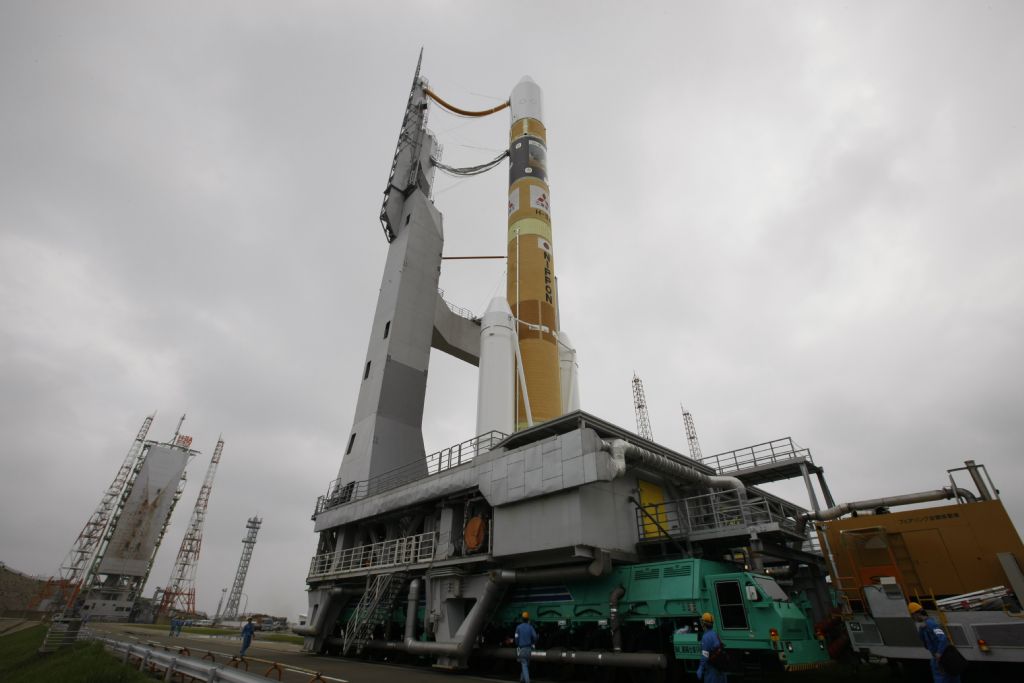 A threat of thick clouds kept a Japanese H-2A rocket from launching Thursday with a government-owned radar reconnaissance satellite.
Japanese officials did not set a new target launch date, and said the liftoff would be rescheduled based on forecast weather conditions over the next few days.
The H-2A rocket was supposed to take off from the Tanegashima Space Center in southwest Japan at 0121 GMT Thursday (8:21 p.m. EST Wednesday), the opening of a 13-minute launch window.
Liftoff was scheduled for 10:21 a.m. local time in Japan.
The Japan Aerospace Exploration Agency and Mitsubishi Heavy Industries — owner of the Tanegashima launch pad and the commercial operator of the H-2A rocket — announced the launch's postponement before engineers began loading cryogenic hydrogen and oxygen propellants into the two-stage rocket.
Ground crews rolled the rocket to Launch Pad No. 1 at Tanegashima Space Center's Yoshinobu launch complex Wednesday before the flight was postponed.
The weather forecast called for thick clouds penetrating into a layer of freezing temperatures over the island space center. Officials worried the rocket could generate lightning when it punched through the freezing clouds.
The 174-foot-tall launcher is flying in its basic configuration with two strap-on solid rocket boosters and a four-meter (13.1-foot) diameter payload fairing.
The flight will mark the 27th launch of an H-2A rocket since its debut mission in August 2001, and the third H-2A liftoff in less than four months.
The mission's payload is an Information Gathering Satellite equipped with a radar spy instrument capable of peering through clouds, darkness and camouflage to obtain high-resolution imagery of Earth's surface.
The exact capabilities of the satellite are kept secret by the Japanese government.
Japan established the space-based reconnaissance program in the wake of a North Korean missile test over Japanese territory in 1998. Although the program was initially aimed at monitoring North Korea, the satellites can take pictures of nearly any place on Earth each day.
The first Information Gathering Satellites were launched in 2003. An H-2A rocket sent up the newest spy satellites in January 2013.
Japan's IGS satellite program is run by the Cabinet Satellite Intelligence Center, which reports directly to the government's executive leadership.
Follow Stephen Clark on Twitter: @StephenClark1.