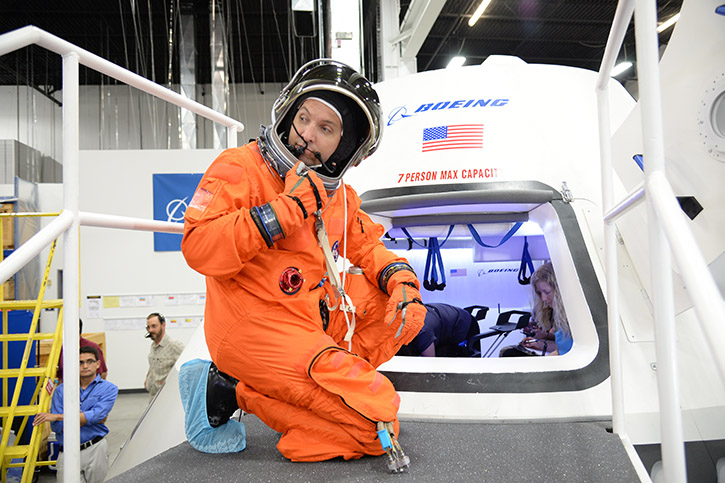 Boeing is poised to win NASA's first order for operational commercial missions to send up astronauts to the International Space Station, a NASA official said Monday.
The aerospace giant is one of two companies NASA selected to build commercial space taxis to transport crews to and from the space station. SpaceX, a newcomer to human spaceflight, cinched a separate contract with NASA.
NASA announced Boeing and SpaceX as the winners of deals worth a maximum combined value of $6.8 billion. The contracts guarantee each company at least two full-up crew rotation missions to the space station — plus options for up to six flights — through 2019.
The operational missions will launch after Boeing's CST-100 capsule and SpaceX's Crew Dragon spacecraft are certified by NASA to carry human passengers. Each craft will fly on unpiloted and crewed test flights to the space station before NASA approves normal missions for takeoff.
The contracts allow NASA to submit task orders as needed for each operator to fly crew transport missions.
Kathy Lueders, head of NASA's commercial crew program at the Kennedy Space Center in Florida, said Monday that Boeing is likely to receive the space agency's first order for a commercially-operated operational human-rated spacecraft. Officials said Boeing could be asked for two flights, meeting the company's minimum contractual quota.
She said a decision to award Boeing NASA's first order for human spaceflight services is a function of giving the company time to get in line on the United Launch Alliance mission manifest. Boeing's CST-100 capsule will blast off on ULA's Atlas 5 rocket, which is nearly fully booked with a mix of U.S. military payloads, NASA science missions, and a few commercial satellites over the next few years.
"We need to give them enough lead time to be able to get the rocket from ULA, and then be able to support processing," Lueders told reporters Monday at NASA's Johnson Space Center in Houston.
Although Boeing is expected to get the first task order — a milestone called authority to proceed by NASA — it is not guaranteed to be the first to fly astronauts to the space station.
"The first mission that we will be looking at 'ATPing' is actually — right now — a Boeing mission, just because of the differences in lead time, and the need to start having services in the late 2017 or 2018 timeframe," Lueders said. "We know that we are going to have to begin the process to ATP our missions."
Boeing and SpaceX say they will be certified for regular astronaut transportation by December 2017, when NASA's agreement with Russia for crew launches expires. The latest deal with Russia, finalized in April 2014, ensures U.S. astronauts have a ride to the space station through the end of 2017, with provisions for landings into 2018.
Boeing plans a crewed demonstration mission with two astronauts to the International Space Station in July 2017.
John Elbon, vice president and general manager of Boeing's space exploration division, said the CST-100 is already reserved for slots in ULA's manifest for an unmanned test flight in April 2017 and the piloted mission in July 2017.
SpaceX president and chief operating officer Gwynne Shotwell said the Crew Dragon spacecraft is scheduled for its first unmanned flight in late 2016, followed by shakedown mission with a crew in early 2017. The Dragon capsule will launch on SpaceX's own Falcon 9 booster.
"If you listen to their schedule … SpaceX is saying they're going to fly first, but we'll see," Lueders said. "We'll work with them, and we both know that they still have a ways to go working through their certification schedule.
"We don't want to be pushing on just the schedule because the most important thing is for them to develop their systems in a careful (way), and we need to give them enough time to deliver their system as safely as possible," Lueders said.
Follow Stephen Clark on Twitter: @StephenClark1.