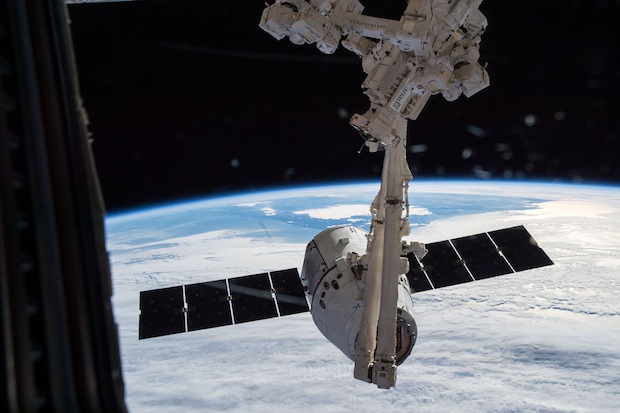 NASA officials say the International Space Station's logistics chain was designed to absorb a launch failure like the mishap that destroyed an Orbital Sciences Corp. cargo craft in October, but pressure is on SpaceX to deliver supplies on time this year.
"It's just critical," said Mike Suffredini, NASA's space station program manager. "We can't operate without the logistics partners. With the Orbital standdown, we basically lost about 2.3 metric tons of cargo that we had planned for, so now we're adjusting for that."
Without regular cargo deliveries, officials may have to reduce the size of the space station's crew from six to three. In a worst case scenario, the space station could be temporarily abandoned.
All the items destroyed in the Oct. 28 failure of Orbital's Antares cargo rocket can be replaced, officials said, and none of the equipment was critical in the sense that the space station needed the supplies immediately.
But NASA will have to find a way to eventually launch all the lost supplies, and with Orbital's resupply system grounded until late 2015, the space agency has to turn to SpaceX, the space station's other cargo transportation provider.
"We can't live without it," Suffredini said Thursday. "We're working very closely with SpaceX to fly as close to the times that we have on the manifest today."
SpaceX launched its most recent resupply flight to the space station Jan. 10, the company's fifth operational cargo mission to the complex in nearly two-and-a-half years. With Orbital not expected to fly its Cygnus cargo craft again until late 2015, SpaceX will need to accelerate its launch rate to keep the space station stocked with food, provisions and experiments.
On-time launches have eluded SpaceX in the past, but the company last year demonstrated its ability to launch two Falcon 9 rockets two weeks apart.
SpaceX has up to 14 launches scheduled from Cape Canaveral in 2015, with one flight already complete. Five of the 14 launches are slated to carry cargo to the space station aboard SpaceX's Dragon supply ship, including the company's Jan. 10 launch.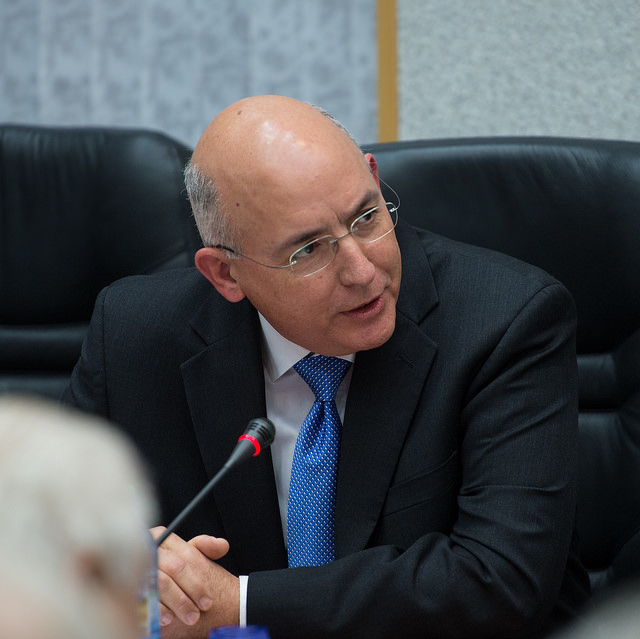 The next Dragon resupply run to the space station is set for launch April 8, followed by cargo missions in June, September and December. Suffredini said Thursday that NASA has asked SpaceX to move forward some of the flights.
"We're trying to pull these other flights up," Suffredini said. "We're doing all that because we need to do it that way in order to continue to have a robust research plan."
Suffredini said the space station is resilient to short-term launch delays. Station managers plan to keep at least a four-month stock of food and spares on the outpost in case of disruptions in the supply chain from Earth.
Before the Antares launch failure, NASA wanted to keep at least a six-month cushion of supplies on the station.
"We lost a couple of months, and that just put a lot of criticality on the next two SpaceX flights," said Bill Gerstenmaier, associate administrator of NASA's human exploration and operations directorate.
"SpaceX-5 (which launched Jan. 10) was really important because we were running out of potentially food in May," Gerstenmaier said. "The next SpaceX flight in the April or May timeframe is also important after the Soyuz crew rotation in March, and that's a function of restaffing the crew."
The SpaceX resupply missions will also deliver components needed for a series of spacewalks to outfit the space station for future dockings of commercial space taxis carrying astronauts.
"We really needed this SpaceX flight to see that we were heading in a positive direction for the crew rotation flight," Gerstenmaier said. "Then we'll have that next SpaceX flight, and after that, we're almost caught up."
A Japanese HTV supply freighter is scheduled for launch in August to carry up another batch of equipment.
Russia's Progress logistics vehicles will launch several times this year, but they are primarily filled with gear to support the space station's Russian crew members.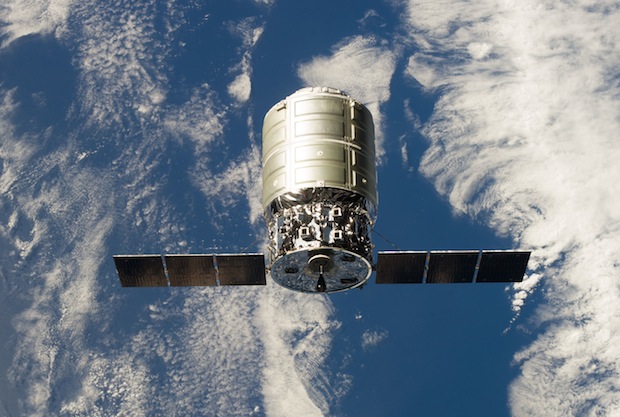 Orbital Sciences will not launch its Antares rocket again until at least early 2016. The company is switching the booster's first stage to a new engine — opting to replace the rocket's troublesome decades-old AJ26 engines with newly-built Russian RD-181 powerplants.
In the meantime, Orbital purchased at least one Atlas 5 rocket from United Launch Alliance to send up a Cygnus logistics spaceship in the fourth quarter of 2015. Orbital's decision to buy a launch from a third-party provider will come out of the company's own coffers, and NASA's contract payments will remain unchanged, according to Gerstenmaier,
"We initially assumed that Orbital wouldn't fly for 18 months," Gerstenmaier told a NASA advisory committee on Tuesday. "We assumed they would not be flying until 2016. They went out on their own and determined that they needed to fly to keep viable, so they went out and acquired an Atlas 5 for a fall launch."
"When Orbital lost Antares, they could have said, 'We're done,'" said NASA Administrator Charlie Bolden. "But they didn't. (Orbital chairman and CEO) David Thompson was on a phone the very next morning to everybody that he knew that produced launch vehicles to say, 'I have an obligation to NASA, and I intend to fulfill that. Can you help?'
"I think he called every launch vehicle provider there was, even out of the country," Bolden said. "After their analysis, they came up with the Atlas 5 and said they think they can fly by the end of the year. If that's successful — if Cygnus is berthed to the International Space Station by the end of 2015 … that would be a major achievement for commercial space."
Gerstenmaier said the company's decision to pay for an Atlas 5 rocket was in the mutual interest of Orbital and NASA, and validates a key tenet in space agency's commercial cargo program.
"That shows that our basic contracting strategy for services is viable because they were incentivized to not just sit and wait for 18 months," Gerstenmaier said. "They were incentivized to find another way to provide the service, so they could continue the revenue stream to their corporation."
Orbital Sciences signed a $1.9 billion cargo resupply contract with NASA in December 2008. The terms of the deal called for Orbital to deliver 20 metric tons, or 44,000 pounds, of hardware to the space station over eight missions. Orbital says it can now achieve its contractual commitment in seven flights.
SpaceX cinched a similar deal worth $1.6 billion to send up the same mass of supplies, but in 12 flights. SpaceX also returns intact cargo and research specimens to Earth, while Orbital's Cygnus spacecraft disposes of trash.
NASA turned to commercial operators to meet the space station's logistics needs after the retirement of the space shuttle.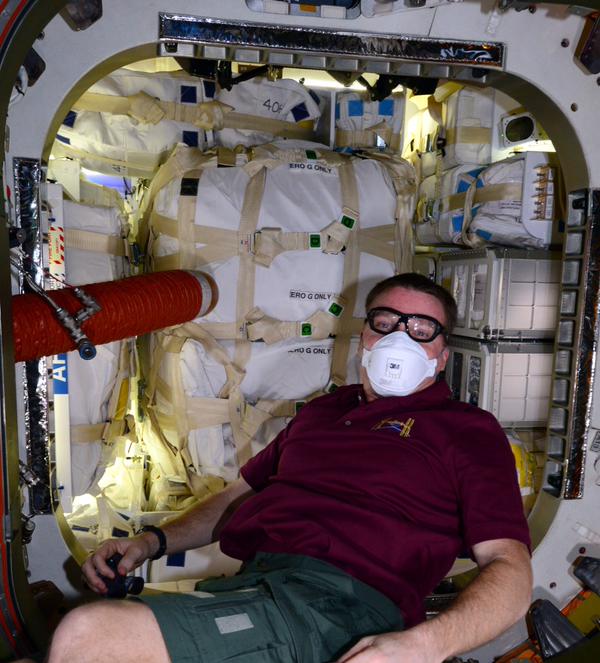 Gerstenmaier said the Antares launch failure proved the value of having at least two suppliers capable of sending cargo to the space station. It also shows why NASA selected two companies — Boeing and SpaceX — to fly astronauts to the complex.
"You don't put all your critical spares on one vehicle," Gerstenmaier said. "If you can split between two vehicles or three vehicles, from a redundancy standpoint then you can effectively utilize your redundancy."
He said NASA already directed SpaceX to redesign its Dragon cargo capsule to carry water to the space station, a capability that only Orbital's Cygnus spacecraft was previously able to handle.
"We thought we had enough redundancy so we didn't have to make design changes to carry water on both vehicles, but now, in hindsight, we need to make a design change," Gerstenmaier said. "We accepted some non-redundancy items to keep costs down, now we know we need that redundancy."
With two cargo transportation providers, NASA can live with more risk on each resupply mission, Gerstenmaier said.
"All our equipment is critical," he said. "Some is more important than others. What we're talking about is risk tolerance. I can take higher risks with station cargo because of the ability to (fly something) again. Even if I lose a spacesuit, I've still got 12 others, so it's not the end of the world. It's not where you want to be, but it's usually better than not flying until you get comfortable."
"There's going to be a long period of time where these guys (commercial cargo contractors) are not going to be potentially as reliable as other providers," Gerstenmaier said. "We need to accept that."
Follow Stephen Clark on Twitter: @StephenClark1.