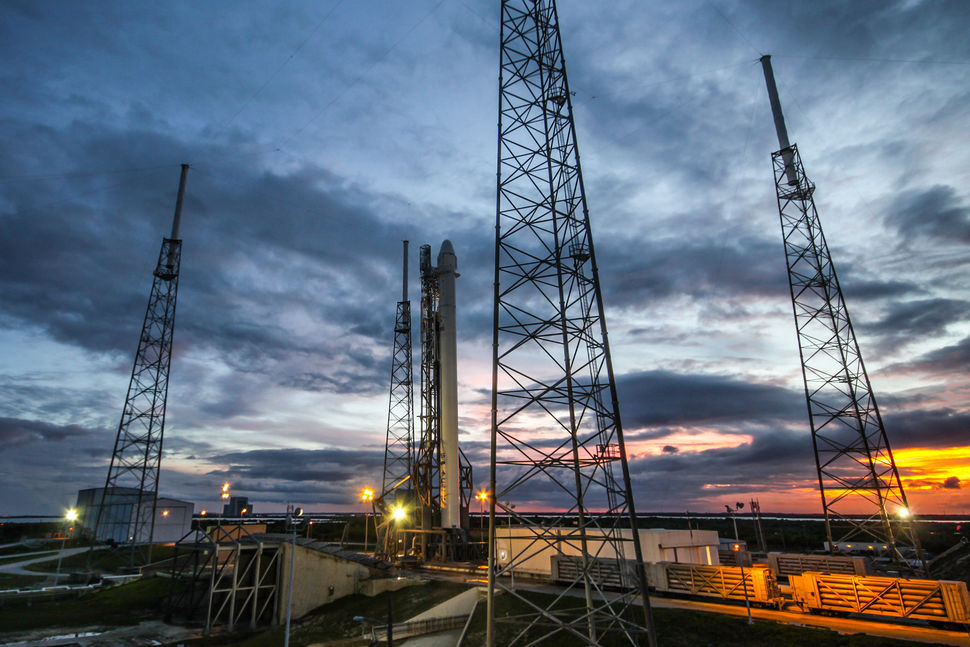 Meteorologists predict mostly cloudy conditions with a chance of light rain for Tuesday morning's scheduled takeoff of a SpaceX Falcon 9 rocket with a space station-bound supply ship, with a 40 percent chance weather could prevent liftoff during the instantaneous predawn launch opportunity.
The 20-story rocket is set for liftoff at 6:20 a.m. EST (1120 GMT) Tuesday from Cape Canaveral's Complex 40 launch pad. It will send a cargo load of more than 3,700 pounds of provisions and experiments to the six-person crew living on the International Space Station.
SpaceX will have one second to send the Falcon 9 booster and Dragon cargo craft skyward. The launch window is timed for approximately the moment the International Space Station's orbital path passes above Cape Canaveral. If weather or a technical issue prevents launch Tuesday, the next chance for liftoff will be Friday morning.
Technicians will load time-sensitive experiment specimens and fresh food into the Dragon capsule Monday.
The official weather outlook released Saturday by the U.S. Air Force's 45th Weather Squadron calls for a 60 percent chance of favorable conditions for Tuesday's launch.
A front will likely be draped over Central Florida early Tuesday, and forecasters predict a chance of very light rain and scattered clouds at 2,000 feet and 12,000 feet — plus a broken cloud deck at 24,000 feet — for the instantaneous launch window.
"The next frontal boundary will move into the area by Monday, bringing another bout of upper level clouds and increased rain chances," the Air Force weather team wrote in a forecast summary. "Like the last boundary, this front will likely not make it south of Central Florida before stalling and lingering over the area for a day or two. With the boundary overhead, the primary weather concern will be thick clouds."
Winds will be from the north-northeast at 8 to 12 mph and the temperature will be around 66 degrees Fahrenheit at launch time Tuesday.
Officials expect good visibility and low solar activity.
If the launch is delayed to Friday, there is a 30 percent chance that weather will prohibit launch, mainly due to a concern about flight through precipitation.
The unmanned Dragon supply ship is due to rendezvous with the space station Thursday if the mission takes off on schedule Tuesday.
Follow Stephen Clark on Twitter: @StephenClark1.