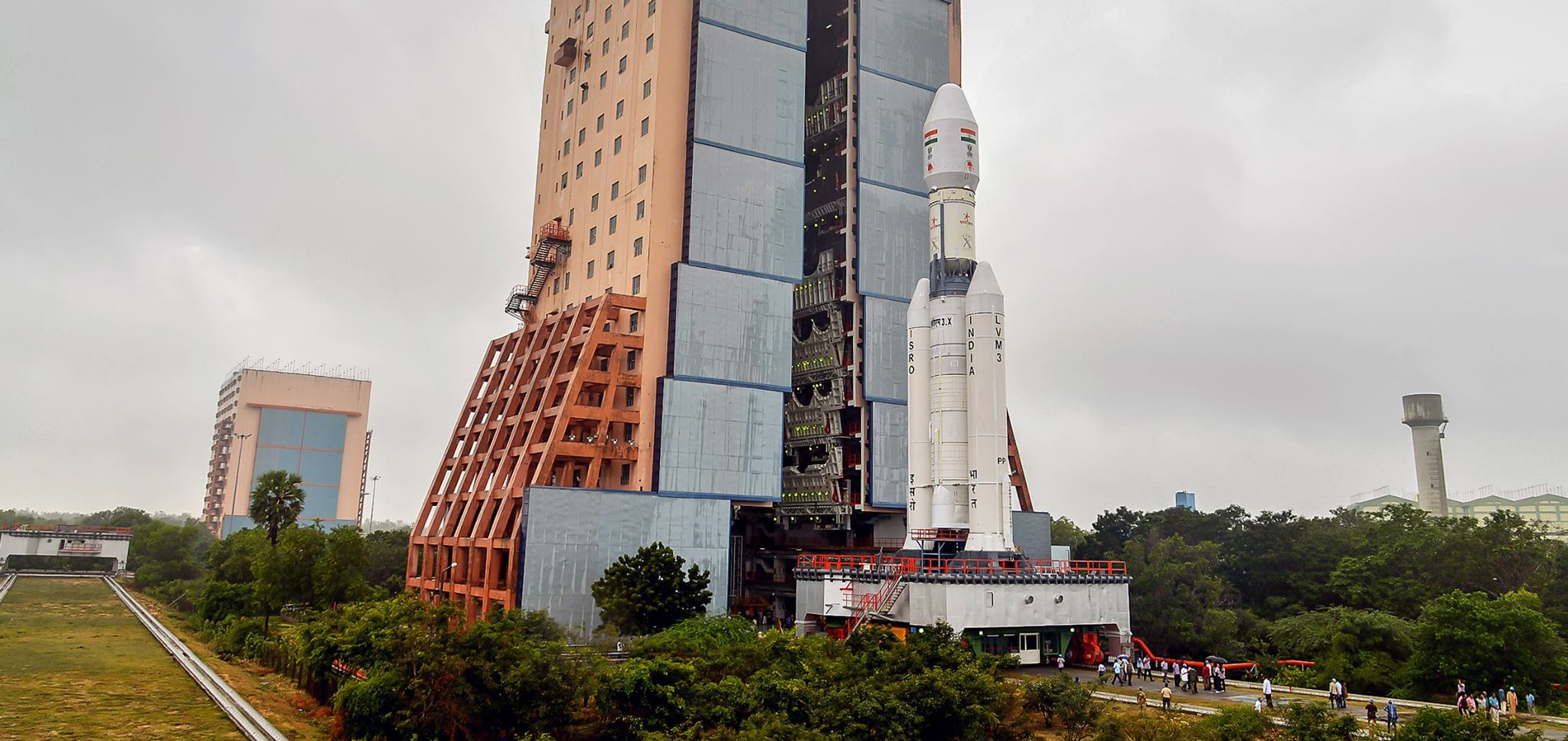 Indian engineers are counting down to a test flight Thursday of a next-generation launcher to verify the performance of two powerful solid rocket motors, a twin-engine core booster and a prototype capsule designed for India's nascent human spaceflight program.
The flight is set to take off at 0400 GMT Thursday (11 p.m. EST Wednesday) from the Satish Dhawan Space Center, India's spaceport on Sriharikota Island along the country's east coast about 50 miles north of the Indian city of Chennai.
The 24-and-a-half hour countdown started on time, and filling of the rocket with liquid propellants was underway Wednesday.
The stubby 139-foot-tall rocket will not reach the velocity necessary to enter orbit, but the demonstration launch will reach a top speed of 5.3 kilometers per second — nearly 12,000 mph — and a peak altitude of 126 kilometers, or 78 miles.
The new launch vehicle — named the LVM-3 or Geostationary Satellite Launch Vehicle Mk. 3 — is the most capable rocket ever developed by India. It can carry up to 10 metric tons, or about 22,000 pounds, of cargo into low Earth orbit and up to 4 metric tons — 8,800 pounds — into geostationary transfer orbit once it is operational, a milestone Indian officials hope to achieve within about two years.
Started in 2002, the GSLV Mk. 3 program is projected to cost approximately $400 million by the time development is finished, Indian news outlets reported. Thursday's flight alone cost about $24 million, according to India's NDTV television news network.
Thursday's test launch will check the performance of the GSLV Mk. 3's first stage and strap-on boosters, which will carry the rocket out of the atmosphere beyond the boundary of space. The launcher's cryogenic upper stage, which will be active and fueled by liquid hydrogen on future missions, will be dormant on Thursday's flight.
"The primary objective of this experimental flight is to validate the complex atmospheric ascent regime of this all new launcher, especially the aerodynamic and control features that cannot be conclusively tested on ground," the Indian Space Research Organization wrote in a post on its official Facebook page.
Each of the GSLV Mk. 3's two S200 solid boosters will generate 1.1 million pounds of thrust, making them the second-most powerful solid-fueled rocket motors currently in service after the strap-on rockets used by Europe's Ariane 5 launcher, ISRO says on its website.
Burning a pre-packed mix of fuel, oxidizer and binding agent, the 10.5-foot-wide, 72-foot-long boosters will fire for more than two minutes alongside the GSLV Mk. 3's core stage.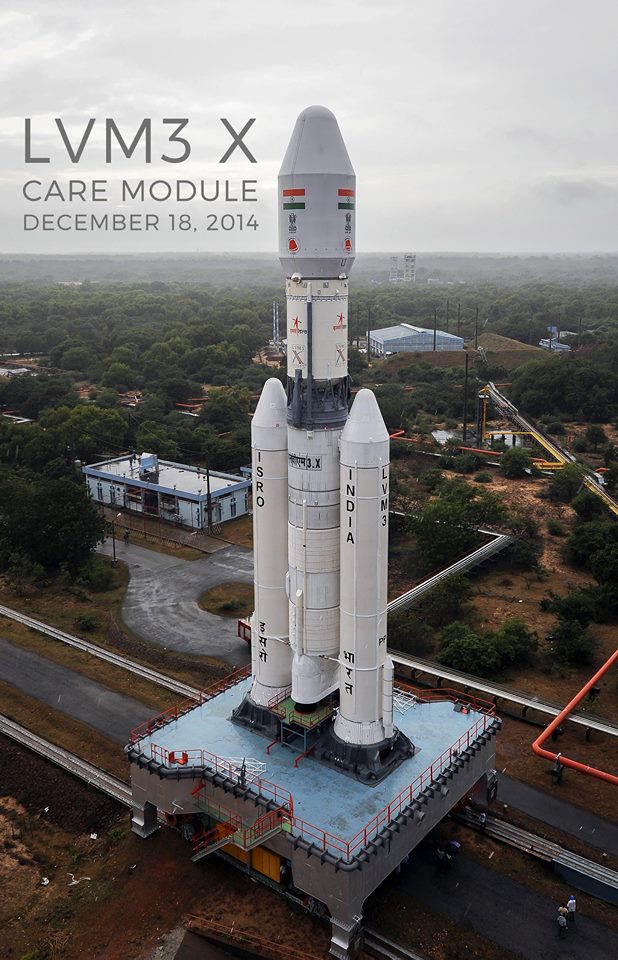 The rocket's first stage is powered by two hydrazine-fueled Vikas engines, the same type of engines flying on India's Polar Satellite Launch Vehicle and smaller versions of the GSLV.
The twin-engine liquid-fueled L110 first stage will ignite when the rocket is already in the air, firing for more than three minutes and ramping up to peak power of 360,000 pounds of thrust.
K. Radhakrishnan, ISRO's chairman, described the rocket as "a totally new configuration" for India, according to the Hindu newspaper, an Indian English-language newspaper.
"So if there are issues with respect to the configuration and we need to take care of that, it is better to take care of [them] early," he said in a report published on the Hindu's website.
After the rocket's propulsion shuts down, a gumdrop-shaped capsule will separate from the GSLV Mk. 3's dummy upper segment about five-and-a-half minutes after liftoff, according to the Times of India, another English-language paper in India.
The capsule weighs about 8,000 pounds — about 3.6 metric tons. Indian engineers from Hindustan Aeronautics Ltd. fabricated the car-sized module, and ISRO added sensors, strain gauges, a guidance and control system and a heat shield for the suborbital flight, which is called the Crew Module Atmospheric Re-entry Experiment, or CARE.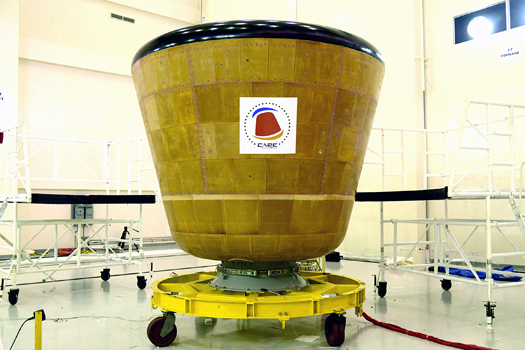 The Hindu newspaper reported the capsule is the same size and shape as the crew module engineers designed to carry up to three Indian astronauts into orbit.
India's human spaceflight program has been subject to multiple starts and stops in recent years, and ISRO says it would take seven years and about $2 billion to complete the crew capsule project.
The Indian government has not approved the plan, the Hindu reported, but New Delhi granted about $22 million for ISRO to work on technologies needed for a piloted space mission.
Blanketed with a heat shield, the capsule will come back to Earth, encountering temperatures of about 2,000 degrees Fahrenheit during re-entry before deploying parachutes to splash down in the Bay of Bengal nearly 1,000 miles southeast from the launch pad about 21 minutes after liftoff, according to the Hindu.
The Indian Coast Guard will retrieve the landing craft and return it to an Indian laboratory for inspections.
Thursday's test mission comes after a banner year for India's space program highlighted by the arrival of its first interplanetary probe in orbit around Mars, the successful debut of a cryogenic rocket engine, and a string of successful launches to build out the country's satellite navigation network.
Follow Stephen Clark on Twitter: @StephenClark1.