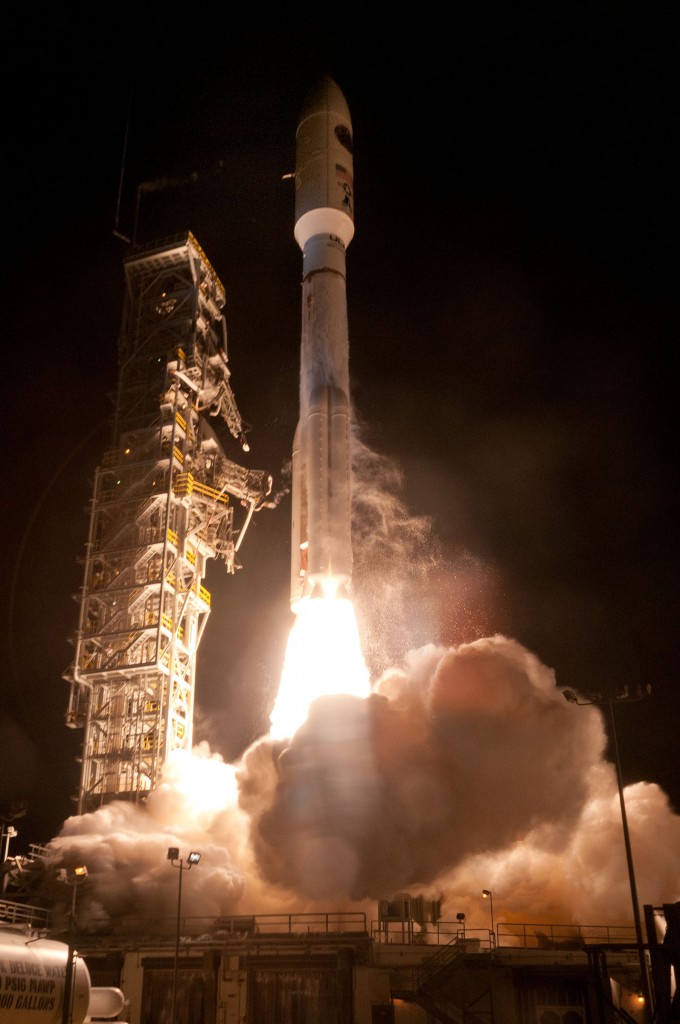 A United Launch Alliance Atlas 5 rocket put on a display of power, sound and light Friday evening at Vandenberg Air Force Base in launching a clandestine national security payload, then successfully debuted a new upper stage engine as it flew over the horizon.
"This is the most powerful Atlas vehicle ever launched from Vandenberg Air Force Base, and that's a history of decades of launching Atlases from here at Vandenberg," said Lt. Col. Jim Bodnar, 4th Space Launch Squadron commander at the base.
At two million pounds of ground-shaking thrust, it was the most powerful Atlas in the 55-year history of flights from the California base. This marked the 294th Atlas to fly from Vandenberg and the 10th in the Atlas 5 form.
Blasting off at 7:19 p.m. local time, the 20-story rocket lit up the nighttime sky and headed southeastward to ascend into an orbit whose parameters remained classified.
This was the 9th and final Atlas 5 launch of 2014,  the most ever in a year for the Evolved Expendable Launch Vehicle.
Friday's mission was known simply as NROL-35, a top-secret satellite-delivery flight for the U.S. National Reconnaissance Office. The NRO is the secretive government agency that controls the country's spy satellites.
The identity and purpose of the payload launched Friday were not released to the public. But speculation centered on a new generation of electronic signals intelligence-gathering satellite, commonly referred to as Trumpet, and that flies in a Molniya-style orbit of 700 by 23,300 miles.
"NRO launches have the potential for surprise, especially when there is a change of rocket and/or payload," said Ted Molczan, a respected satellite-observing hobbyist.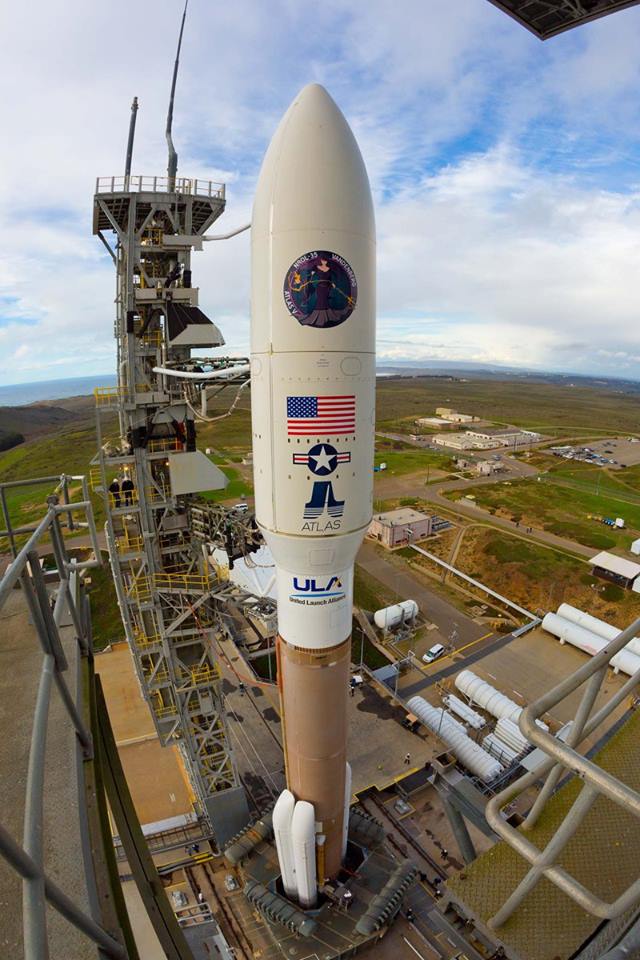 It was ULA's 91st successful launch and the 11th time an NRO cargo has been flown aboard an Atlas 5.
"The work that we do is so vitally important. You have to feel that in your boots, I mean all the way down, and understand the consequences of the decisions that you make. Lives can be at risk." said ULA President and CEO Tory Bruno.
"At ULA, what we have been asked to do by our country…to provide a capability from LEO to Pluto. We can do it all. Tiny payloads, large payloads, a full mission spectrum that's not really been performed by anyone else," Bruno said.
It is that spectrum that produced Vandenberg's recording-setting Atlas launch, flying in the 541 configuration with a five-meter nose cone, four solid rocket boosters and a single-engine Centaur upper stage.
The Atlas 5 family is designed to be modular in concept and tailor each vehicle to the given payload being launched, adding SRBs for additional thrust when needed and enclosing the satellite in either a four-meter shroud or a bulbous five-meter one.
The NROL-35 payload required a powerful 541 version of the launch, which had flown twice previously in dispatching NASA's Curiosity rover to Mars in 2011 and the NROL-67 mission earlier this year, both flying from Cape Canaveral in Florida.
"The Atlas 5-541 configuration puts out about two million pounds of thrust at liftoff, so it's quite comparable to the Delta 4-Heavy which is 2.1 million pounds," said Capt. Jason Krahmer, the launch's mission manager with the 4th Space Launch Squadron.
"A lot of folks got to see the recent Minuteman 3 launch about a month ago. Each one of the solid rocket boosters on the Atlas is about the same size and produces approximately the same thrust as a Minuteman 3 ICBM," said Lt. Col. Jim Bodnar, 4th Space Launch Squadron commander at Vandenberg.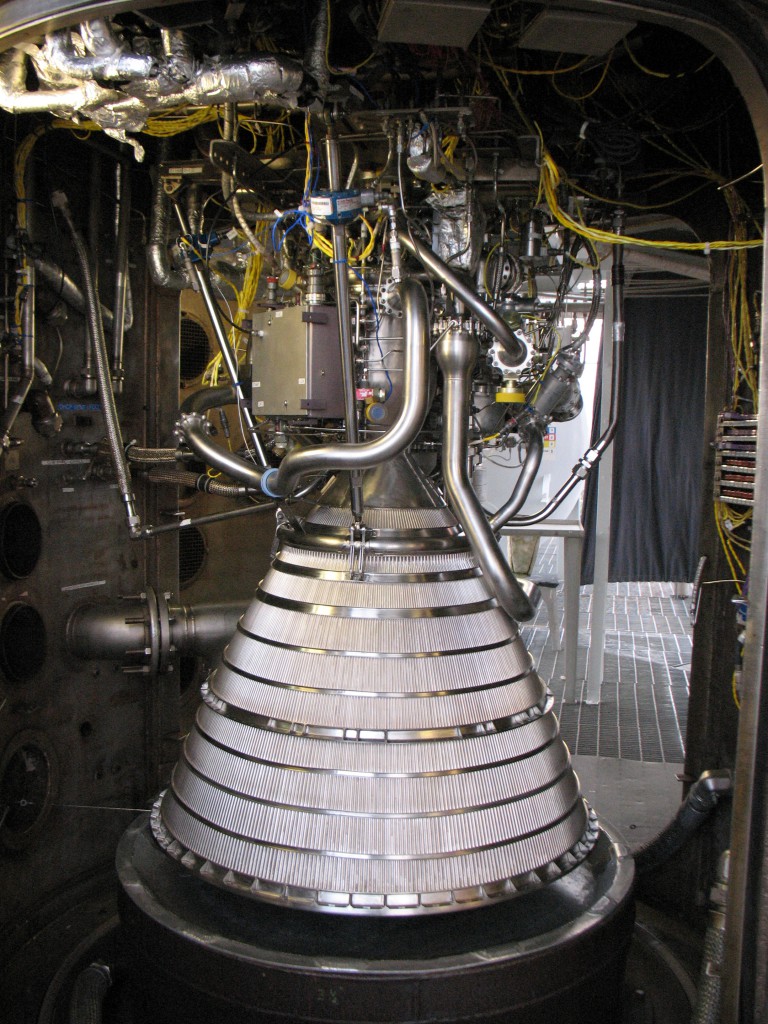 Powering the Centaur upper stage was the new RL10C-1 engine, a retrofitted Delta 4 RL10B-2 powerful now reconfigured to fly aboard Atlas rockets. It is part of the common upper stage effort now in development for both vehicles to share.
It is the latest evolution to the famed RL10 engine that dates back over 50 years and has launched spacecraft to every planet in our solar system.
Aerojet Rocketdyne builds the RL10 engines for ULA. The engines burn liquid hydrogen and liquid oxygen, can fire multiple times and have a distinguished reliability record.
"In developing the RL10C-1, Aerojet Rocketdyne and ULA built on the successful heritage of the RL10A and B models. The RL10C-1 operating parameters are bounded by limits established during testing and years of flight experience on those earlier models," ULA said in written answers to Spaceflight Now.
The decision to change Atlas over to the RL10C was an economic one. ULA was faced with a stockpile of unused RL10B-2 engines for Delta, so retrofitting them for Atlas was an obvious choice.
"The RL10C was developed to provide reliable and cost-effective launch services for our customers. United Launch Alliance has an inventory of RL10B-2 engine hardware which was originally produced in a large quantity at an attractive cost basis," ULA said.
For more on the new engine, see our preview story.
The next space launch from Vandenberg will be a Delta 2 rocket with NASA's SMAP environmental satellite on Jan. 29. The next mission for the NRO is planned for April using a Delta 4 rocket from Vandenberg.