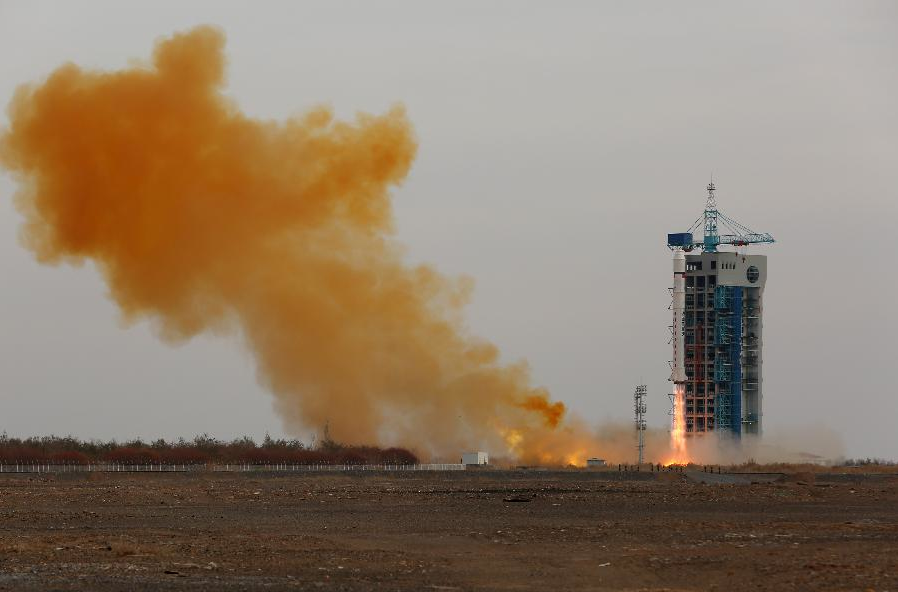 A Long March 2D rocket blasted off from a remote space base in northwest China on Thursday and climbed into orbit with a clandestine satellite to collect intelligence for the Chinese government.
China's government-run Xinhua news agency described the Yaogan 24 satellite launched Thursday as a "remote sensing" platform.
The spacecraft "will mainly be used for scientific experiments, natural resource surveys, crop yield estimates and disaster relief," Xinhua reported.
The Yaogan 24 satellite lifted off at 0712 GMT (2:12 a.m. EST) aboard a two-stage Long March 2D rocket, according to Xinhua.
Liftoff occurred at 3:12 p.m. Beijing time.
Standing 134 feet tall, the rocket's hydrazine-fueled first stage generated more than 650,000 pounds of thrust to power the booster off the launch pad at Jiuquan. The Long March 2D rocket's second stage put the Yaogan 24 satellite into orbit nearly 400 miles above Earth at an inclination of 97.9 degrees, according to tracking data from the U.S. Air Force's Space Surveillance Network.
Although China did not disclose details of the mission — or announce the launch in advance — the satellite's launch vehicle, launch site and orbit bear similarities to four previous Yaogan payloads launched in 2007, 2008, 2009 and 2010.
Yaogan 24 could carry a sharp-eyed optical camera to supply global reconnaissance imagery to Chinese military authorities, according to Western analysts.
Thursday's liftoff marked China's second space launch in less than a week, following the delivery of another secretive Yaogan satellite to orbit Nov. 14. It was the 11th Chinese space launch of 2014.
Follow Stephen Clark on Twitter: @StephenClark1.