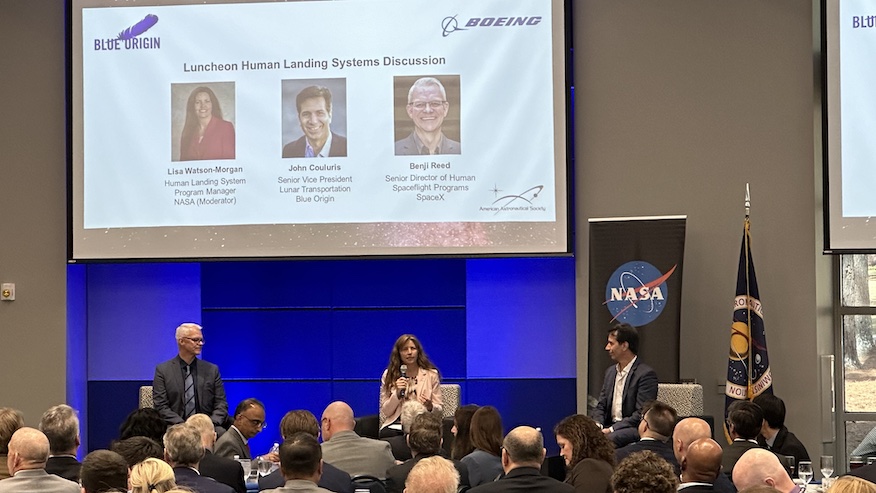 After a successful mission with Artemis 1 in November, 2022, and with the pieces of the Artemis 2 architecture coming together for a launch targeting late 2024, NASA continues to simultaneously push towards the big items that are key to the future missions.
One of the biggest outstanding feats is getting ready to actually bring humans to the surface of the Moon. Overseeing that aspect of the missions, starting with Artemis 3, is Dr. Lisa Watson-Morgan, the manager of the Human Landing System (HLS) program operating at NASA's Marshall Space Flight Center in Huntsville, Alabama.
In a sit-down interview with Spaceflight Now amid the von Braun Space Exploration Symposium, Watson-Morgan said getting these landers ready for their debuts on the Artemis 3 and Artemis 5 mission respectively for SpaceX and Blue Origin provide both numerous challenges as well as unique opportunities.
"I think we have great, great challenges in front of us," Watson-Morgan said. "Right now, today, I don't see anything that's stopping us, but that's today."
She pointed to some of the leaps forward in rocket capabilities from SpaceX as a barometer for pulling off the lunar landing capability of its Starship rocket. Watson-Mogran also noted that the Blue Origin-led team has Lockheed Martin as a partner, which brings expertise from the Orion program with it.
"That's the beauty of our model. We take the best of what our government does, our expertise, and then we take a leap with the technological innovation that industry says, 'We need to do this in order to save costs and make a business case out of this and give you the value and the good price that we are,'" Watson-Morgan said.
"That's where it's such an engineering art in that we have to balance what they need to do to be successful from a business standpoint and ensure paramount, tantamount that we're doing all we can for crew safety. And the crew is lock-and-step with us on both Blue and on SpaceX."
"Launch is signal"
Up to bat first for the HLS program is SpaceX with Starship. The vehicle is the upper stage of the two-stage rocket currently undergoing testing at Starbase near Boca Chica Beach in south Texas.
SpaceX's approach to its launch programs, whether its Starship or Falcon, has been a combination of flying, learning, fixing and trying again to get it right. During a fireside chat moderated by Watson-Mogran on Wednesday, Benji Reed, SpaceX's Senior Director of Human Spaceflight Programs, phrased it as "launch is signal and everything else is noise."
"And really, when we say 'launch,' we're talking about launching safely, we're talking about launching reliably, but you've got to launch and you've got to do a lot," Reed said. "And the beautiful thing about the Artemis program, and all of the different players and everyone working together under Artemis, is that all of these tests and all of these launches and all of these vehicles and everything that's happening are all part of that signal of launch and test and go."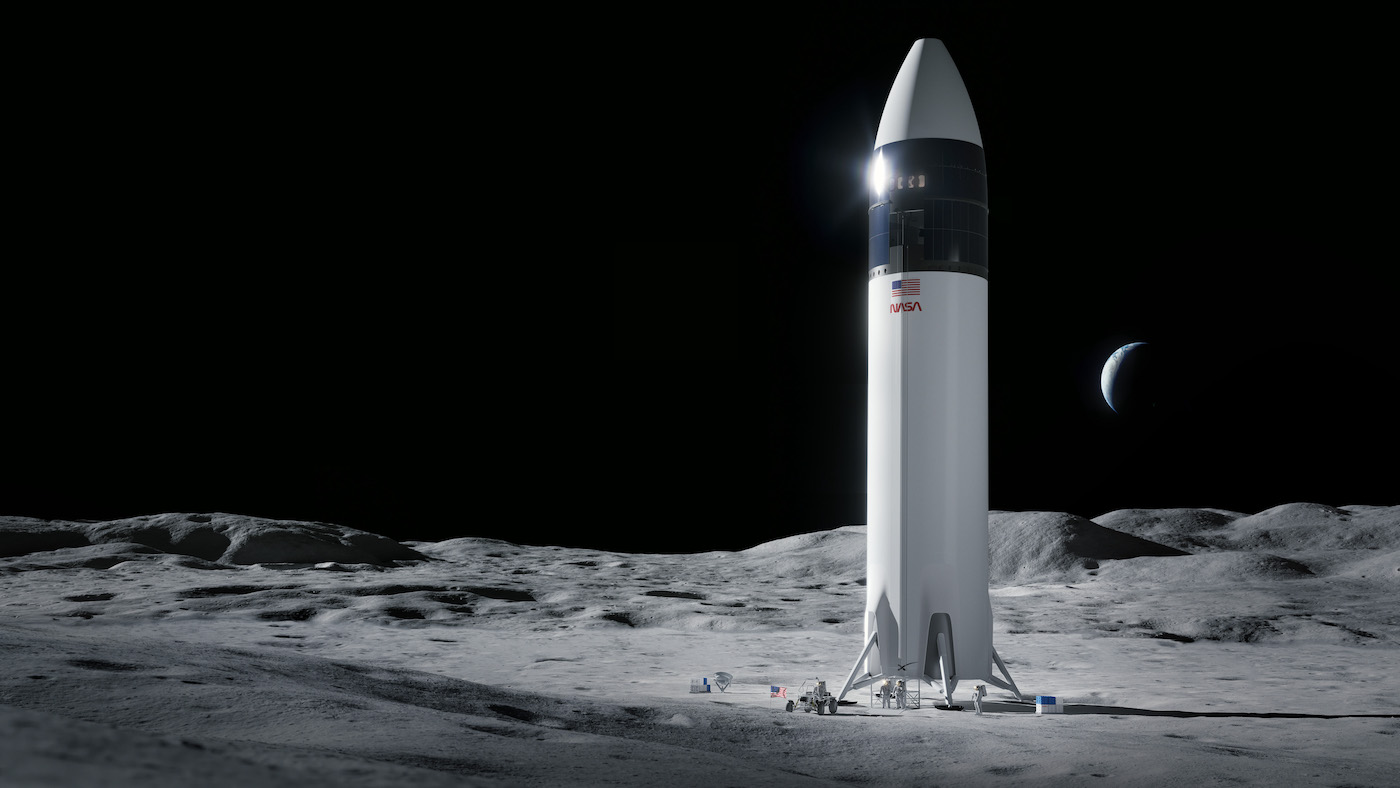 Watson-Morgan said her past experience as the deputy director of the Engineering Directorate at MSFC and more than 30 years as an engineer and manager leads her to "fully support and cherish" SpaceX's approach to getting its lander ready.
However, she added that, "I would be remiss if I didn't say we're concerned about the SpaceX schedule for HLS and the concern is that our critical path, even today, goes through these test flights."
SpaceX stated in a post on X on Tuesday, following a wet dress rehearsal, that they are ready for the second integrated flight test (IFT-2) "pending regulatory approval." Thursday morning, the U.S. Fish and Wildlife Service (FWS) released its own statement, noting that it formally reinitiated Endangered Species Act consultation with the Federal Aviation Administration (FAA).
"We have up to 135 days to issue an amended biological opinion, but do not expect to take the full amount of time," the agency said. The opinion is concerning the water deluge system added to the Starship launch pad following the IFT in April.
Starship and Super Heavy were loaded with more than 10 million pounds of propellant today in a flight-like rehearsal ahead of launch pic.twitter.com/VbBTdR5h9p

— SpaceX (@SpaceX) October 25, 2023
Watson-Morgan and her team are eager to see SpaceX return to flight, stating that they'd like to see around 15 to 17 launches of Starship en route to the crewed landing during the Artemis III mission.
She said because SpaceX ticks off a number of objectives with each flight instead of getting everything done before launching once, these test flights are critical for developing the hardware that will eventually be used to support the HLS program.
"Schedule for us is key and we are working very closely with SpaceX on ensuring that this next test, making sure that they're ready for it, understanding what they hope to achieve from it and understanding the risk. And they are all high risk," Watson-Morgan said.
Watson-Morgan said in addition to the more highly visible flight test campaign, the HLS program and SpaceX have been stepping through some of the development milestones needed to support the version of Starship for the Artemis program.
"We had a cold-start Raptor Vacuum test that was recently completed. They're also working on smaller thrusters. We're working through medical kit testing, training system delivery, testing crew displays. We've worked through how we're going to handle mission authority on day of launch," Watson-Morgan said. "So, in parallel, while the world stage sees all these magnificent tests, we are working closely with SpaceX on all the mission unique items and milestones and that is going along very smoothly. And they actually haven't missed any of those."
This week, they are conducting a docking test. It's a critical feature, since Starship will first have to be able to dock with the Orion spacecraft on the Artemis 3 mission and then with the Lunar Gateway during Artemis 4.
Big tests lie ahead
In 2024, Watson-Morgan said seeing the propellant transfer demonstration is going to be a key factor. That will not only demonstrate an essential piece of SpaceX's design for the Moon, Mars and beyond, but it will also call upon new assets for the launch company that have yet to debut.
"That's where we're going to get to see multiple launches from multiple pads go into orbit and transfer some amount of fuel between the two. And that will be a really key indicator as to their readiness level," Watson-Morgan said. "And once they get to that point and once that is achieved, it's much smaller from there on out."
Looking ahead to 2024, they will also continue working on items within the crew cabin.
"We're working through flammability testing, to make sure, with our oxygen and pressure values that we'll have for our exploration systems," Watson-Morgan said. "[Checking] that the clothing, the laptops, they're bagged properly and what happens if something gets out? So, we're going through all kinds of testing with SpaceX and internally to NASA and then combining our data."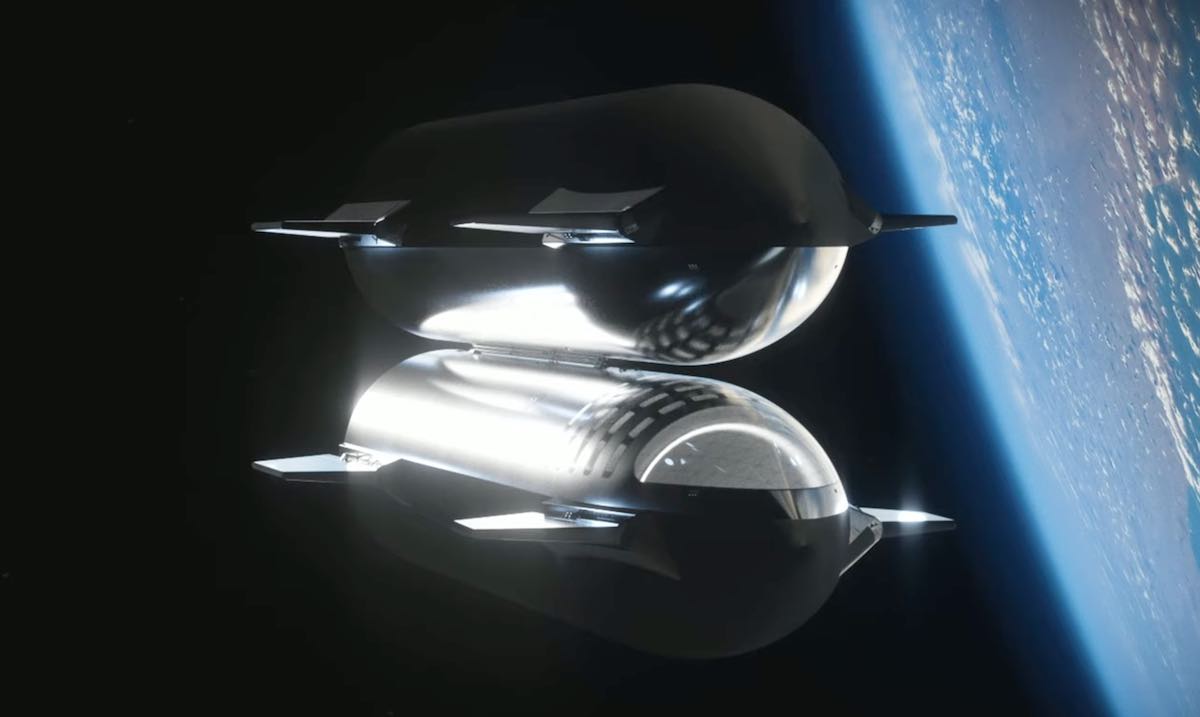 From Dragon to Starship
While Starship will be a very different vehicle from SpaceX's other human-rated vehicle, its Dragon spacecraft, both Reed and Watson-Morgan said there is some overlap between the two.
As Reed discussed some of the challenges they will face regarding lighting both while on the Moon and in transit to the lunar surface, there are a number of lessons that can be gleamed from Dragon.
"We've been docking a lot of Dragons to Space Station. We've flown Dragon through a number of lighting conditions as we go through the LEO orbit, whether it's going to Space Station or some of our free-flyer missions," Reed said. "We've had a lot of opportunities to develop that."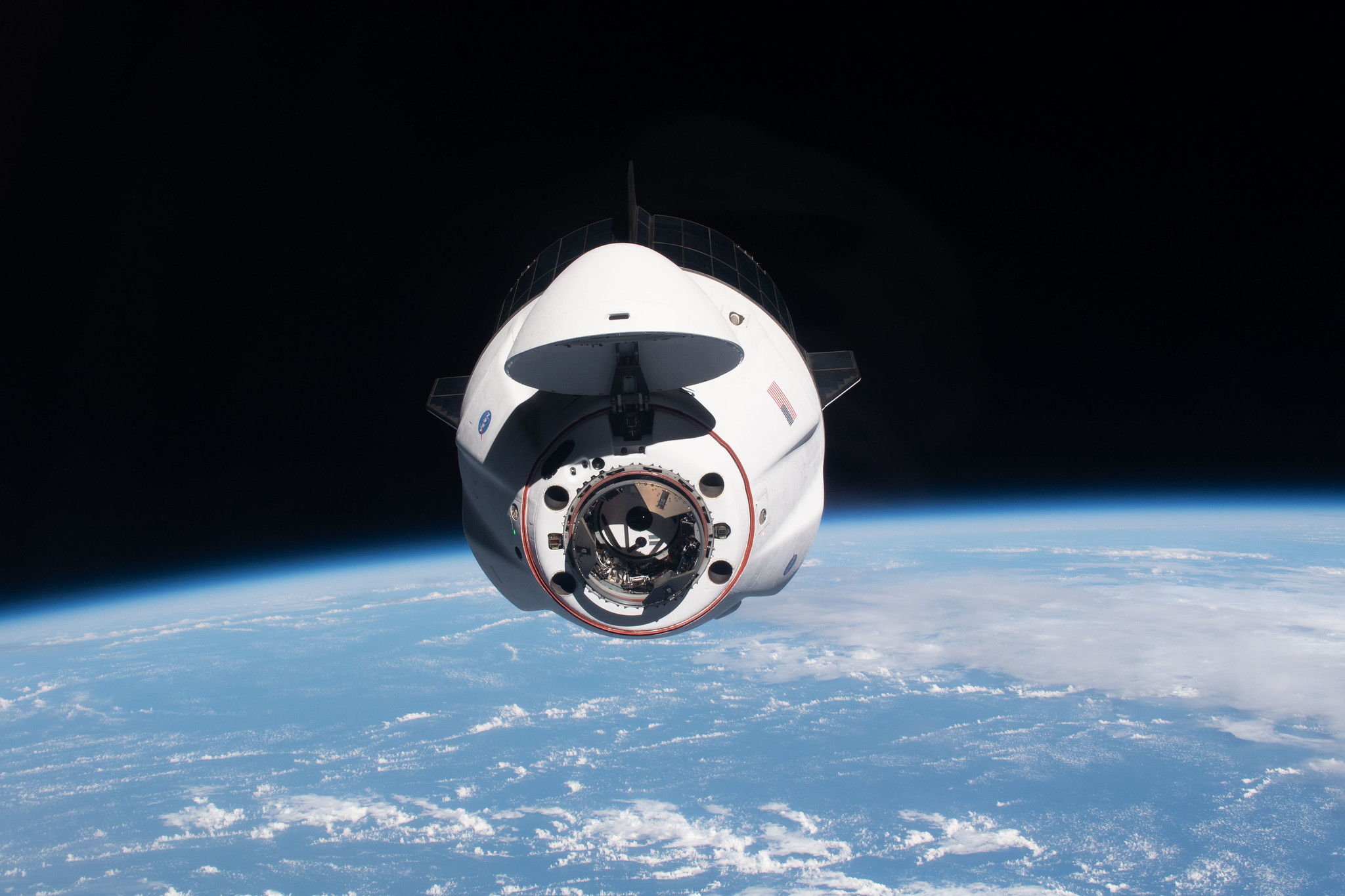 Watson-Morgan said while standing up the HLS program, she said it was important to garner expertise from the Commercial Crew Program (CCP), for which the Dragon transports astronauts to and from the International Space Station.
"I received a lot of good advice to try to keep your program office small, to keep some pointed experts up there and to be very close to the decision making. And I have followed suit with that's exactly how we're set up," Watson-Morgan said. "We're growing and it's hard and I'll tell you, some of the days are just so long, but I do think that that has served us well to date."
She added that as they were developing the contracts for the HLS program, they borrowed another item from CCP: having "unfettered access to the contractors' and the providers' base data so we can go search it. And if we can't find it, we ask, 'Hey we need to know where this is.'"
"And they're a lot more responsive because, in the Commercial Crew days, all that was kind of new and so, there was a lot of searching to try to get the information," Watson-Morgan said. "Because if we can get that data to our civil servants, to our government team who has a lot of the expertise, then we can say, 'Yes, this is acceptable. Use as is' or 'No, we need to material review board this and we need to determine whether or not its is still usable."
Blue Origin is "hustling"
In addition to developing Starship for the HLS program, Watson-Morgan and her team are now also closely working with the Blue Origin-led National Team, which consists of Lockheed Martin, Draper, Boeing, Astrobotic and Honeybee Robotics. They are developing the Blue Moon Mark 2 (MK2) lander.
It will be capable of transporting 20 metric tonnes in a reusable configuration and 30 metric tonnes, if it's only going one way, according to John Couluris, the Senior Vice President of Lunar Transportation at Blue Origin. He said during the fireside chat on Wednesday that a lighter capability MK1 lander will be "announced shortly."
While the National Team wasn't formally brought on board until May 2022 when it was awarded the landing contract on the Artemis 5 mission, they have the same set of mission requirements as SpaceX.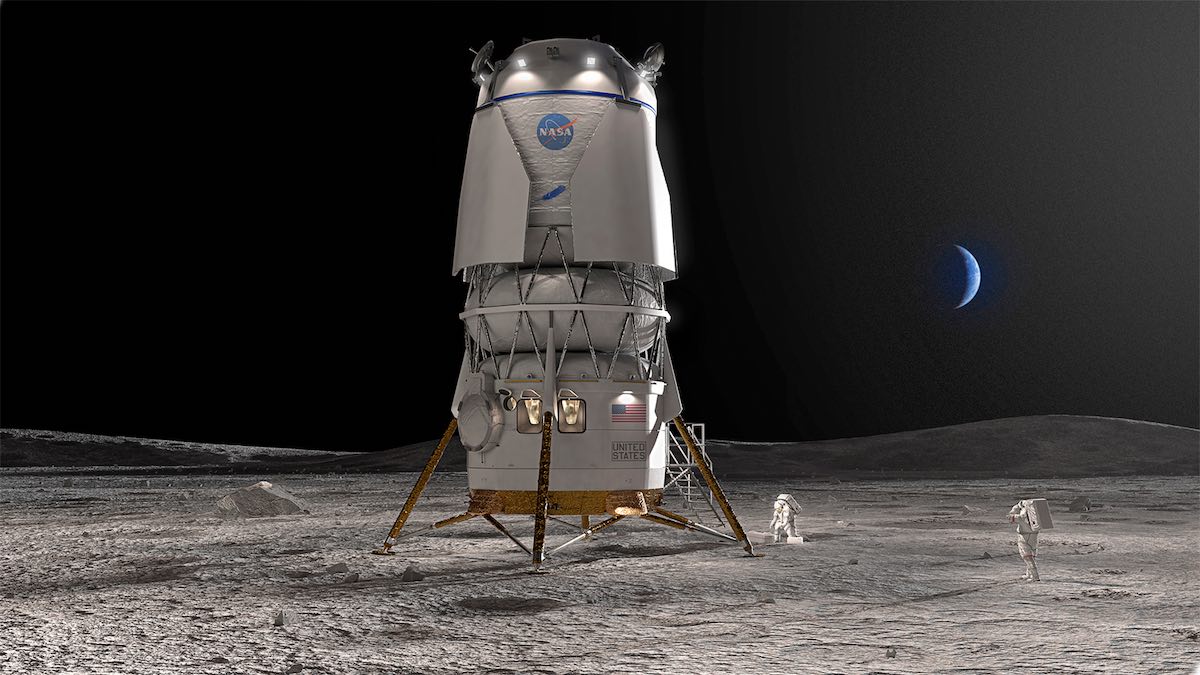 Watson-Morgan said her team is spending roughly equal time between the SpaceX and Blue Origin-led teams, which are working on similar, but different technology challenges.
"We have one team that's not too terribly big, but certainly big enough to go in and do deeper risk-based insight dives on things like propellant transfer, because both Blue Origin and SpaceX have that," Watson-Morgan said. "Different fuels and different architectures, but still, at the end of the day when you look at it, the cryo-fluid management is going to be key for both of them."
"The thermal properties of that is going to be key to that. And then, how long can they store the propellant and keep it on orbit? It's basically the same type of skill required, although we know SpaceX is with methane and Blue Origin is with hydrogen."
Couluris said being able to crack that nut will be key not only for their lunar lander, but also for future solar system exploration.
"If we can make hydrogen a storable propellant, zero boil-off systems, we're now not only unlocking lunar resources, but the potential to open up things, such as NTP (nuclear thermal propulsion) or other propulsion technologies that go beyond," Couluris said during Wednesday's fireside chat.
Watson-Morgan said her team holds weekly insight meetings with Blue Origin and more often, if needed, as they begin to work through their milestones, of which, it has completed two. One of those was the delivery of what Watson-Morgan called a "low-fidelity mock-up," which she called "fantastic."
"I'm so excited to see Blue Origin here because the whole resiliency and competition part helps to keep each of the providers – it helps to keep their attention and their focus, I think, on what's key to us and to NASA, which is a great benefit to the American public too," Watson-Morgan said.
She added that NASA's HLS folks are traveling to see the mockup as well as a training simulator. Coming up in the near future Watson-Morgan said they will begin a certification baseline review with the National Team, which she described as akin to a system requirements review.
"It's where we go in and make sure they fully understand the requirements set that NASA laid out and we do an analytical assessment and review and review their analytical assessment of whether their requirements can actually meet what we said the needed to meet," Watson-Morgan said.
She said that's coming up in two or three weeks and that her team is already reviewing the data ahead of that.
"And then early next year, they're going to have a preliminary design review. So, they're hustling," Watson-Morgan said.
Can they pull it off?
Both SpaceX and Blue Origin are off to the races with their landers, but the clock is ticking before they're needed to be called up.
Watson-Morgan doesn't look past the practical hurdles that lie ahead for both landers, but remains confident that the thorough work being done for both will carry the day in the end.
During her panel appearance on Wednesday, Watson-Morgan emphasized that NASA approach with this partnership is different from other undertakings when it comes to helping commercialize the Moon. She said to be successful, they need to "get very deep down into how they are doing things" and to do that work "upfront."
"We do it upfront so there are not questions or concerns or confusion as to how the system should be built in order for, later on, for our team to come in and be able to human-rate the system," Watson-Morgan said. "So it's super challenging. It's super exciting. And all the time I get asked how do you sleep at night an I'm gonna tell you, I sleep very well because I take it one day at a time."