Update 6:35 p.m. EDT: NASA delays launch to Friday due to weather.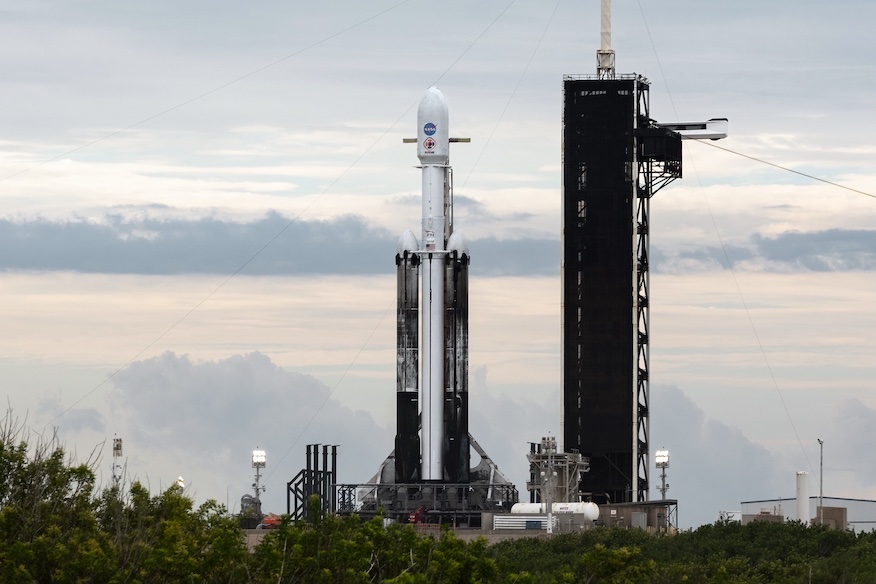 Original story:
With the exception of the weather, NASA and SpaceX said at a prelaunch news conference Wednesday everything was ready for the launch the Psyche mission at 10:16 a.m. EDT (1416 UTC) on Thursday, Oct. 12. on a seven-year mission to an asteroid of the same name.
Arlena Moses, the launch weather officer with the 45th Weather Squadron, said the launch forecast for Thursday remains only 20 percent favorable for liftoff, but she said there were a couple elements that made her somewhat hopeful for a Thursday liftoff.
"It looks right now that warm front is going to be a little north of us as we go into the first part of tomorrow morning and what that's going to kind of help us out with is that it should take a lot of the heaviest rainfall and best chances of storms north of us," Moses said.
"However, we still will have a very unstable atmosphere, so there still may be some storms and rainfall around, probably lots of cloud cover, all of these things that we have concern for with our rocket launches and our lightning commit criteria," she added.
Moses said that winds could pick up quickly out of the southwest of 20 to 25 miles per hour for the Thursday launch window. Looking at the 24-hour backup opportunity, there are lower winds of only 7 to 12 miles per hour and a 50 percent probability of 'go' weather.
The launch will be the seventh mission with SpaceX for NASA's Launch Services Program (LSP) and the first using a Falcon Heavy rocket.
Julianna Scheiman, SpaceX's Director of Civil Satellite Missions, said this mission will also be the first time they are flying what's called a "category three certification" mission, which she said is "the highest tier of certification one can get on a launch vehicle."
"It demonstrates that the launch vehicle is ready for NASA's most important science missions," Scheiman explained. "That means Falcon Heavy has been through the wringer, whether that's design reviews, qualification testing, acceptance testing, post-flight data reviews, independent verification/validation work. Falcon Heavy is ready and we are so excited to be supporting the Psyche mission."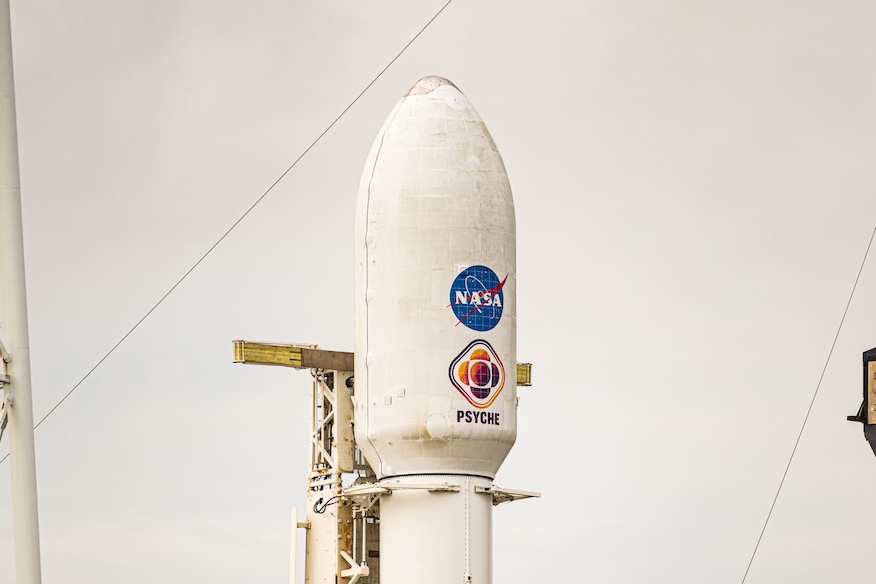 The spacecraft will spend the next few years making its way out to the asteroid 16 Psyche, which is one of only nine such asteroids that researchers believe to be mostly heavy metals. The billion-dollar spacecraft was hoisted into launch position early Wednesday morning out at Launch Complex 39A.
On launch day, Dr. Henry Stone, the Psyche project manager at NASA's Jet Propulsion Laboratory (JPL), said the spacecraft will power up about five hours before liftoff.
About an hour into the flight, the Psyche spacecraft will separate from the Falcon Heavy's second stage and then the solar arrays will deploy autonomously.
The vehicle will then orient towards the Sun, shifting the power from the battery to the solar panels. Then the vehicle will rotate to point the low gain antenna in an orientation that will allow for ground communication with the spacecraft. Ground teams will then send a command to Psyche to reorient again for continuous communications.
"It's really going to be those set of operations that are going to take roughly two hours or so after separation before we are assured or have high confidence that we will have locked-in view position to get started, get actual telemetry," Stone said.
Stone, as well as many across NASA, are eager to see Psyche finally launch after its delay of a year and then another week due to the need to adjust flight parameters to prevent the spacecraft's cold gas thrusters from over-heating.
"We wanted to make sure we took the time and we did a week to make sure, run all of our testing and verification again, that the adjustments to those parameters would be appropriate," Stone said. "This is a huge investment, a mission like this, and we wanted to be absolutely, absolutely sure that we were ready to go."
"We lost seven days of the launch window, but we discovered this asteroid in 1852 and people have been waiting a long time to see this asteroid," said Dr. Nicky Fox, NASA's associate administrator for the Science Mission Directorate. "And when you put all this effort into your mission, you take that extra time to make sure it's perfected. So, I think the team deserves a lot of credit for doing that work to make sure this mission is successful."
Psyche is expected to reach its namesake asteroid in 2029 after which it will spend about 26 month in orbit, conducting a suite of science observations regarding this unique celestial body.