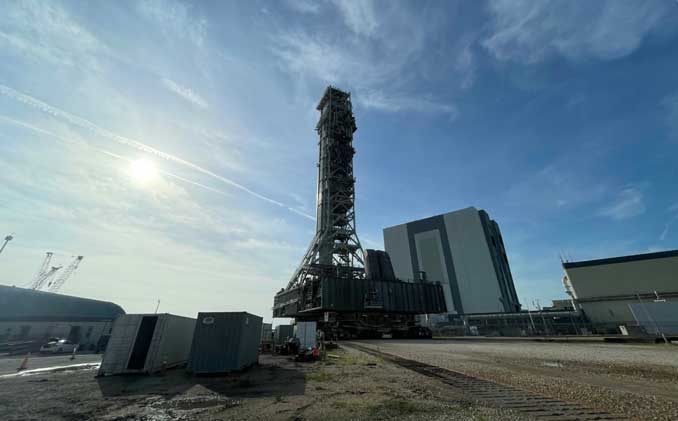 The launch tower supporting the first three Artemis moon missions was back on the move for the first time Wednesday after more than half a year of repairs and upgrades.
NASA's 380-foot-tall mobile launcher (ML1) began making its way from its parking spot near the Vehicle Assembly Building (VAB) at 8:27 a.m. EDT (1227 UTC) out towards Launch Complex 39B. This is the first time the tower has returned to the pad since the launch of the Artemis 1 mission in November 2022.
Since that inaugural launch, the structure has undergone a series of upgrades, including work done towards certifying the crew access arm and preparing the emergency egress system, which would help astronauts and support crew quickly escape from the proximity of the rocket in the event of an emergency.
NASA will slowly roll ML1 to the pad atop the crawler transporter vehicle and park outside of the gate by the end of Wednesday. It will make its way up the ramp and become stationary on Thursday ahead of its continued testing campaign.
Kennedy Space Center's Exploration Ground Systems team will go through a series of tests, like launch day demonstrations for the crew, closeout crew and pad rescue teams.
Following sufficient checkouts, ML1 will roll away from the pad and into the VAB to prepare for vehicle stacking, which is slated to begin in February. NASA is pushing for a launch of the crewed Artemis 2 mission in November 2024.