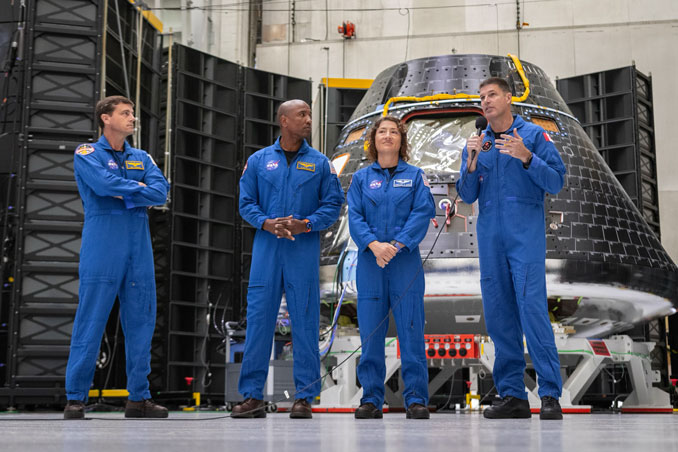 NASA's four Artemis 2 astronauts, getting their first look at the Orion capsule that will carry them around the moon next year, said seeing the hardware first hand and meeting the men and women building the spacecraft brought home the reality of their historic mission.
"It's starting to feel very, very real," Canadian astronaut Jeremy Hansen told reporters Tuesday, standing with his NASA crewmates in front of the Orion capsule. "It's not a dream. It's a program. It's real hardware.
"Yesterday, we spent a lot of time meeting other teams on site, and (seeing) just how much work there is to do, and how hard they're working. … They're grinding it out over the next year and a half or so to try and take us back to the moon for the first time in over 50 years."
Hansen, Artemis 2 commander Reid Wiseman, Victor Glover and Christina Koch were named to the crew in April, but their visit to the Kennedy Space Center Monday and Tuesday was their first chance to see their spacecraft.
"When we first stuck our heads in and you look around in there, you realize this can only be one thing, a spaceship," Koch said. "Nothing else looks like that, and that's exactly what it felt like. That's what gave me shivers. We were playing 'name that item,' honestly, we were looking around, we were trying to marry it up with everything we learned about in our technical classes."
Said Wiseman: "We're fired up. It's a great day when you walk around the corner at the Neil Armstrong Operations and Checkout facility and there's your spacecraft that you're going to ride in, 'the ship,' as they call it (here). And we got we got to look inside and hang out and it was really quite fascinating."
The current schedule shows Wiseman and company launching in November 2024. They will not orbit or land on the moon, but instead will put the Orion capsule through its paces during three orbits of Earth, including one with a high point of 38,000 miles, before heading out on a free-return trajectory around the moon and back to a Pacific Ocean splashdown.
NASA is still officially targeting December 2025 for the first actual lunar landing, when an Orion capsule will carry four astronauts to the moon. Two of them will board a waiting SpaceX lander, a variant of the company's Starship rocket, and descend to the surface. But it's an open question whether the lander will be ready in time.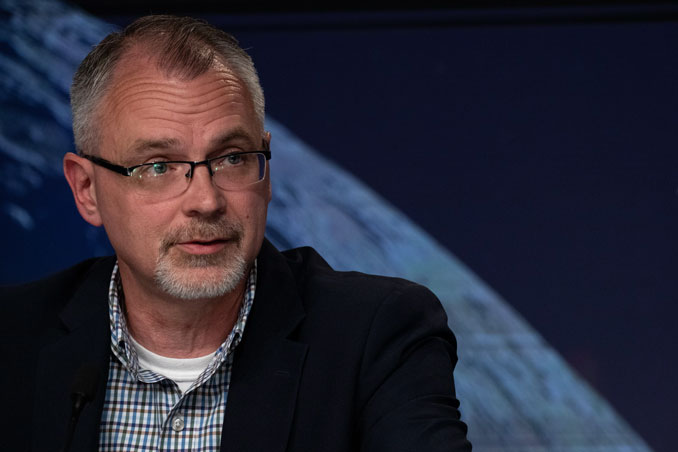 Jim Free, director of NASA's exploration division, said the agency recently discussed the schedule with engineers at SpaceX's "Starbase" flight test facility near Boca Chica, Texas, where the company is gearing up for a second test flight of the Super Heavy booster and Starship upper stage. The first test flight on April 20 ended in failure, reaching an altitude of just 24 miles after multiple premature engine shutdowns.
To get to the moon, the Starship lander will need to be robotically refueled in low-Earth orbit, requiring multiple Super Heavy-Starship "tanker" flights. Before NASA will know whether a 2025 astronaut landing is feasible, Free said SpaceX will need to launch enough successful flights to demonstrate reliability, carry out ship-to-ship refueling and then stage an unpiloted lunar landing.
"We were at Starbase a couple of weeks ago, and really spent some time going through their major milestones to the Artemis 3 mission, which includes a (propellant) transfer mission as well as the uncrewed demo," he said. "We'll look at that and update around that in the near future. But what we're holding all the contractors to is that December of '25 date."
If the schedule slips out too far, "we may end up flying a different mission," he added. That presumably could mean a lunar orbit mission for Artemis 3 instead of a moon landing if the Starship isn't ready or some other major problem crops up.
"We may end up flying a different mission if we have these big (delays), we've looked at can we can we do other missions if the possibility exists there," Free said. "But right now, we're still trying to look at their schedule."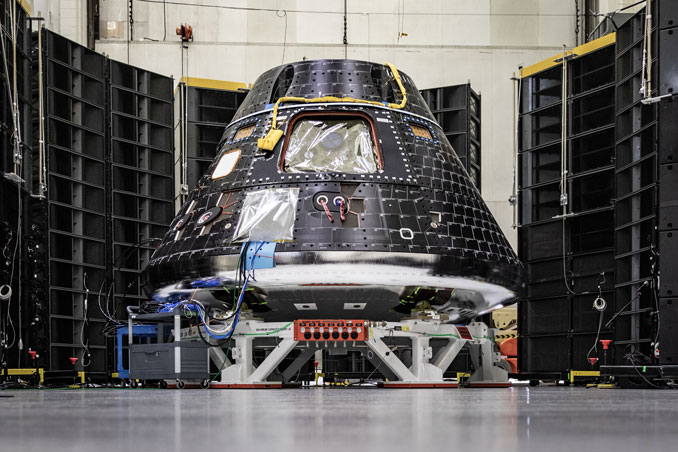 As for the Artemis 2 mission, Free said the Orion capsule, its European-built service module and the Space Launch System rocket are all on track for launch by the end of 2024. The pacing item, he said, is analysis of the heat shield that protected the Artemis 1 Orion during its high-speed return to Earth after an unpiloted maiden test flight last December.
The heat shield experienced uneven charring and erosion during its high-temperature re-entry and while the Orion capsule was not damaged, engineers are carrying out tests to better understand why the heat shield did not behave as expected.
"I think it's definitely the biggest open issue," Free said. But, he added, "I think we're on a path to that root cause with the final disposition in April."
"Obviously, we're going to make the right decision to keep them safe," he said. "If that decision is we have to do something drastic, then we'll do that. But right now, we're on a path to get to the root cause, and then we'll make the final determination from there. "