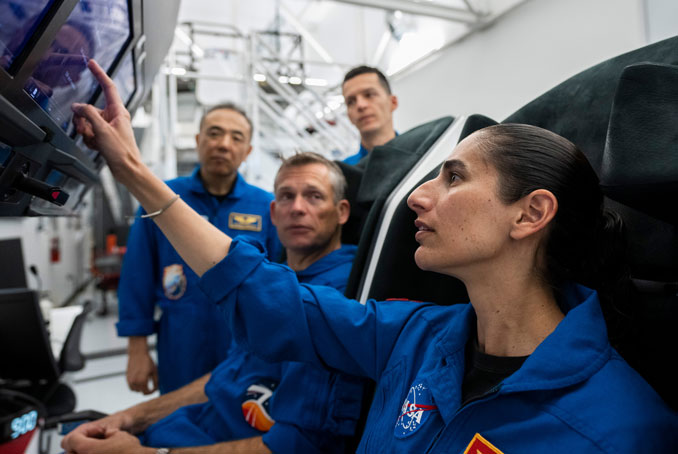 The next quartet bound for the International Space Station will wait a bit longer before they can punch their ticket to space after Falcon Heavy delays pushed back the launch of the next Crew Dragon mission, NASA said Tuesday.
The space agency and it's commercial partner SpaceX, are now targeting the launch of the Crew 7 flight on Monday, Aug. 21 at 5:23 a.m. (0923 UTC), according to an update posted on NASA's blog.
The delay was a ripple effect due to the most recent mission from pad 39A launching later than planned. A Falcon Heavy launched Hughes' Jupiter 3/Echostar 24 satellite on July 28 after a shuffle in the Falcon Heavy launch schedule. Originally the Hughes satellite was to have flown after Crew 7 but when a long-delayed national security mission, USSF-52, slipped again from July to later this year, Jupiter 3 moved up to take the July launch slot. The launch was initially scheduled for July 23 but was shifted to July 26. During a press conference on July 25, NASA Commercial Crew Program Manager Steve Stich said pad turnaround time at that point necessitated a launch date adjustment for Crew 7 from Aug. 15 to 17.
SpaceX had decided to forgo the customary static test fire for the Falcon Heavy and during the first launch attempt on July 26 a stuck liquid oxygen valve caused a scrub. Replacing that valve delayed the launch to the 28th and then following the successful liftoff it took a day and a half to safe the launch pad and lower the strong back from it's post-launch position. It was not until then that crews were able to enter the pad to begin damage assessments and start turning the facility around for a Crew Dragon launch. The refurbishment and reconfiguration work typically requires three weeks between launches and a Falcon Heavy, with three first stage boosters, typically causes more damage to the launch pad than a Falcon 9.
Further complicating the 39A schedule is the launch of NASA's Psyche mission, scheduled for Oct. 5. It has a short 20-day planetary launch window. Crew 7 must get off the pad before mid-September for SpaceX to convert the pad back for Falcon Heavy launches. SpaceX is working on a new access tower for its other Cape Canaveral launch site, pad 40, so it can launch cargo and crew mission from there. That work, which is expected to be completed this year, might alleviate the bottleneck at pad 39A.
The four-member crew of NASA astronaut Jasmin Moghbeli, ESA (European Space Agency) astronaut Andreas Mogensen, JAXA (Japanese Aerospace Exploration Agency) astronaut Satoshi Furukawa and Roscosmos cosmonaut Konstantin Borisov will soon enter their pre-launch quarantine before flying to Florida in the run-up to launch.
NASA said an additional backup date is also available at 3:49 a.m. EDT (0749 UTC) on Friday, Aug. 25. The crew will be flying aboard the SpaceX Crew Dragon Endurance, which is making its third flight, following the Crew-3 and Crew-5 missions.
The Crew 7 mission will also use a new Falcon 9 first stage booster, which is expected to make a land landing at Cape Canaveral Space Force Station following liftoff. This would be the second RTL (return to land) crewed mission following the demonstration of that capability for SpaceX during the Axiom 2 private astronaut mission to the ISS.