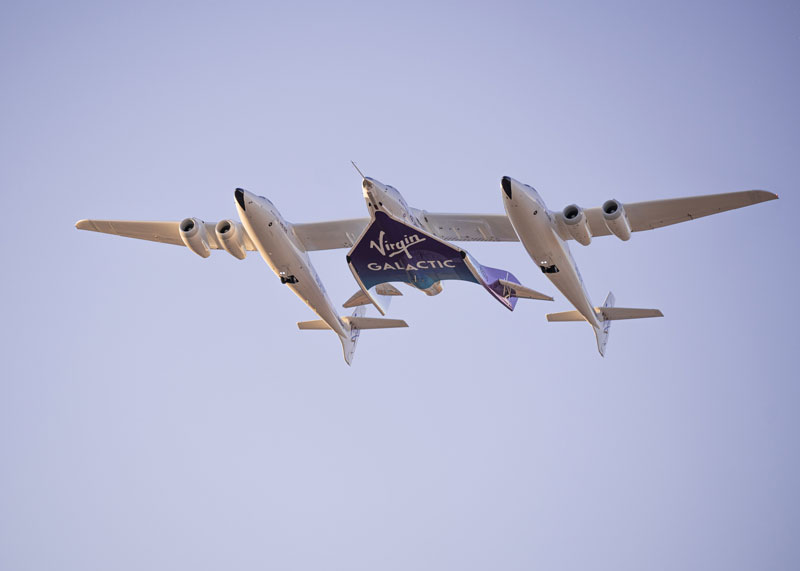 Four-and-a-half years after an initial sub-orbital test flight, Richard Branson's Virgin Galactic is finally ready to begin commercial operations with the launch Thursday of a six-man crew, including three Italian researchers, on an up-and-down flight to the edge of space aboard the company's winged spaceplane.
"We're launching The Spaceline for Earth with #Galactic01, our first scientific research mission!" Virgin tweeted. The crew will "conduct more than a dozen experiments in space, which will examine how microgravity affects the human body and other materials."
https://twitter.com/virgingalactic/status/1673382651775053824
While the flight was chartered by the Italian government and does not include any wealthy "space tourists," it comes just 10 days after a commercial submersible imploded in the Atlantic Ocean during descent to the wreck of the Titanic. The submersible's five passengers were killed.
Blue Origin, owned by Amazon-founder Jeff Bezos, already offers commercial sub-orbital flights aboard its New Shepard spacecraft and Virgin plans a steady stream of similar flights following Thursday's mission.
What effect, if any, the Titan submersible mishap might have on the commercial space tourism market is not yet known, but it highlights the risks inherent with private ventures into such extreme environments.
Thursday's flight, taking off from Spaceport America near the White Sands Missile Range in New Mexico, will be Virgin's sixth piloted sub-orbital mission and its first carrying paying passengers.
The company recently completed a lengthy upgrade of its twin-fuselage VMS Eve carrier jet, launching a successful space flight on May 25 — its first in two years — with six company employees on board.
The flight plan for Thursday's launch calls for the Eve carrier jet to lift VSS Unity to an altitude of around 45,000 feet. Seconds after release from Eve's wing, the spacecraft's hybrid rocket engine will ignite, propelling the ship up and out of the dense lower atmosphere.
At the controls will be veteran Virgin pilot Mike Masucci, making his fourth flight, and co-pilot Nicola Pecile, an Italian making his first. Their passengers are veteran Virgin astronaut trainer Colin Bennett, Italian Air Force Col. Walter Villadei, Lt. Col. Angelo Landolfi and Pantaleone Carlucci representing Italy's National Research Council.
"Proud that @NicolaPecile will fly his first spaceflight with @ItalianAirForce and @CNRsocial_ crew aboard," tweeted Jameel Janjua, Eve's co-pilot for Thursday's flight.
It's flight week @virgingalactic! Mike Masucci and Nicola Pecile will be the Commander and Pilot for #Galactic01. Proud that @NicolaPecile will fly his first spaceflight with @ItalianAirForce and @CNRsocial_ crew aboard. 🚀 pic.twitter.com/e3DdHzuxED

— Jameel Janjua (@JameelJanjua) June 27, 2023
Villadei is serving as commander of the "Virtute 1" mission aboard the spaceplane. He is in training to visit the International Space Station as part of a commercial crew to be launched by SpaceX for Houston-based Axiom Space.
Villadei, Landolfi and Carlucci will serve as both microgravity researchers and test subjects in a variety of experiments to learn more about the effects of weightlessness. It's not known what Virgin charged for their three seats, but the company advertises a cost of $450,000 per ticket.
"Virgin Galactic's research missions will usher in a new era of repeatable and reliable access to space for government and research institutions for years to come," CEO Michael Colglazier said on the company's web page.
After the ship's rocket engine cuts off, the crew will be weightless for three to four minutes as the ship climbs to a maximum altitude of just over 50 miles, the somewhat arbitrary threshold of space where aerodynamic forces no longer have any discernible effect.
In a radical departure from Blue Origin's more traditional booster-and-capsule design, Virgin opted for an air-launched spaceplane featuring wings that pivot 60 degrees upward near the top of the trajectory, helping orient and slow the ship as it re-enters the atmosphere.
Invented by legendary aircraft designer Burt Rutan, the innovation is known as "feathering." As the spacecraft descends, the feathered wing-and-tail booms generate enormous drag like a badminton shuttlecock, reducing re-entry speeds and heating while acting to put the ship in the proper orientation without pilot intervention.
Once back down in the discernible atmosphere, the wings pivot back down parallel with the fuselage, the ship becomes a glider and Masucci and Pecile will guide it to touchdown at Spaceport America's 12,000-foot-long runway. From launch to landing, the trip takes about one hour.